Wisconsin Teaching Certification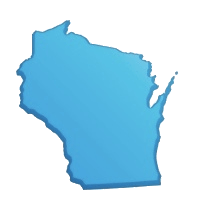 Wisconsin Ed. Statistics
| | |
| --- | --- |
| Avg. Elem. Teacher Salary* | $57,980 |
| Avg. Sec. Teacher Salary* | $59,180 |
| Avg. Admin. Salary* | $98,960 |
| Teacher Retention (?) | 97% |
| Vacation Wks/Yr | 15 |
Learn how to become a teacher in Wisconsin (or administrator). Choose the description of certification you are most interested in or situation that best describes you:
Getting Involved…
Investing in our future is vitally important and strangely difficult. In order to fight oppression from the greedy and power-hungry elite, to better our ways of life with advancing technology, and to increase our country's overall views toward the concept of acceptance, we need education to be a priority. Learn how you can be a spoke in this terribly important wheel. See how Wisconsin measures up to the rest of the country by viewing the percentage of state revenue going toward education in each state.

Learn About Your Governor's Track Record

Give Your Knowledge Power By Voting
Hold your public servants accountable. It is our duty as residents of Alabama.
Help Make Education A Priority
Initial Wisconsin Teaching Certification
Wisconsin is set to invest more time and training in its teachers in the future, with the goal of increasing content knowledge among school instructors.
Government and educational leaders are poised to form task forces and research groups to investigate ways of increasing reading comprehension in students by specifically targeting the ways teachers are presenting material. These initiatives show that Wisconsin is dedicated to providing the best education not only for students, but for current and prospective teachers.
Becoming a teacher in any state is a time-consuming and sometimes confusing process, so where should you start?
Education Requirements
<!- mfunc feat_school ->
Featured Programs:
Sponsored School(s)
<!- /mfunc feat_school ->
The Wisconsin Department of Public Instruction (DPI) ensures that all Wisconsin teachers have successfully completed a teacher education program at an accredited college or university.
An approved teacher education program leads to a bachelor's degree, and helps candidates gain the skills and experience they need to become effective teachers.
During the application process for initial certification, candidates must provide verification that they have completed teacher preparation programs, usually given by an official in that school's education department. This recommends the teacher for certification, and shows that he or she has met all standards set by the department.
Information about universities offering approved education programs in Wisconsin may be.
While in school, students also choose to focus on a specific teaching area from a variety of subjects and grade levels.
Grades and License Areas
Early Childhood (Birth to age 8)
Early Childhood through Middle Childhood (Birth to age 11)
Middle Childhood Through Early Adolescence (6-12 or 13)

Language Arts
Mathematics
Science
Social Studies
Health

Early Adolescence through Adolescence (10-21)

Language Arts
Mathematics or Computer Science
Science
Social Studies

Early Childhood through Adolescence (Birth to age 21)
A full list of teacher content areas and licenses can be found here under subchapter VII..
Stages of Licensure
In Wisconsin, there are three different stages of teacher licensure.
Initial Educator License
Professional Educator License
Master Educator License
Teachers start at the Initial Educator stage, and after five years, have the option of moving onto the professional educator stage. For more information on the stages of licensure, see the License Renewal and Reinstatement.
Examinations
Currently, all candidates must take the PRAXIS I Reading, PRAXIS I Writing, and PRAXIS I Mathematics before enrolling in a teacher preparation program in Wisconsin.
Additionally, during teacher preparation, students must prove their content knowledge by passing the PRAXIS II content exams.
Early Childhood
Elementary Education: Content Knowledge
Early Childhood-Middle Childhood
Elementary Education: Content Knowledge
Middle Childhood-Early Adolescence
Middle School: Content Knowledge
Early Adolescence-Adolescence (Depending on Specific Content Focus)
English Language, Literature, and Composition: Content Knowledge
General Science: Content Knowledge
Social Studies: Content Knowledge
Mathematics: Content Knowledge
Early Childhood-Adolescence (Depending on Specific Content Focus)
Agriculture
Art: Content Knowledge
Business Education: Content Knowledge
English to Speakers of Other Languages
Family and Consumer Sciences
Health Education
Marketing Education
Music: Content Knowledge
Physical Education: Content Knowledge
Technology Education
Theater
Further information about each examination and specific Wisconsin requirements can be found on the Education Testing Service's website.
Experience Requirements
Approved teacher education programs provide opportunities for student teachers to hone their management and teaching skills through first-hand experiences in the classroom. Student teaching varies in length depending on the school and subject, but most students find this to be one of the most enlightening experiences during teacher preparation.
Through student teacher experience, students learn how to apply instructional strategies, and gain a more complete understanding of student motivation and behavior. Students are usually paired with teachers who support them and give them feedback on teaching and management techniques throughout the student teaching experience.
Document and Application Requirements
After you pass your teacher education program and meet all testing and experience requirements, you're eligible to apply for your initial Wisconsin Educator's License.
Initial in-state teachers can find the required licensure application form here. Applicants must provide all information listed in the application form in order to be considered for certification including:
Applicant Information: Phone Number where you can be contacted between 8 a.m. and 4 p.m.
Central Time
License Requested: List the requested licenses and your preferred start date
Post-Secondary Education and Institutional Endorsement: Date of completion of teacher education program, in addition to an endorsement from the certifying officer of your teacher education program
Experience or Professional Growth: Only applies to candidates who completed a teacher education program more than five years ago and who were not licensed in Wisconsin.
Candidates must include a fee of $100 with their application.
After completing their application packets, candidates should mail the entire packet to the certifying officer of their Wisconsin college of university for endorsement. The certifying officer will then forward the packet to the Wisconsin Department of Public Instruction.
Criminal History Background Check
Wisconsin Initial Educator applicants must complete a Conduct and Competency Review included in their application forms. The review asks applicants to answer yes or no to 12 situational questions meant to determine if the applicant is fit to work with children.
Questions include: "Have you ever been convicted of a criminal offense?" and "Have you ever resigned, been disciplined, or dismissed from any teaching or other school position?"
Answering "yes" to any of the questions requires applicants to fill out a detailed explanation of the situation, including police reports or disciplinary letters. Answering "yes" does not automatically make a candidate ineligible for licensure, because each case is examined independently.
Contact Information
The Wisconsin DPI can be reached toll free at (800) 266-1027 or on their website.
The DPI office is located at:
DPI Educator Licensing
Drawer 794
Milwaukee, WI 53293-0794
*2019 U.S. Bureau of Labor Statistics data – Conditions in your area may vary.
**Teacher Retention Sources – U.S. Department of Education, National Center for Education, Statistics Schools and Staffing Survey, 1999–2000 ("Public School Teacher Questionnaire," "Private School Teacher Questionnaire," and "Public Charter School Teacher Questionnaire"),
and 2000–01 Teacher Follow-up Survey ("Questionnaire for Current Teachers" and "Questionnaire for Former Teachers," Table 1.01). Washington, DC.
State estimations based on analysis by Richard Ingersoll, Professor of Education and Sociology, University of Pennsylvania, from the National Center for Education Statistics Student and Staffing Survey, and therefore include a slight margin of error.