English Teaching Certification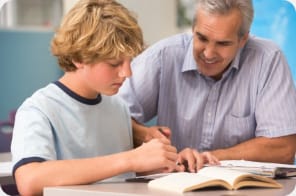 Books by William Faulkner, James Joyce and Fyodor Dostoevsky contain rich symbolism, allegories, and themes that an untrained reader might miss or not understand.
It's unrealistic to expect high school-aged students to understand the intricacies and nuances of such works by themselves, but thankfully, they don't have to deconstruct these texts alone.
English teachers guide their students on the path of discovering literary works of art. Using their skills of analysis and judgment, English teachers develop lesson plans that identify major themes and ideas hidden in classical and contemporary literature, bolstering their students' interpretations and reading skills.
Because books are often viewed as windows into new worlds, good English teachers recognize the importance of imparting strong reading and literacy habits in their students.
Teachers also help their students combine good reading habits with writing skills. English teachers should be accomplished writers themselves, able to point out the strengths and weaknesses in their students.
But before potential teachers get the chance to impart these habits and skills, they must first provide evidence that their years of work studying and writing in college paid off and prepared them for a career in teaching.
<!- mfunc feat_school ->
Featured Programs:
Sponsored School(s)
<!- /mfunc feat_school ->
Through certification, teachers show they have what it takes to teach in this challenging, yet rewarding, environment.
What is certification?
Teacher certification is a clear indicator that an individual has knowledge of a subject, as well as knowledge of teaching styles and strategies that must be employed to effectively teach students.
The certification process is different for each state, but usually involves examinations and reviews of a future teacher's breadth of understanding. For more information on the certification process in your state, visit the map of state teaching certification requirements.
Given the rigorous nature of the certification process, what exactly do potential English teachers need to know?
Guiding students through literature
To become certified, future English teachers must demonstrate an understanding of the books and stories they teach. This involves identifying major works, and authors from various cultures, genres, and time periods.
Understanding of English Language Arts
To meet certification standards, teachers should know about some of the following areas:
Traditional and contemporary literature
Reading processes and how students learn to read
Writing processes and how students learn to write
Conventions of oral communication
Teachers must instruct students about the reading process to ensure they develop more critical reading skills. This reading process involves gaining background information on a text, actually reading a text (which develops a basic understanding of material), and the re-reading of a text (where readers construct meaning).
They draw from this reading process when teaching their students about a wide-range of literary topics, including differences between poetry, fiction, nonfiction, and drama, and the writing styles of these genres.
Teachers must show an awareness of the various styles, techniques, and strategies that are involved with teaching students how to read and interpret stories. These include strategies for helping students comprehend story elements, and helping students to construct critical meanings of texts.
For example, the book "Life of Pi" by Yann Martel is the story of a boy stranded on a boat, surrounded by dangerous animals. On the outset, the book seems like a thrilling tale of courage and danger, but it holds deeper meanings about the boy's spiritual growth.
Before passing certification standards, teachers must show an ability to break down texts, and find a wide range of meanings and interpretations of those texts. In the classroom, this knowledge transfers as teachers lead class discussions on how authors use tone, point of view, style, and setting to effectively tell a story.
Teachers also understand literary elements like metaphors, similes, and figurative language to meet certification standards.
By continuing to develop good reading habits in their students, certified English teachers also naturally draw attention to the development of good writing habits. To become certified, potential teachers must have a complete view of how to approach a writing task, and how to direct students toward good writing habits.
Developing good writing habits
During high school, students are refining and revising many of the writing skills they learn during elementary school and middle school. On their journeys to become better, more developed writers, students turn to their English teachers for support and instruction.
Common errors in high school writing
Sentence fragments
Run-on sentences
Subject/verb agreement errors
Verb tense inconsistency
Pronoun/antecedent agreement errors
Dangling or misplaced modifiers
Misplaced semicolons or commas
English teacher certification standards dictate that potential teachers must understand the writing strategies and methods best employed by high school students.
This includes knowledge of the writing process, including pre-writing, drafting, revising, editing, and finally publishing. Teachers understand that all good writing begins with good research, involving the gathering and evaluating of data, and then organizing that research into digestible, easy-to-manage chunks.
To become certified, teachers should demonstrate knowledge of the strategies for organizing and crafting a paper, and how aspects like tone of voice, point of view, and presentation of a topic changes meaning and overall flow.
Teachers must also show comprehension of grammar, spelling, and vocabulary to effectively teach students how to write. This includes sentence types, sentence structure, phrases and clauses, punctuation, and how grammar works to clarify meaning.
English teachers also must show an understanding of strengths and weaknesses in writing, taking into account overall organization, paragraph organization, quality of descriptive detail, sentence variety and complexity, audience, and sense of voice.
Future teachers who show an understanding of the writing process and knowledge of teaching strategies are well equipped to pass the certification standards.
Teaching students skills
Students who develop excellent reading and writing skills will find these skills to carry them through the rest of their lives, in college and their careers. Employers demand strong communication skills, so students who learn to write both eloquently and succinctly will find their skills in high demand.
Potential teachers interested in a career of teaching high school students English will find the field rewarding and challenging. But going through the certification process gives teachers the tools necessary to meet these challenges head on, and reach their students through effective teaching habits.
If you're interested in learning more about the certification process in your state, click here.
Integrating reading and writing
High school is a time for learning and exploring new ideas – activities that are exemplified in the English classroom. With their teachers as guides, high school students try to understand complex and confusing novels and stories that are often more demanding than books they've previously read.
To help facilitate comprehension and understanding, many teachers realize the benefits of integrating writing in their reading assignments.
According to "Effects of Guided Journal Writing on Students' Story Understanding," published in The Journal of Educational Research, teachers who assign writing activities with reading find that their students show greater understanding of material.
In the article, authors Bernice Y. L. Wong and co-authors examined two sample groups of students reading the "The Great Gatsby." One group of students was assigned to write guided journals of the chapters, while the other group only read the book.
Wong found that writing activities made students think more deeply about the story, the main characters, their relationships, and the events in the novel.
The English teacher asked the students to answer questions such as "What did you notice?" and "What questions do you have about the events?" Results showed that students who kept journals read more deeply into the texts, and reflected on passages for a longer time compared to students who did not keep a guided journal.
Self reports from the students showed that nearly 70% of the students in the guided journal group reported that the writing was helpful for understanding the complexities of the story. Students said that the writing made them think deeper, contributing to classroom discussion, and the construction of more rational arguments in class.
In addition to getting more students involved in the novel, writing activities allowed the teacher to monitor their students' writing habits. Here they pointed out illogical arguments, and attempted to get their students to re-frame their thoughts in a more constructive manner.