Montana Teaching Certification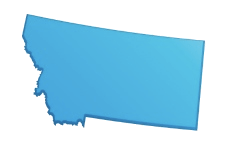 Montana Ed. Statistics
| | |
| --- | --- |
| Avg. Elem. Teacher Salary* | $52,160 |
| Avg. Sec. Teacher Salary* | $52,360 |
| Avg. Admin. Salary* | $88,060 |
| Teacher Retention (?) | 95% |
| Vacation Wks/Yr | 15 |
Learn how to become a teacher in Montana (or administrator). Choose the description of certification you are most interested in or situation that best describes you:
Getting Involved…
Investing in our future is vitally important and strangely difficult. In order to fight oppression from the greedy and power-hungry elite, to better our ways of life with advancing technology, and to increase our country's overall views toward the concept of acceptance, we need education to be a priority. Learn how you can be a spoke in this terribly important wheel. See how Montana measures up to the rest of the country by viewing the percentage of state revenue going toward education in each state. (see State Education Spending vs. Overall State Revenue).

Learn About Your Governor's Track Record

Give Your Knowledge Power By Voting
Hold your public servants accountable. It is our duty as residents of Alabama.
Help Make Education A Priority
Initial Montana Teaching Certification
Montana currently has a loan repayment program in place to encourage prospective educators to work in high-need areas of the state. Teachers who teach with these "critical shortage areas," currently inclusive of 546 public schools in Montana, can receive up to $3000 per year for four years to repay student loans. Currently, teaching fields impacted by the critical shortage include special education, career and technical education, math, music, science, speech-language pathology, school counseling, and foreign linguistics. Find schools offering teaching certification programs in Montana.
Education Requirements
<!- mfunc feat_school ->
Featured Programs:
Sponsored School(s)
<!- /mfunc feat_school ->
The Montana Office of Public Instruction Educator Licensure (406-444-3150) expects all teachers to have completed at least a bachelor's degree and a state-approved educator preparation program before a license will be issued.
If you attended educator preparation at a college or university in another state, you are still eligible for licensure in Montana if your program meets two requirements: the college is regionally accredited, and your program was in an area for which Montana offers educator licensure.
Did you attend school in a foreign country? One of the following agencies must evaluate your academic credentials before you apply for educator licensure in Montana:
Licensure Options
Two types of teacher licenses are offered in Montana. The first type, Class 2: Standard is typically issued to first-time applicants who meet all requirements. The second type, Class 1: Professional, is issued once you have a Class 2 license, a master's degree, and three years of teaching experience.
Teachers licensed to teach elementary school (K-8) are eligible to teach all subjects in those grades. If you completed a middle school preparation program in another state, you can be licensed in Montana in the endorsement area most appropriate based on the particulars of your preparation program.
Secondary teachers in grades 5-12 must complete at least 16 semester hours in professional educator preparation coursework. Secondary teachers and those seeking K-12 endorsements must also complete 30 semester hours in a content major plus 20 semester hours in a minor; or 40 semester hours in a broad content major.
Montana does not offer specific licensure for Early Childhood Education, Technology Education, or Gifted & Talented Education. Instead, if you completed at least 20 semester hours in any of these areas, you may apply for what they call "Permissive Special Competency" under your Class 2 license.
Examinations
A brief summary of Montana's examination requirements can be found here. Montana does not require testing as a part of its teacher licensure process; however, new teachers must pass some tests to meet Montana's definition of a "Highly Qualified" teacher.
Basic skills testing:
During your educator preparation program, you must pass a multi-dimensional content test with a minimum score of 8. The test includes having a high grade point average on at least 30 semester hours of your college program, passing performance-based assessments, and passing the Praxis II test for your content area. Passing this assessment is a prerequisite before your institution will recommend you for teacher licensure in Montana.
Content area assessment testing:
Unlike most states, Montana does not base content area licensing decisions on passing assessments. However, there are certain Praxis II examinations new Montana teachers must pass to meet Highly Qualified Status and to become licensed to teach in the following areas:
Elementary K-8
Art (All Grades)
Reading (All Grades)
Secondary Education (5-12):

Biology
Chemistry
Earth Science
Economics
English
Geography
Government/Political Science
Mathematics
Physical Science
Physics
World and U.S. History

World Languages (All Grades)
Experience Requirements
Montana's Office of Public Instruction has strict requirements regarding the experience you must gain as part of your educator preparation program. You will be involved in a robust practicum as part of your requisite education courses, during which time you will observe a teacher in a classroom setting and lead lessons.
Under the state's licensure rules you must also complete a supervised student teaching experience as part of your educator preparation program. Your student teaching assignment will be specific to your grade level and content area. At times you will be given control of the class, often independently, and have an opportunity to implement lessons and lead discussions.
Your performance in your student teaching assignment will weigh heavily in your college/university official's recommendation to the Office of Public Instruction regarding your qualification for licensure.
Document and Application Requirements
When you have completed all requirements for educator licensure in Montana, you may submit the Application for a Montana Class 1, 2, or 3 Educator License. Complete the application in its entirety, and sign it in the presence of a notary public. Also:
Have official transcripts sent to the Montana Office of Public Instruction (OPI) from every college and university you attended
Ask your college to complete the Institutional Recommendation Form and forward it to OPI (your college should have this form)
Enclose the proper application fees
Complete the fingerprint/background check information (see below)
Mail all of the above to Montana Office of Public Instruction, Attn: Educator Licensure, P.O. Box 202501, Helena, MT 59620-2501.
Criminal History Background Check
As an applicant for initial teacher licensure, you must submit a fingerprint card for a national background check submitted through the Montana Department of Justice. Go to your local law enforcement agency and request fingerprinting services. Fill out the fingerprint card they give you and mail the completed card, along with a check for $29.25 payable to the Montana Department of Justice, to Montana DOJ, P.O. Box 201403, Helena, MT 59620-1403.
If you do not receive a response from OPI, then your background check has cleared. If there is a problem, OPI will contact you.
Contact Information
Contact regionally accredited colleges and universities offering approved educator preparation programs accepted by Montana OPI here.
For information on educator licensure in Montana, contact OPI at 406-444-3150.
*2019 U.S. Bureau of Labor Statistics data – Conditions in your area may vary.
**Teacher Retention Sources – U.S. Department of Education, National Center for Education, Statistics Schools and Staffing Survey, 1999–2000 ("Public School Teacher Questionnaire," "Private School Teacher Questionnaire," and "Public Charter School Teacher Questionnaire"),
and 2000–01 Teacher Follow-up Survey ("Questionnaire for Current Teachers" and "Questionnaire for Former Teachers," Table 1.01). Washington, DC.
State estimations based on analysis by Richard Ingersoll, Professor of Education and Sociology, University of Pennsylvania, from the National Center for Education Statistics Student and Staffing Survey, and therefore include a slight margin of error.