Washington DC Teaching Certification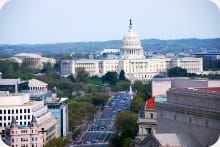 Washington DC Ed. Statistics
| | |
| --- | --- |
| Avg. Elem. Teacher Salary* | $79,390 |
| Avg. Sec. Teacher Salary* | $66,670 |
| Avg. Admin. Salary* | $109,630 |
| Teacher Retention (?) | 92% |
| Vacation Wks/Yr | 15 |
Learn how to become a teacher in Washington DC (or administrator). Choose the description of certification you are most interested in or situation that best describes you:
Getting Involved…
Investing in our future is vitally important and strangely difficult. In order to fight oppression from the greedy and power-hungry elite, to better our ways of life with advancing technology, and to increase our country's overall views toward the concept of acceptance, we need education to be a priority. Learn how you can be a spoke in this terribly important wheel. See how Washington DC measures up to the rest of the country by viewing the percentage of state revenue going toward education in each state. (see State Education Spending vs. Overall State Revenue).

Learn About Your Mayor's Track Record

Give Your Knowledge Power By Voting
Hold your public servants accountable. It is our duty as residents of Alabama.
Help Make Education A Priority
Initial Washington DC Teaching Certification
According to the District of Columbia Public Schools website, the D.C. area has roughly 46,000 students all eager to learn. These students, made up of different races, backgrounds, and cultures, require effective, knowledgeable teachers to guide them around the pitfalls of education.
Now, more than ever, qualified teachers are needed to lead America to educational success. As more and more students look to higher education, it is elementary and high-school teachers who will help put them on the right path toward achievement and excellence.
But most people aren't simply born teachers. The road to becoming a teacher is long and challenging, but the rewards more than make up for it. If you're interested in becoming a teacher in D.C., what are the first steps to take? Find schools offering teaching certification programs in Washington DC.
Education Requirements
<!- mfunc feat_school ->
Featured Programs:
Sponsored School(s)
<!- /mfunc feat_school ->
The Washington D.C. Office of the State Superintendent of Education (OSSE) requires all teacher certification applicants to earn bachelor's degrees from state-approved institutions. Additionally, teachers must enroll in and complete teacher preparation programs to ensure they meet all standards for qualified teachers in D.C.
During their teacher preparation programs, candidates gain first-hand experience through student teaching opportunities, and learn about different teaching methods and techniques. They also choose their specific endorsements, or subjects, they will focus on.
A full list of all approved teacher education programs in D.C. may be found here.
Teachers may obtain endorsements in the following areas:
Biology (7-12)
Business (7-12)
Chemistry (7-12)
Early Childhood (PreK-3)
Elementary (1-6)
English
English as a Second Language
French
General Science
German (K-12)
Mathematics
Social Studies
Spanish
Special Education
Examinations
Teacher candidates in D.C. must complete a series of examinations to be eligible for certification. The PRAXIS Core Academic Skills Test measures a candidates ability to comprehend basic reading, writing, and mathematics concepts. All candidates for certification must complete the PRAXIS I before applying for licensure.
Candidates must earn passing scores of 172 on Reading, 171 on Writing, and 174 on Mathematics to be eligible.
Candidates seeking endorsements in specific teaching areas must also complete PRAXIS II Subject Assessments (http://www.ets.org/praxis/about/praxisii ) that measure a candidate's content knowledge of a particular subject. More information on specific examination requirements may be found here.
Experience Requirements
During their teacher preparation programs, candidates for certification participate in student teaching opportunities that give them much-needed experience in the field. By gaining first-hand experience in the classroom, student teachers gain an understanding of the skills and techniques used for classroom management, curriculum development, and student assessment.
Typically, during student teaching, candidates are paired with experienced teachers who help guide them through their teaching experience. During this period, candidates assist their mentors in leading class discussion and other activities.
Document and Application Requirements
When candidates meet all experience, educational, and examination requirements, they may begin the application process. Initial teacher certification applicants must seek Regular II licenses.
Regular II License
Candidates for Regular II teacher certifications must complete form F-2.
Applicants must complete background information and include the following items with their applications:
Official transcripts sealed in a college or university envelope
Official PRAXIS, SAT, ACT, or GRE scores verifying passing scores
An approved program verification form completed by your School of Education
Copy of front and back pages of valid, out-of-state licenses, if applicable
Verification of teaching experience completed by the Office of Human Resources
Official copy of arrest and criminal history record issued within the previous 12 months
An application fee of $50 in the form of a money order or cashier's check payable to "DC Treasurer"
Candidates may send completed application packets to:
OSSE – Division of Elementary and Secondary Education
Educator License and Accreditation
810 First Street, NE 5th Floor
Washington, DC 20002
Criminal History Background Check
Applicants for licensure in Washington D.C. must request background checks and fingerprinting to be considered for certification.
There are two methods to receive background checking and fingerprinting in the district. Applicants who are currently employed by the Washington D.C. public school district may receive fingerprinting and background check forms for free at the District of Columbia Public Schools Office of Human Resources.
Candidates must visit the office in person to fill out forms and request information. The office is located at:
DCPS Office of Human Resources
1200 First Street
NE Washington, DC 20002
Candidates not employed in a D.C. school must request background checking and fingerprinting directly from the FBI. Requests may be made at the FBI website.
Contact Information
Have more questions?
The Washington D.C. OSSE office may be contacted via e-mail at educator.licensurehelp@dc.gov or by phone at 202-741-5881. More information on teaching careers in general may be found here.
*2019 U.S. Bureau of Labor Statistics data – Conditions in your area may vary.
**Teacher Retention Sources – U.S. Department of Education, National Center for Education, Statistics Schools and Staffing Survey, 1999–2000 ("Public School Teacher Questionnaire," "Private School Teacher Questionnaire," and "Public Charter School Teacher Questionnaire"),
and 2000–01 Teacher Follow-up Survey ("Questionnaire for Current Teachers" and "Questionnaire for Former Teachers," Table 1.01). Washington, DC.
State estimations based on analysis by Richard Ingersoll, Professor of Education and Sociology, University of Pennsylvania, from the National Center for Education Statistics Student and Staffing Survey, and therefore include a slight margin of error.