Washington DC Administration/Principal Certification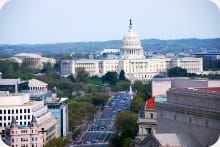 America's schools need effective leaders well-versed in the complexities of providing quality education for students of all backgrounds. In Washington D.C., earning an Administrator Services Credential permits candidates to serve as principals or assistant principals in D.C. schools.
The Office of State Superintendent of Education (OSSE) offers several ways to become a school administrator in the District.
Education Requirements
There are two options for earning an administrator's license in D.C.
The first option involves completion of a bachelor's degree program from an accredited college or university in addition to the completion of a state-approved leadership and administration education program.
In their education programs, candidates learn advanced skills in communication and management, preparing them for their roles as leaders of their schools.
Learn more about the graduate school process. Contact schools offering educational administration degree programs in Washington DC.
<!- mfunc feat_school ->
Featured Programs:
Sponsored School(s)
<!- /mfunc feat_school ->
The second option requires candidates to complete master's degree programs from accredited colleges or universities. There is no administrative education preparation requirement for this option.
Examinations
In order to earn their administration certifications, candidates must complete the School Leader Licensure Assessment (SLLA).
The SLLA measures a candidates skills and knowledge in leadership areas such as vision, goals, management of organizational systems, ethics, integrity, and teaching and learning. Candidates must receive a score of 163 or greater to pass certification requirements.
Candidates must pay a $50 registration fee in addition to a $325 fee for the SLLA test. More information on test dates and requirements may be found here.
Experience Requirements
Candidates seeking administration certification through both the first and second option must have previous teaching experience to be eligible for licensure.
School administrators are required to have completed two years of full-time teaching in the PreK-12 level. This allows administrators to gain a solid understanding of what teachers require to effectively educate their students. During their tenures as teachers, potential administrators learn how deficiencies in educational materials affect the classroom, and they are able to relate better to their faculty members.
Additionally, teachers who complete administrator preparation programs gain valuable first-hand experience in internship programs, giving them an idea of what is required to lead a school.
Documents and Application Requirements
Candidates for administration certification in D.C. must complete Form F-8.
Applicants must fill out background information, contact information, and educational information. Additionally, the following items must be included with the application packet:
Official transcripts sealed in a university or college envelope
Official SLLA examination score verifying a passing grade
Copies of valid school administrator licenses, if applicable.
Official verification of work experience
Official copy of arrest and criminal history record
If you've completed an approved administration program outside of D.C., you must fill out an Out of State Approved Program Verification Form
An application processing fee of $50 in money order or cashiers check payable to "DC Treasurer"
Applicants may send their completed packets to the OSSE office at:
OSSE – Division of Elementary and Secondary Education
Educator Licensure and Accreditation
810 First Street, NE 5th Floor
Washington, DC 20002
Criminal History Background Check
Applicants for certification already employed in D.C. school districts must request fingerprinting and background check applications from the District of Columbia Public Schools (DCPS). Fingerprinting is free for current and recently hired employees.
Candidates must go to the office in person to request forms. The office may be found at:
DCPS Office of Human Resources
1200 First Street
NE Washington, DC 20002
Applicants not employed by the DCPS must submit background check results from the FBI. Applicants may either submit the request to the FBI or submit the request to an approved channeler.
Contact Information
For more information on becoming a licensed administrator in Washington D.C., contact the OSSE at educator.licensurehelp@dc.gov. Additionally, the office may be contacted via phone at 202-741-5881.
If you're interested in learning more about becoming licensed as an administrator, click here.