Illinois Teaching Certification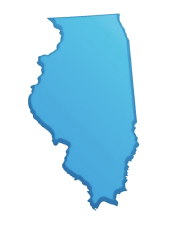 Illinois Ed. Statistics
| | |
| --- | --- |
| Avg. Elem. Teacher Salary* | $63,280 |
| Avg. Sec. Teacher Salary* | $74,340 |
| Avg. Admin. Salary* | $105,620 |
| Teacher Retention (?) | 96% |
| Vacation Wks/Yr | 15 |
Learn how to become a teacher in Illinois (or administrator). Choose the description of certification you are most interested in or situation that best describes you:
Getting Involved…
Investing in our future is vitally important and strangely difficult. In order to fight oppression from the greedy and power-hungry elite, to better our ways of life with advancing technology, and to increase our country's overall views toward the concept of acceptance, we need education to be a priority. Learn how you can be a spoke in this terribly important wheel. See how Illinois measures up to the rest of the country by viewing the percentage of state revenue going toward education in each state. (see State Education Spending vs. Overall State Revenue).

Learn About Your Governor's Track Record

Give Your Knowledge Power By Voting
Hold your public servants accountable. It is our duty as residents of Alabama.
Help Make Education A Priority
Initial Illinois Teaching Certification
Illinois public schools are on the cutting edge of technology education. As part of the aptly named Illinois Wind for Schools program, the Illinois Department of Commerce and Economic Opportunity has provided grants to cover the costs of classroom materials related to wind energy. These materials will allow teachers to combine lessons in math and science with information on new technology in alternative energy production. A number of school districts have already taken advantage of these grants so as to participate in this elective program. Another six Illinois school districts have taken advantage of low interest loans made available for technology upgrades in the classroom. This has allowed these districts to invest a total of $618,000 to cover the cost of new computers, installation and upgrade of computer networks, as well as teacher training in the use of technology in the classroom. Find schools offering teaching certification programs in Illinois.
Education Requirements
<!- mfunc feat_school ->
Featured Programs:
Sponsored School(s)
<!- /mfunc feat_school ->
The Illinois State Board of Education (217-557-6763) expects all of its certified teachers to complete a state-approved teacher preparation program and have at least a bachelor's degree. Explore this list of state-approved educator preparation programs in Illinois. While the minimum degree requirement for Illinois teachers is a bachelor's degree, some of these programs are at the graduate level.
If you graduated from an out-of-state teacher preparation program, the Illinois Department of Education will recognize the validity of that program if it has been approved by that state's Department of Education, or if it leads to a teaching certificate or license in that state.
Prospective teachers who graduated from a foreign college or university must have their foreign education credentials evaluated and converted to fit the American credits/courses standard. You can request an evaluation from one of these approved credential evaluation agencies, and send their report to the Illinois Department of Education for final review.
Certification Options
Illinois offers the following types of professional teacher certificates to qualified applicants:
Early Childhood (Birth to Grade 3)
Elementary (K through Grade 9)
Secondary(Grade 6 to 12)
Special (Subject Specific, K through Grade 12)
Special Education Special Certificate (Preschool through age 21)
Additionally, there are three tiers of certification in Illinois:
A Provisional Certificate may be issued if you do not meet all of the requirements for an Initial Certificate. This certificate is valid for two years, during which time you are expected to fulfill the prerequisites for an Initial Certificate.
Examinations
The Illinois Certification Testing System (ICTS) website offers a summary of examination requirements for Illinois educators.
Basic skills testing:
Every teacher in Illinois must pass a basic skills examination. Illinois uses the ICTS Basic Skills Exam to test reading comprehension, mathematics, and writing and grammar. You must receive a scaled score of 240 on each subtest to pass the Basic Skills Exam.
If you already hold a teacher certificate in another state, having passed that state's Basic Skills exam may allow you an exemption from taking the ICTS Basic Skills Exam.
Content area assessment testing:
In addition to passing the ICTS Basic Skills Exam, you'll also need to pass the ICTS Content Area Exam for each area in which you wish to become certified. These include:
Early Childhood Education
Early Childhood Special Education
Elementary/Middle Grades
Agricultural Education
Business, Marketing and Computer Education
Computer Science
Dance
Drama/Theatre Arts
English as a New Language
English Language Arts
Family and Consumer Sciences
Health Careers
Health Education
Learning Behavior Specialist
Library Information Specialist
Mathematics
Music
Physical Education
Reading Specialist
Reading Teacher
Science: Biology
Science: Chemistry
Science: Earth and Space Science
Science: Environmental Science
Science: Physics
Social Science: Economics
Social Science: Geography
Social Science: History
Social Science: Political Science
Social Science: Psychology
Social Science: Sociology and Anthropology
Special Education General Curriculum Test
Technology Education
Technology Specialist
Visual Arts
Foreign Language Content-Area Tests:

Arabic
Chinese (Cantonese)
Chinese (Mandarin)
French
German
Hebrew
Italian
Japanese
Korean
Latin
Russian
Spanish
Additionally, the Assessment of Professional Teaching (APT) test must be passed if you wish to become certified in Birth to Grade 3, Grades K-9, Grades 6-12, and Grades K-12.
Experience Requirements
Your Illinois state-approved teacher preparation program will include a period of time spent student teaching. You will be placed in a classroom in a public or private school that aligns with the grade level and/or content area you plan to teach. Depending upon your program, the length of your field experience will vary.
This experience component will involve being observed by a mentor teacher for a certain number of hours, and assessed on your performance. You will be expected to participate in lesson planning and in the implementation of those lessons in the classroom.
Document and Application Requirements
Once you have fulfilled all of the educational, experience and examination requirements for teacher certification in Illinois, you are ready to apply for your Initial Certificate. Complete the Application for Teaching Certificate form and submit it, along with the supporting documents listed below, to Illinois State Board of Education, Educator Certification Division, 100 North First Street, S-306, Springfield, Illinois 62777-0001:
Official, sealed college transcript(s) indicating your major and degree earned
A completed State Approved Program Verification form, signed by an official of your teacher preparation program
Certificate application fee of $75
Once you receive your teaching certificate, it must be registered with an Illinois regional superintendent of schools. This is done through the administrative office when you secure a teaching position within an Illinois school system. If your certificate is not registered for six months or more, it will lapse and need to be reinstated.
Criminal History Background Check
A criminal history background check is not required for initial Illinois teacher certification. If you answer, "yes" to certain questions on the application form, the specified issues will be investigated. You should be able to obtain an Illinois teaching certificate unless you have been convicted of first degree murder, attempted first degree murder, certain narcotics and sex offenses, or a Class X felony. If you have tax problems, student loan defaults, child abuse/neglect charges against you or have failed to pay child support, you must submit additional documentation along with your certification application, listed here.
Once hired by an Illinois school system, you must undergo a full criminal history background check, including fingerprinting. Instructions on how to complete this process will be given to you by the school system.
Contact Information
If you are in need of further information on Illinois colleges and universities offering state-approved teacher preparation programs, click here.
For more information on Illinois teacher certification, contact the Illinois Department of Education Educator Certification Division at 217-557-6763 or visit their website.
*2019 U.S. Bureau of Labor Statistics data – Conditions in your area may vary.
**Teacher Retention Sources – U.S. Department of Education, National Center for Education, Statistics Schools and Staffing Survey, 1999–2000 ("Public School Teacher Questionnaire," "Private School Teacher Questionnaire," and "Public Charter School Teacher Questionnaire"),
and 2000–01 Teacher Follow-up Survey ("Questionnaire for Current Teachers" and "Questionnaire for Former Teachers," Table 1.01). Washington, DC.
State estimations based on analysis by Richard Ingersoll, Professor of Education and Sociology, University of Pennsylvania, from the National Center for Education Statistics Student and Staffing Survey, and therefore include a slight margin of error.