Washington Teaching Certification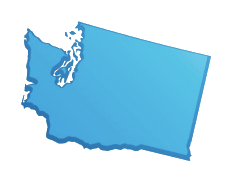 Washington Ed. Statistics
| | |
| --- | --- |
| Avg. Elem. Teacher Salary* | $69,390 |
| Avg. Sec. Teacher Salary* | $71,690 |
| Avg. Admin. Salary* | $120,300 |
| Teacher Retention (?) | 94% |
| Vacation Wks/Yr | 15 |
Learn how to become a teacher in Washington (or administrator). Choose the description of certification you are most interested in or situation that best describes you:
Getting Involved…
Investing in our future is vitally important and strangely difficult. In order to fight oppression from the greedy and power-hungry elite, to better our ways of life with advancing technology, and to increase our country's overall views toward the concept of acceptance, we need education to be a priority. Learn how you can be a spoke in this terribly important wheel. See how Washington measures up to the rest of the country by viewing the percentage of state revenue going toward education in each state.

Learn About Your Governor's Track Record

Give Your Knowledge Power By Voting
Hold your public servants accountable. It is our duty as residents of Alabama.
Help Make Education A Priority
Initial Washington Teaching Certification
With over 295 school districts in the state, Washington is in need of effective, supportive teachers who will lead their schools to educational prosperity. Washington's teachers seek to train students to think analytically, comprehend complex tasks, and understand how performance and effort drive future career aspirations.
Today, more than ever, students need teachers who understand the complexities of the changing classroom and cutting edge teaching methods that will help lead students on the right path. If you're interested in committing to this noble effort, where should you start?
Education Requirements
<!- mfunc feat_school ->
Featured Programs:
Sponsored School(s)
<!- /mfunc feat_school ->
First-time teacher certification applicants in Washington must apply for their Residency Teacher Certificate.
The Washington Office of Superintendent of Public Instruction (OSPI) requires teachers to earn at least bachelor's degrees in addition to completing approved teacher preparation programs from accredited colleges or universities. Teacher preparation programs help potential teachers learn the ins and outs of teaching, while providing quality education about instructional methods and teaching techniques.
Explore a list of all teacher preparation programs in Washington here.
During their teacher education programs, candidates choose between a variety of subject endorsement areas to focus on. Some of these subject areas and grade levels include:
All Grade Levels
Bilingual
Designated Arts:

Dance
Music: Choral
Music: General
Music: Instrumental
Theatre Arts
Visual Arts

Designated World Languages
English Language Learner
Health/Fitness
Library Media
Reading
Special Education
Preschool-Third Grade
Early Childhood Education
Early Childhood Special Education
Elementary Middle Level
Elementary Education
Middle Level Humanities
Middle Level Mathematics
Middle Level Science
Secondary
Designated Vocational/Career and Technical Areas

Agriculture Education
Business and Marketing Education
Family and Consumer Sciences Education
Technology Education

Designated Science

Biology
Chemistry
Earth and Space Science
Physics

English Language Arts
History
Mathematics
Science
Social Studies
If applicants have completed out-of-state teacher preparation programs and received certification out-of-state, they may verify three years of K-12 experience and receive their residency certification in Washington. See certification reciprocity in Washington.
Types of Certification
The OSPI offers two levels of teacher certification:
Residency Teacher Certification: This is the initial level of teacher certification. This license is valid for two years of successful teaching, after which teachers must either apply for the next level of certification or renew their Residency Certification.
Professional Teacher Certification: The advanced level of certification offered to teachers who have completed two years of teaching with the same employer.
For more information on types of certification, see License Renewal and Reinstatement.
Examinations
Teacher candidates must complete two examinations proving their knowledge and mastery of content and teaching methods.
The WEST-B Skills Test asks teachers to complete testing sections on reading, writing, and mathematics. Teachers show their understanding of basic problem-solving and critical thinking in subjects that are critical to the teaching profession.
Test scores are calculated on a scale of 100 to 300. To pass the WEST-B Skills Test, candidates must earn test scores of at least 240 on each subsection.
Out-of-state applicants have the option of completing the CBEST (California and Oregon only) or the PRAXIS Core Academic Skills Test in place of the WEST-B.
Teachers seeking certain endorsement areas in Washington are also required to take specific endorsement area tests. Teachers taking the WEST-E endorsement test must show their knowledge of specific subjects, including:
Agriculture Education
Bilingual Education
Biology
Business and Marketing Education
Chemistry
Dance
Earth and Space Science
Early Childhood Education
Early Childhood Special Education
Elementary Education
English Language Arts
English Language Learner
Family Consumer Special Education
Health/Fitness
History
Latin Language
Library Media
Mathematics
Middle Level Humanities
Middle Level Math
Middle Level Science
Music: Choral
Music: General (Neither Choral nor Instrumental)
Music: Instrumental
Physics
Reading
Science
Social Studies
Special Education
Technology Education
Theatre Arts
Traffic Safety Education
Visual Arts
World Languages
World Languages – Latin
Experience Requirements
Students of teacher preparation programs are given opportunities to gain real-world experience as student teachers. Student teaching gives students much-needed experience in the field of education, helping them to adjust to life in the classroom.
In order to be eligible for teacher endorsements, candidates must complete student teaching in their endorsement area. Student teachers are paired with supervisors who help give them advice and guide them through the teaching process.
Document and Application Requirements
Teacher candidates must fulfill all requirements before applying for teacher certification in Washington. Most first-time applicants must meet the standards set in the Residency Certificate, including:
Evidence of good moral character and personal fitness
A bachelor's degree from an accredited university
Completion of a state-approved teacher preparation program, including student teaching
Completion of one teacher endorsement area
Completion of the WEST-B and WEST-E skills tests
Candidates must completely fill out the Washington Teacher Certification Application, marking which certification they are seeking. First-time applicants should request the Residency Certificate.
Candidates must submit applicable forms and information listed in the Application Checklist to local certification offices found here.
Criminal History Background Check
Washington teacher applicants are required to submit to fingerprinting and a background check for safety concerns. Both the Washington State Police and FBI conduct the checks which are then sent to the OSPI office and entered into the Educational Data System.
Fingerprint cards may be requested from the OSPI, and then taken to a local law enforcement agency for fingerprinting. Then applicants should send the completed cards with a $46.25 application fee to:
OSPI
Attn: Fiscal Office
PO Box 47200
Olympia, WA 98504-7200
For more information on background checking and fingerprinting, see the OSPI website.
Contact Information
The OSPI office may be contacted at (360) 725-6400 or by e-mail at cert@k12.wa.us.
Additionally, candidates may visit the office in person at:
Old Capital Building, PO BOX 47200
600 Washington St. S.E.,
Olympia, WA 98504-7200
*2019 U.S. Bureau of Labor Statistics data – Conditions in your area may vary.
**Teacher Retention Sources – U.S. Department of Education, National Center for Education, Statistics Schools and Staffing Survey, 1999–2000 ("Public School Teacher Questionnaire," "Private School Teacher Questionnaire," and "Public Charter School Teacher Questionnaire"),
and 2000–01 Teacher Follow-up Survey ("Questionnaire for Current Teachers" and "Questionnaire for Former Teachers," Table 1.01). Washington, DC.
State estimations based on analysis by Richard Ingersoll, Professor of Education and Sociology, University of Pennsylvania, from the National Center for Education Statistics Student and Staffing Survey, and therefore include a slight margin of error.