Teaching is a profession that draws on many skills and often rewards a broad spectrum of preparation. An elementary school teacher, for example, might have a subject or two they enjoy the most, but they still must do a complete job across the entire curriculum.
But sometimes it pays to find a program that is laser-focused on your subject area, allowing you to achieve teaching excellence in that field. There are subjects so intensely specialized, and teaching roles so focused on high-level expertise in those areas, that field-specific degrees present the best option.
Mathematics may be one of those fields, and the online Master of Science in Mathematics from Shawnee State could be your ticket to either collegiate instruction jobs or qualifications to teach in Ohio's prestigious College Credit Plus courses.
An Online Master of Science in Mathematics Opens New Worlds of Teaching
Math teachers are a breed apart. They have to be—the kind of mind that can not only grapple with the concepts of higher mathematics, but also present the subject in terms that can break through even the most fearful student's resistance requires exquisite cultivation.
You need both extensive theoretical mathematics knowledge and an in-depth grasp of advanced pedagogical theory and practice to successfully teach advanced math.
A Master of Science in Mathematics is never an easy degree to earn. Over 27 months, you'll face coursework in advanced subjects like:
Abstract algebra structures
Principles of statistics in applied linear regression
Advanced calculus work in differentiation and exponential functions
The use of multivariate statistical methods in educational research
It's solid foundational preparation that can support a career heading in many different directions—advanced high school teaching qualifications, high-level college instruction, or even as a jumping-off point for doctoral studies.
Helping High School Students Get a Jump on College Credits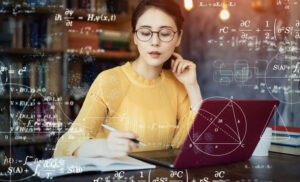 With college costs skyrocketing, there are plenty of Ohio students looking for ways to earn credits without paying directly for classes. For advanced high school students, the Buckeye State has a great option: the College Credit Plus program.
CCP has been available to all academically-eligible public school students in grades 7-12 since 2015. It's a type of dual enrollment system where they can attend college courses in place of certain high school classes. They are credited for both their high school requirements, and the corresponding college credits for the coursework… assuming they pass.
And if they opt to take those classes through public universities or community colleges, there is absolutely no cost to the student.
But for schools, there's a catch: instructors must hold both the necessary department of education credentials for their grade level, and have the approval of the college overseeing the CCP course.
Since collegiate coursework is more demanding and advanced than high school subjects, that usually means educators need additional education in their field. And that's exactly what Shawnee State offers math instructors with this master's degree.
CCP teaching doesn't actually have any additional Ohio State Department of Education certification requirements. But that doesn't mean that colleges themselves don't have high standards for educators who are expected to present their material to high school students. A master's degree is a common minimum.
It may be more challenging to teach such advanced mathematical concepts to high schoolers versus college students.
But with the background a master's in mathematics from Shawnee State gives you, you'll have the confidence in the material and in your own skills as an educator to work at any level.
A Certificate in Mathematical Science Offers Options for Teachers Who Already Have a Master's in Hand
If you already hold a master's in mathematics or another discipline, Shawnee also offers an even faster path to instructional expertise in math through the graduate certificate in mathematical science.
Pared down to a 12-month course, this still offers the advanced training you need to satisfy most university requirements for teaching College Credit Plus courses in mathematics. That makes it an easy call for teachers who didn't get that coursework under their belt the first time around.
Shawnee State Brings Personalized Online Learning at an Affordable Price
Shawnee State is as modern and energized as online instruction itself. Founded in 1985, and offering its first master's program in 2000, the school has come of age at the same time as the internet itself.
Tough coursework plus remote studies can be a challenge for anyone. But Shawnee State's proven expertise in offering online programs with the full slate of support and individual attention you need to get through challenging concepts. One-to-one assistance from attentive instructors who are committed to your success will go a long way.
Also, as a charter member of the OhioLINK library program, students here have access to more than 38 million books, periodicals, and other reference resources, not to mention over 100 research databases and the ETD Search system that lists more than 100,000 open access theses and dissertations. It's all available online, putting items on your doorstep no matter where in the state you're located.
Finally, the flexibility offered in an asynchronous online program that was built for currently employed professionals allows you to do your work whenever works best for you. Whether that's after grading papers in your office, before breakfast when the kids are still asleep, or on a quiet weekend, you choose the best time to hit the books.
Quick 7-week courses that you can flex around your personal schedule and commitments help you balance it all out. And full access to Shawnee State campus services like tutoring and career counseling helps you plot your course and get assistance when you need it.