Ohio Teaching Certification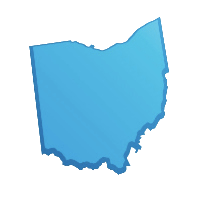 Ohio Ed. Statistics
| | |
| --- | --- |
| Avg. Elem. Teacher Salary* | $64,090 |
| Avg. Sec. Teacher Salary* | $64,410 |
| Avg. Admin. Salary* | $88,630 |
| Teacher Retention (?) | 93% |
| Vacation Wks/Yr | 15 |
Learn how to become a teacher in Ohio (or administrator). Choose the description of certification you are most interested in or situation that best describes you:
Getting Involved…
Investing in our future is vitally important and strangely difficult. In order to fight oppression from the greedy and power-hungry elite, to better our ways of life with advancing technology, and to increase our country's overall views toward the concept of acceptance, we need education to be a priority. Learn how you can be a spoke in this terribly important wheel. See how Ohio measures up to the rest of the country by viewing the percentage of state revenue going toward education in each state. (see State Education Spending vs. Overall State Revenue).

Learn About Your Governor's Track Record


Give Your Knowledge Power By Voting

Hold your public servants accountable. It is our duty as residents of Alabama.
Help Make Education A Priority
Initial Ohio Teaching Certification
Recently, Ohio joined 14 other states and the District of Columbia on the governing board of the Partnership for Assessment of Readiness for College and Careers (PARCC). This new assessment system helps the Ohio Department of Education determine if students in Ohio's public schools are on track for college eligibility and the well-paying careers likely to follow. With this system in place, educators have the benefit of being able to intervene early in an effort to promote college preparedness when necessary. These assessments, which will be conducted online, will provide real-time results to students and teachers alike, and will be implemented in Ohio's public schools in the 2014-15 school year. Find schools offering teaching certification programs in Ohio.
Education Requirements
<!- mfunc feat_school ->
Featured Programs:
Sponsored School(s)
<!- /mfunc feat_school ->
As an aspiring teacher in Ohio, you must have at least a bachelor's degree. In most cases a state-approved educator preparation program awards degrees to licensure candidates in accordance with rules put in place by the Ohio Department of Education Office of Educator Licensure (877-644-6338).
If you have completed an educator preparation program out-of-state, you must have the dean/head of teacher education of that school submit a letter to the Ohio Department of Education indicating what type of license you are eligible for in that state and in which subject area.
If you attended college outside of the United States, you must have your academic credentials evaluated by one of the evaluation agencies listed on Page 3 of this application packet.
Licensure Options
The Ohio Department of Education (ODE) has a four-tiered licensure structure as of 2011. You start with a Four-Year Resident Educator License, and after completing requirements, move to the Five-Year Professional Educator License. In order to move to the Senior Professional Educator License (also Five-Year), you must complete a graduate degree, nine years of experience and perform at the accomplished or distinguished level (according to Ohio Standards for the Teaching Profession). Finally, to get the Lead Professional Educator License you must meet all of the requirements for a Senior Professional Educator and perform at the distinguished level.
Until recently, the ODE offered four-year provisional or eight-year professional certificates; however, now these certificates must be transitioned to licenses upon their expiration. Information on the transition process may be found here.
Examinations
Consult the Praxis website for a description of teacher licensure examination requirements in Ohio.
Basic skills testing:
While the ODE does not require you to pass the Praxis I Basic Skills Examination in order to become a licensed educator, most educator preparation programs will list this among their requirements for students.
Content area assessment testing:
The ODE requires aspiring teachers to pass the Praxis Principles of Learning and Teaching (PLT) exam pertinent to the grade level you plan to teach, as well as the Praxis II subject area exam for each area in which you wish to become licensed:
Early Childhood (Grades PK-3)
Middle Childhood (Grades 4-9):

Mathematics
Reading & Language Arts
Science
Social Studies

Adolescence to Young Adult (Grades 7-12):

Earth Sciences
Earth Sciences/Chemistry
Earth Sciences/Physics
Integrated Language Arts
Integrated Mathematics
Integrated Science: Option 1 (includes tests in Chemistry, Physics, General Science and Biology)
Integrated Science: Option 2 (includes tests in Biology, General Science, Chemistry, Physics and Earth and Space Science)
Integrated Social Studies
Life Sciences
Life Sciences/Chemistry
Life Sciences/Earth Sciences
Life Sciences/Physics
Physical Sciences: Chemistry
Physical Sciences: Chemistry and Physics
Physical Sciences: Physics

Multi Age (Grades PK-12):

No Praxis test is required for licensure in the following areas:

Bilingual Education
Computer Information Science
Dance
Drama/Theater
Foreign/World Language: French
Foreign/World Language: Spanish
Foreign/World Language: German

Health
Library Media
Music
Physical Education
Teaching English to Speakers of Other Languages
Visual Arts

Intervention Specialist:

Early Childhood (PK-3)
Hearing Impaired (PK-2)
Gifted (K-12) (No Praxis test required for licensure)
Mild/Moderate (K-12)
Moderate/Intensive (K-12)
Visually Impaired (PK-12)

Endorsements:

No Praxis test required for endorsements in the following areas:

Adapted Physical Education
Bilingual Education
Career-Based Intervention
Career Technical Work Site Teacher/Coordinator
Computer/Technology
Gifted Intervention Specialist
Literacy Specialist
Mathematics Specialist
Transition to Work
Science Specialist (Grades PK-9)

Early Childhood Generalist (Ages 4-5)
Middle Childhood Generalist (Grades 4-6)
Mathematics (Grades 4-6)
Reading and Language Arts (Grades 4-6)
Science (Grades 4-6)
Social Studies (Grades 4-6)
Pre-Kindergarten (Ages 3-5)
Pre-Kindergarten Special Needs Children
Reading (PK-12)
Teaching English to Speakers of Other Languages
Experience Requirements
As a part of your educator preparation program in Ohio, you will enroll in a practicum, which is an observation-based field assignment in which you sit in on classroom teachers at work. You may be asked to participate in developing and leading lessons during the practicum.
During the latter part of your educator preparation program, you will be placed into a field experience student teaching internship assignment, where you will take over as classroom teacher of a class pertinent to the grade level/subject area in which you seek licensure. You will utilize the classroom management skills you have learned through observation and coursework, lead instruction, and prepare and implement lesson plans. Your performance will be assessed periodically by a classroom teacher mentor as well as by licensure officials from your educator preparation program. Typically, this student teaching assignment lasts from 10 to 12 weeks.
Document and Application Requirements
When you are ready to apply, download the Initial Ohio License Application – In State (or Out of State Packet if you attended an educator preparation outside of Ohio). Complete the application in its entirety, and have your dean or head of teacher education sign where indicated. Along with the application and accompanying fees, you must send the following documentation to the Ohio Department of Education:
Official college transcripts
Copies of Praxis II score reports
Copies of any teaching licensees from other states you may already hold
Mail all of the above to Ohio Department of Education, Office of Educator Licensure, 25 S. Front St, Mail Stop 105, Columbus, OH 43215-4183.
Criminal History Background Check
As part of the application and licensure process for your first educator license in Ohio, you must undergo a criminal history background check. This is conducted through the Ohio Bureau of Criminal Investigation (BCI) and the Federal Bureau of Investigation (FBI).
In addition to filling out the information and answering the legal questions on the licensure application, you must have your fingerprints taken at a WebCheck facility and have them submitted by the facility electronically to the Ohio Department of Education. Paper applications for fingerprints/background checks will not be accepted. A list of WebCheck locations may be found here.
Contact Information
If you need further information on Ohio schools offering educator preparation programs, visit this database.
For more information on educator licensure in Ohio, contact the Ohio Department of Education Office of Educator Licensure at 877-644-6338.
*2019 U.S. Bureau of Labor Statistics data – Conditions in your area may vary.
**Teacher Retention Sources – U.S. Department of Education, National Center for Education, Statistics Schools and Staffing Survey, 1999–2000 ("Public School Teacher Questionnaire," "Private School Teacher Questionnaire," and "Public Charter School Teacher Questionnaire"),
and 2000–01 Teacher Follow-up Survey ("Questionnaire for Current Teachers" and "Questionnaire for Former Teachers," Table 1.01). Washington, DC.
State estimations based on analysis by Richard Ingersoll, Professor of Education and Sociology, University of Pennsylvania, from the National Center for Education Statistics Student and Staffing Survey, and therefore include a slight margin of error.