Ohio represents a diverse mix of rural, urban, and suburban school environments for teachers and administrators. From rich and thriving suburban districts, to economically disadvantaged urban schools, to hollowed-out rural districts with plummeting headcount, there's a lot going on in Buckeye state public schools.
Training teachers to deal with all those different issues and environments isn't easy. But it's a challenge that some Ohio colleges are well-equipped to handle. And Notre Dame College is one of the best.
Notre Dame was founded in 1922 as a small Roman Catholic women's college dedicated to conferring teaching certificates to fill the ranks of Ohio's school system.
Minus the women's-only requirement, and with a whole lot of extras and updates, that's still the business of the school today. And now, as then, it's done by building student's character as well as their career skills.
This makes Notre Dame College a great choice for your Ohio teacher certification training.
When in Search of Educational Excellence, Teachers Know to Choose Personalized Schooling
When you attend a small, private Christian school, you are getting a uniquely personalized, hands-on approach to your professional education. That's as true with Notre Dame's online programs as their traditional options.
A twelve-to-one student to faculty ratio fosters an environment where professors have the time to explore your individual needs and interests. And the compassionate nature of traditional Roman Catholic education means they have a genuine interest in helping you achieve your goals.
Notre Dame's Division of Professional Education might just offer the most student-focused teacher training experience in the entire state of Ohio.
By taking advantage of any one of these online degree offerings from Notre Dame, you are tapping into the same rich tradition of teacher training and taking advantage of all the same benefits that are only available through a devoted private college.
Combining Online Flexibility with an Individual Focus Offers the Best of Both Worlds
The personalized touch makes for the best possible student experience no matter what the class format. But when you combine it with the flexibility of online studies, it's absolutely career changing.
A twenty percent discount on tuition for teachers, staff, and administrators currently working at Catholic schools or institutions makes Notre Dame College an easy choice for many private school educators in Ohio.
Every student has full access to all the same resources that are available on campus, including the tutoring center and library. More than thirty student groups are available to find support, companionship, and shared interests.
And since you will rub virtual shoulders with fellow students from 35 different states and more than 20 foreign countries, you'll experience the diversity and perspectives that will make you a more empathetic, more innovative educator.
Exploring the Many Degree Paths to Certification Offered at Notre Dame College
Each of these degrees leads to licensure, fulfilling the Ohio Office of Educator Licensure requirements for credentials ranging from the standard Resident Educator License to a Professional Principal License.
A Bachelor of Arts in Education – Early Childhood Education (Pre-K-5) develops the skills you need to build the knowledge, abilities, and confidence of kids at the most sensitive stage of cognitive development. The focus for Early Childhood Education (ECE) is in setting a solid foundation for life-long learning. That comes through developing your own core skills in:
Developmental reading education
Early diagnosis of reading disabilities
Music, creative arts, and movement in ECE
In all, it's 37 focused hours specific to ECE on top of your other general education and teacher training.
You may also opt for a Bachelor of Arts in Education – Mild/Moderate Intervention Specialist (K-12). This program takes you:
Through the realm of educational psychology to better understand the challenges and processes of students facing challenges with disabilities
Into the latest assistive technologies for assisting and overcoming mild to moderate disability
To the next level of classroom management and collaborative processes for handling challenging students
Both bachelor's programs provide 100 more hours of field experience on top of required student teaching placements. That extra first-hand experience is an invaluable addition to your practical understanding of dealing with students in these sensitive fields.
Accelerating Your Career and Expanding Your Endorsements with Graduate Studies at Notre Dame
At the graduate level, the stakes are even higher. Typically, you come to master's degree courses after you've already developed some professional experience—whether in teaching or other careers. With a bachelor's under your belt already, you're free to take on more advanced topics and develop a deeper level of expertise in any of these areas of focus.
The Office of Professional Development Helps Keep You Current Long After the Ink on Your Degree is Dry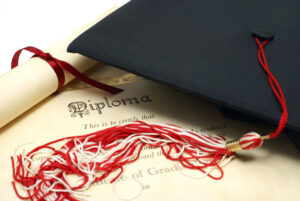 Building on the school's longstanding reputation in Ohio education circles and beyond, Notre Dame enrolled its first Master of Education students in 1991.
In 1994, the first students graduated from the program.
That's the same year the Office of Professional Development opened on campus. Originally called the Center of Excellence, the department was created to encourage ongoing training in teaching, technology, and learning.
The continuing education offerings are available both to alumni and educators who haven't experienced the Notre Dame magic before. But as a graduate coming back to add an endorsement, brush up on new material, or just push your own boundaries, you can be proud of your alma mater for coming so far, so fast.
Every MEd program is taught by doctorate-prepared instructors. You never have to worry about the qualifications of your professors. They also are delivered through synchronous classes, which gives you direct interaction with those instructors and your fellow students for every session.
The Master of Education in Curriculum and Instruction develops your skills in designing curricula for K-12 classrooms. Unlike many such degrees, it does so by offering perspectives from the history of education and through techniques for evaluating the latest research and developments in pedagogy. And you'll stay up to date on those developments through coursework in new technologies and digital teaching tools just coming out today.
With the Master of Education in Educational Leadership, your management and administration skills will go up a notch. You'll study the essentials of school finance, personnel administration, legal and political issues in education, and the impacts of society and culture in the classroom. More importantly, you'll be taught the fundamental skills that leaders need to build and support their team, through communication, problem-solving, and organizational development skills.
The Master of Education in Intervention Specialist Licensure for Mild/Moderate Needs takes the same subject as the bachelor's program in this area and elevates your understanding and expertise to the next level. Open to both current licensed teachers and individuals with bachelor's degrees in other fields who are interested in intervention specialist careers, the master's introduces you to research and practical applications of intervention. A capstone project allows you to put your ideas into practice and set you up for leadership roles in mild/moderate needs intervention after graduation.
Another path to advanced expertise comes with earning a Master of Education in Reading and Literacy. The degree qualifies you for a full reading endorsement in PK-12. Equally important, it takes you down to the bedrock in terms of literacy theory and the state of modern research in reading skills acquisition. You'll learn multisensory approaches to language development, using integrated technology and the latest instructional strategies. With 50 hours of field experience tacked on top, you'll have a chance to practice it all through hands-on work in the field under the expert supervision of qualified professionals.