Higher education in Virginia comes with a lot of terrific choices, in both public and private universities, for excellent degree programs to prepare you for careers in education.
George Mason University, in historic Fairfax, is one of the largest and most highly respected, however. When it comes to teacher certification programs in Virginia, Mason is the choice that educators have been turning to for generations.
A third of the current teachers and administrators in Northern Virginia are Mason graduates.
You can't overlook the advantages that come with a school that is located on the very doorstep of the nation's capital, either. With important educational policies being forged every day only 20 miles down the road, the region is a focus for powerhouse thinkers in modern pedagogy and the role of schools in society. The faculty is studded with winners of the Nobel and Pulitzer Prizes.
The College of Education and Human Development hosts nationally prominent scholars and recipients of the highest honors from the State Council of Higher Education for Virginia. And the School of Education is the largest and one of the most comprehensive in the state when it comes to the linchpin of teacher training.
George Mason University Online Programs Take a Sterling Reputation and Curriculum and Make It Available Everywhere
Like other major institutions in the education world, George Mason University built its reputation on traditional, on-campus teacher training programs. But it's been quick to adopt new technologies and delivery methods to reach more students in more places with the same high-quality training.
Adaptations to the online world include some programs that are available as hybrids, where you can split your learning between online and traditional classes; quick, flexible 8-week module formats to work around professional and personal scheduling obligations; and rich interaction with world-class instructors who have the same investment in your success as with any on-campus student.
Most instructors come with doctoral-level degrees behind them, which means you are learning from the best of the best. And their expertise is concentrated in campus resources like the Helen A. Kellar Institute for Human disAbilities, one of only seven centers hosted by the School of Education, where innovative and technology-infused training programs for special ed teachers is created.
Some $16 million in research expenditures annually will keep Mason way ahead of the pack in knowledge and theory emerging around learning and developmental sciences.
Special Education Studies at Mason Come with Special Advantages for Educators
While there are many excellent opportunities for teacher certification through Mason programs, the highlights are undoubtedly at the graduate level. And with the great need and a new emphasis on providing highly qualified special education instructors and leaders, there are a handful of degrees and certificates that are worth noting.
As the largest public research university in Virginia, Mason offers unique advantages to anyone studying in this fast-expanding field. The faculty aren't just well-versed in modern special ed theory and practice; in many cases, they are the people who are breaking new ground in the field in the first place.
Research topics in effective interventions in and outside the classroom, responsible inclusions, and special ed literacy instruction are putting George Mason professors into respected research journals and forging connections throughout the special ed community.
As a graduate student in the online Master of Education in Special Education program at Mason, you will have every opportunity to work on projects initiated by these institutions and instructors, learning about the latest developments by helping create them yourself.
You'll also be learning the most advanced concepts in special education at a college that is nationally ranked among graduate schools. You'll take coursework that sets strong foundations for work in special ed classrooms and beyond, such as:
Computer Applications for Special Populations
Foundations of Language and Literacy for Individuals with Severe Disabilities
Collaborative Teamwork to Support Students with Significant Disabilities
And you also have the option to add in one of two different options certificate programs to enhance your skills in specific, in-demand areas of modern special education.
These graduate certificates are also available as stand-alone programs for anyone who has already earned a master's degree but wants to further specialize in their career path. Both can be taken on a part-time basis, as well.
A Certificate in Applied Behavior Analysis (ABA) takes you into one of the fields that has given educators and therapists new tools to handle intellectual disabilities and autism spectrum disorder (ASD) in and out of academic environments.
The coursework for the certificate offers practical, hands-on training in ABA but it's also aligned with the Behavior Analyst Certification Board (BACB) requirements for a Verified Course Sequence (VCS) to be taken prior to applying for licensure as a BCBA: Board Certified Behavior Analyst.
In Virginia, BCBA licensing is handled by the state Board of Medicine, not the Department of Education. There are no requirements currently for individuals practicing ABA in schools to be licensed as a behavior analyst, but the writing is on the wall. And most schools looking for ABA specialists at this point are interested in the expertise that only a BCBA license can guarantee.
It's a valuable addition to a MEd or a quick way to launch your ABA career if you already hold a master's in a relevant field.
Mason LIFE Puts the School's Special Education Expertise at the Disposal of Current Students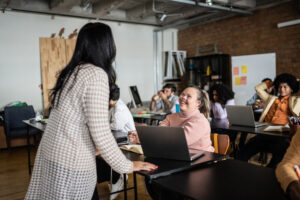 Sometimes it seems as if special educators are facing a wall of sorts, one that springs up at the edge of high school graduation. Beyond the wall is where most of each student's life is lived. But despite helping prepare them for that life, often there is little provision for continuing their education.
George Mason University offers an answer for that.
The Mason LIFE program is a four-year transitional program that offers special education students access to a university education.
Open to individuals with intellectual or developmental disabilities, the program takes many of the hurdles to college attendance out of the way. No entrance tests are required; applicants don't need a high school diploma, just a certificate of attendance or an IEP diploma.
Students have access to regular university classes, offered with extra support and a specific concentration focus. All course programs are individualized with the needs and goals of the student in mind.
Although LIFE doesn't offer a direct path to a degree, it does build life and employment skills through a supportive collegiate environment. Through foundational skills and exploratory academic courses, students with disabilities will gain both confidence and experience that can lead to increased quality of life and independence.
The Certificate in Autism Spectrum Disorder takes one kind of disability that ABA is often used to treat and zeroes in on it specifically. While the primary focus of an educator will be on school-age children, this certificate also comes with a broader set of considerations, encompassing adolescence, transition to adulthood, and adults with ASD across the lifespan.
That means coursework that dives into the support requirements for behavior and sensory environments of individuals with ASD, effective interventions, communication techniques, and collaborative issues in supporting and educating those individuals.
Although the certificate does not lead to any specific Virginia Department of Education licensure, Mason is part of the Virginia Consortium for Teacher Preparation in Special Education Adapted Curriculum for supporting students with severe disabilities and autism. So, your education is aligned with the current best practices in dealing with students with ASD in state schools.