Oklahoma Teaching Salaries and Benefits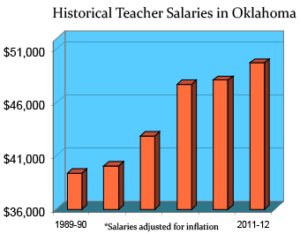 Teachers understand that adequate preparation is key to a better future for students. By spending hours planning out lessons and student activities, teachers enter the classroom ready to impart skills on a new generation.
This focus on planning extends outside of the classroom and into teachers' personal lives as well. As your career progresses, you'll begin to think about how to spend your life after teaching – and how you can afford it.
For teachers in Oklahoma, these considerations start early in their careers. Oklahoma offers teachers a comprehensive package of benefits that allows them to consider their health and retirement options. With help from these benefits, teachers are more prepared for a variety of future scenarios.
<!- mfunc feat_school ->
Featured Programs:
Sponsored School(s)
<!- /mfunc feat_school ->
Learn more about becoming a teacher. Contact schools offering teacher education/certification programs in Oklahoma.
Teacher Salaries in Oklahoma by Education
As teachers further their educations and gain experience in the field, they receive pay increases that reflect their dedication and hard work. Salaries vary between school districts, but the following are some examples of the salaries you can expect in Oklahoma:
| Experience | Bachelor's | Master's |
| --- | --- | --- |
| At 3 years | $32,975 | $34,075 |
| At 6 years | $34,375 | $35,375 |
| At 9 years | $35,475 | $36,475 |
| At 12 years | $36,850 | $38,850 |
Source: Oklahoma City Public Schools
Retiring in Oklahoma
Once you are hired as a public teacher in Oklahoma, you are enrolled in the Oklahoma Teachers Retirement System (OTRS). This system administers lifetime benefits to teachers that become available upon retirement.
The OTRS manages a defined benefit retirement plan that offers retirees a percentage of their salaries as a pension payment. The more years of service you accumulate, the greater the percentage of salary you receive.
As part of the defined benefit plan, you are required to contribute 7% of your regular annual salary, while your employer contributes an additional 7.05%. These contributions help continue to fund the OTRS until you qualify for retirement. You are eligible for full retirement benefits when you meet any of the following criteria:
Age 65 with any number of service credit years
Age 60 with at least 30 years of service credit
After you reach retirement age, you begin to receive monthly pension payments. The benefits you receive are calculated using a defined retirement formula:
Final Average Salary
multiplied by
Service Years
multiplied by
2% (fixed rate)
For example, if you retire after 35 years of service with a final average salary of $63,000, you will receive $44,100 annually or $3,675 monthly.
In addition to retirement benefits, the OTRS program offers death and health insurance benefits to retired teachers. To learn more about retirement benefit options available for Oklahoma teachers, contact the Oklahoma Teachers Retirement System.
Access to Affordable Health Insurance
As a teacher in Oklahoma, you gain access to health insurance benefits that include medical, dental, and vision plans. Once you are enrolled, you will be able to choose from a variety of different plans that are offered to you and your family members.
Medical Plans
There are 15 different medical plans to choose from, and vary between PPO, HMO, and health savings plans. The amount of your premium and deductible will be determined by the plan. However, all plans cover a variety of medical services, including:
Well Care Visits
Prescription Drugs
Laboratory Tests
Hospital Care
Emergency Room
Dental Plans
Depending on which of the eight dental plans you choose from in Oklahoma, you will be covered for both basic treatment services and more advanced orthodontic procedures.
Vision Plans
The five vision benefit plans offered vary on their cost and coverage. Most plans will cover basic eye exams and a portion of your eyeglass and contact lenses expenses.
Additionally, the state of Oklahoma offers other wellness benefits and life insurance benefits to its public employees. If you're interested in learning the details of each health plan offered to Oklahoma teachers, contact your local school district or the Oklahoma Employees Group Insurance Division.