Oregon Teaching Certification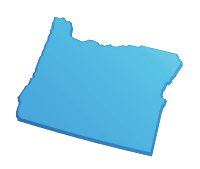 Oregon Ed. Statistics
| | |
| --- | --- |
| Avg. Elem. Teacher Salary* | $69,980 |
| Avg. Sec. Teacher Salary* | $71,780 |
| Avg. Admin. Salary* | $106,360 |
| Teacher Retention (?) | 94% |
| Vacation Wks/Yr | 15 |
Learn how to become a teacher in Oregon (or administrator). Choose the description of certification you are most interested in or situation that best describes you:
Getting Involved…
Investing in our future is vitally important and strangely difficult. In order to fight oppression from the greedy and power-hungry elite, to better our ways of life with advancing technology, and to increase our country's overall views toward the concept of acceptance, we need education to be a priority. Learn how you can be a spoke in this terribly important wheel. See how Oregon measures up to the rest of the country by viewing the percentage of state revenue going toward education in each state. (see State Education Spending vs. Overall State Revenue).

Learn About Your Governor's Track Record

Give Your Knowledge Power By Voting
Hold your public servants accountable. It is our duty as residents of Alabama.
Help Make Education A Priority
Initial Oregon Teaching Certification
An Oregon middle school teacher received national honors and recognition recently when NASA awarded her with the Endeavor Fellowship. In addition to being recognized for professional leadership, she will be granted a full scholarship as she works to earn a STEM (science, technology, engineering, mathematics) certificate from a New York university. This teacher has been identified by NASA as an agent of change, who is sure to impart knowledge to students that will inspire the next generation of astronauts, engineers, mathematicians, and scientists. Find schools offering teaching certification programs in Oregon.
Education Requirements
<!- mfunc feat_school ->
Featured Programs:
Sponsored School(s)
<!- /mfunc feat_school ->
The State of Oregon Teacher Standards and Practices Commission (TSPC) (503-378-3586 or contact.tspc@state.or.us) expects that candidates for teacher licensure in the state complete a state-approved teacher preparation program at the bachelor's degree level, at minimum. Explore a list of approved teacher preparation programs in Oregon here.
If you complete your teacher preparation program out-of-state, and that program, makes you eligible for a teaching license/certificate in that state, the TSPC will review your transcript/credentials and make a decision on your eligibility for licensure. You may be asked to complete additional educational requirements necessary for full Oregon licensure.
If you complete your teacher preparation in another country, you may request that any Oregon-approved teacher preparation program review your qualifications and credentials on a course-by-course basis. This institution will then determine what courses you need to take to meet Oregon's licensure requirements.
Licensure Options
Oregon teaching licenses are issued at four overlapping grade authorization levels. These include:
Early Childhood Authorization Level – authorizes you to teach from age 3 to grade 4
Elementary Authorization Level – authorizes you to teach from grades 3 through 8 self-contained in an elementary school, and 5th and 6th grade self-contained in a middle school
Middle Level Authorization Level – authorizes you to teach from grades 5 through 10 and any multiple subject teaching assignment in grades 5 through 8 except in specialty areas
High School Authorization Level – authorizes you to teach from grades 7 through 12, departmentalized
Various types of teaching licenses exist in Oregon as well. The major ones include:
Initial I Teaching License: given when you have completed a bachelor's degree teacher preparation program and meet other requirements
Initial II Teaching License: given if you have an Initial I Teaching License and complete a master's degree or graduate level coursework in your licensure/endorsement area
Continuing Teaching License: given if you hold an Initial I Teaching License, hold a master's degree, have five years' teaching experience, and complete one of these options:

A TSPC- approved college/university Continuing Teaching License program
A doctoral degree in education
National Board of Professional Teaching Standards certification
A TSPC-approved school district program
A TSPC-approved professional assessment
Click here for a License Guide to all types of teaching licenses in the Teacher category and their subsequent endorsements.
Examinations
Visit the Praxis website, the Oregon Educator Licensure Assessments (OELA) website, and the CBEST Website or a summary of examination requirements for teachers in Oregon.
Basic skills testing:
Your teacher preparation program will require you to pass a basic skills examination, usually in your junior year. Depending upon the program, you may be asked to pass the Praxis I in Reading (with a score of 174), Writing (score of 171) and Mathematics (score of 175); or the California Basic Educational Skills Test (CBEST) in Reading, Writing and Mathematics with at least a scaled score of 41 in each section (and a total CBEST score of 123).
Content area assessment testing:
Most teacher preparation programs require you to pass a content area assessment prior to student teaching. Depending upon the area in which you seek licensure, you may take a Praxis II exam or OELA Exam.
Praxis II content exams are required for the following licensure areas:
Early Intervention-Early Childhood Endorsement
Speech Communication – All Grades
Special Education:

Communication Disorders
Hearing Impaired
Visually Impaired

Career & Technical Education:

Agriculture
Marketing
Technology Education

World Languages:
OELA Exams are required for the following areas of licensure:
Art
Biology
Business Education
Chemistry
Early Childhood Education
English Language Arts
English to Speakers of Other Languages
Essential Academic Skills
Family and Consumer Sciences
General Science
Health
Mathematics
Middle Grades English Language Arts
Middle Grades General Science
Middle Grades Mathematics
Middle Grades Social Science
Multiple Subjects
Music
Physics
Physical Education
Protecting Student and Civil Rights in the Educational Environment
School Library Media Specialist
Social Science
Spanish
Special Education
Experience Requirements
As a student in an Oregon teacher preparation program, you will participate in both a supervised practicum and student teaching:
During the supervised practicum, you will observe classroom teachers at work and learn classroom management techniques and leadership skills. You might even be asked to lead the class yourself from time to time.
During your student teaching field internship experience, you will take over for the regular classroom teacher, leading the class in instruction and performing the daily duties of the classroom teacher. You will be placed into a class corresponding to the grade level and subject area in which you seek licensure. This experience may last from a few weeks to an entire semester. Your performance will be assessed continuously by a mentor classroom teacher as well as by licensure officials from your teacher preparation program.
Document and Application Requirements
When you are ready to apply for your first Oregon teaching license, request a first-time application packet here. You may also be asked to submit official transcripts from your college teacher preparation program and a Program Completion Report filled out by officials from your college teacher preparation program recommending your licensure. Fill out the three-page application thoroughly, sign and date it within 60 days of sending it to the Oregon TSPC. Mail it to Oregon Teacher Standards and Practices Commission, 250 Division St. NE, Salem, OR 97301. It may take up to two weeks for the TSPC to process your licensure application.
Criminal History Background Check
Prior to applying to become a student teacher, you will be asked to fill out a fingerprint form and undergo a criminal history background check. If you are seeking first-time licensure or your license has been expired for three or more years, you must complete this process:
First, download the Fingerprint Handler Form. Next, obtain a fingerprint card from an Oregon school district, your teacher preparation program, or your local law enforcement agency. Arrange to have your fingerprints taken by an authorized fingerprint handler at your local law enforcement agency or at an Oregon school district.
You are responsible for all fees incurred in this process. The fingerprint handler will complete the form and card and return it to you in a sealed envelope to mail to TSPC with your application and documents.
Contact Information
If you want more information on TSPC-approved colleges and universities offering teacher education programs, reach out to the contact persons at each institution. Explore a list of schools offering teaching certification degree programs in Oregon.
For more information on the teacher licensure process in Oregon, contact the TSPC at 503-378-3586 or contact.tspc@state.or.us.
*2019 U.S. Bureau of Labor Statistics data – Conditions in your area may vary.
**Teacher Retention Sources – U.S. Department of Education, National Center for Education, Statistics Schools and Staffing Survey, 1999–2000 ("Public School Teacher Questionnaire," "Private School Teacher Questionnaire," and "Public Charter School Teacher Questionnaire"),
and 2000–01 Teacher Follow-up Survey ("Questionnaire for Current Teachers" and "Questionnaire for Former Teachers," Table 1.01). Washington, DC.
State estimations based on analysis by Richard Ingersoll, Professor of Education and Sociology, University of Pennsylvania, from the National Center for Education Statistics Student and Staffing Survey, and therefore include a slight margin of error.