New Hampshire Teaching Certification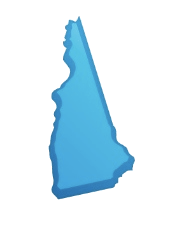 New Hampshire Ed. Statistics
| | |
| --- | --- |
| Avg. Elem. Teacher Salary* | $59,930 |
| Avg. Sec. Teacher Salary* | $60,720 |
| Avg. Admin. Salary* | $92,230 |
| Teacher Retention (?) | 96% |
| Vacation Wks/Yr | 15 |
Learn how to become a teacher in New Hampshire (or administrator). Choose the description of certification you are most interested in or situation that best describes you:
Getting Involved…
Investing in our future is vitally important and strangely difficult. In order to fight oppression from the greedy and power-hungry elite, to better our ways of life with advancing technology, and to increase our country's overall views toward the concept of acceptance, we need education to be a priority. Learn how you can be a spoke in this terribly important wheel. See how New Hampshire measures up to the rest of the country by viewing the percentage of state revenue going toward education in each state. (see State Education Spending vs. Overall State Revenue).

Learn About Your Governor's Track Record

Give Your Knowledge Power By Voting
Hold your public servants accountable. It is our duty as residents of Alabama.
Help Make Education A Priority
Initial New Hampshire Teaching Certification
At 98.81 percent, the high school graduation rate in New Hampshire is among the highest in the country, according to data released by the New Hampshire Department of Education. Five high schools in the state have reported 100% completion rates during the past two years. The Department attributes these promising statistics to the dropout prevention programs implemented in high schools across the state, which are designed to identify and reach students with the highest risk of dropping out. Find schools offering teaching certification programs in New Hampshire.
Education Requirements
<!- mfunc feat_school ->
Featured Programs:
Sponsored School(s)
<!- /mfunc feat_school ->
In order to become a certified teacher in New Hampshire, the New Hampshire Department of Education Certification/Bureau of Credentialing expects you to have a minimum of a bachelor's degree granted by a state-approved educator preparation program.
If you graduated from an educator preparation program in a state other than New Hampshire, the Department of Education will accept your credentials if that state is a member of the Interstate Certification Contract of the National Association of State Directors of Teacher Education and Certification (NASDTEC). Even if you attended a school in a state that is not a part of the NASDTEC contract, the Department may accept your credentials if they are deemed to be equivalent to these approved credentials. Contact the Department's Bureau of Credentialing at (603) 271-2409 for more information.
As a graduate of a foreign university, you may also qualify for New Hampshire teaching certification. You must have a detailed, course-by-course evaluation of your academic credentials performed by one of the agencies listed here. After this evaluation is submitted to the New Hampshire Department of Education Certification/Bureau of Credentialing, they will review and determine what additional classes you may need to take to meet New Hampshire standards.
Certification Options
Levels of teacher certification in New Hampshire are as follows:
Beginning Educator Certificate – designed for new graduates with less than three years of teaching experience, valid for three years
Experienced Educator Certificate – for those with at least three years of teaching experience, valid for three years
Master Teacher Certificate – valid for teachers with seven years of experience who complete graduate coursework in their certification endorsement area, valid for three years
Certification standards for each educator job title/endorsement area may be found here.
Examinations
The Praxis website provides a comprehensive overview of examination requirements for New Hampshire educators.
Basic skills testing:
All teachers in New Hampshire must pass the Praxis I basic skills exam in reading, writing and mathematics prior to certification.
Content area assessment testing:
All New Hampshire educators must pass the Praxis II certification examination for their specific certification area:
Early Childhood Education
Elementary Education
Middle School English Language Arts
Middle School Mathematics
Middle School Science
Middle School Social Studies
Secondary Education:

Life Sciences
Chemistry
Earth/Space Science
English Language Arts
Mathematics, Secondary
Physics
Social Studies

Art (K-12)
World Languages:
Experience Requirements
As a student in an educator preparation program, you will be given opportunities to gain experience and first-hand exposure to teaching in the classroom. Your practicum, which will involve observing a classroom teacher in action, will also likely allow you an opportunity to lead the class in delivering lessons.
At the end of your academic course requirements, you will be placed into a field-based experience, or internship. Your internship will likely last about 15 weeks; however, this varies depending upon your program's policies. Most internships require you to work full-time as a classroom teacher, taking over the class, while a cooperating mentor teacher supervises you. Certification officers from your educator preparation program will evaluate your performance.
Document and Application Requirements
If you have completed all of the above mentioned requirements, you are prepared to file for educator certification in New Hampshire. This may be done via the Application for Certification form, which you will receive from a certification officer representing your New Hampshire educator preparation program, verifying that you have completed the program. Most new graduates will qualify for certification under Alternative 1 on the form, but other alternatives that may apply to your situation are explained in the form. Remember to include the following documents with your completed application and fee:
Official transcripts from all colleges attended, indicating the educator preparation program you completed and degree(s) received
Letters of verification of any teaching experience you are claiming
List of Praxis tests you have passed (official score reports will be sent directly to the Department of Education by Praxis)
Mail the application and supporting documents to State of New Hampshire – Department of Education, Division of Program Support, Bureau of Credentialing, 101 Pleasant St., Concord, NH 03301-3860.
Criminal History Background Check
As a candidate for educator certification in New Hampshire, you do not have to submit to a criminal history background check. However, before you may work in any New Hampshire school system, that system will require you to undergo such a check. Your background check will be run through the New Hampshire Department of Public Safety Division of Police as well as the Federal Bureau of Investigation (FBI), and, as such, will require fingerprinting. More information will be given to you by the employing school district when applying.
Contact Information
For further information on colleges and universities in New Hampshire offering approved educator preparation programs, contact them directly. A list of teacher preparation programs in New Hampshire is provided here for your convenience.
*2019 U.S. Bureau of Labor Statistics data – Conditions in your area may vary.
**Teacher Retention Sources – U.S. Department of Education, National Center for Education, Statistics Schools and Staffing Survey, 1999–2000 ("Public School Teacher Questionnaire," "Private School Teacher Questionnaire," and "Public Charter School Teacher Questionnaire"),
and 2000–01 Teacher Follow-up Survey ("Questionnaire for Current Teachers" and "Questionnaire for Former Teachers," Table 1.01). Washington, DC.
State estimations based on analysis by Richard Ingersoll, Professor of Education and Sociology, University of Pennsylvania, from the National Center for Education Statistics Student and Staffing Survey, and therefore include a slight margin of error.