Maryland Teaching Certification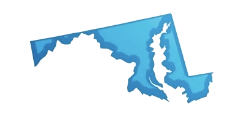 Maryland Ed. Statistics
| | |
| --- | --- |
| Avg. Elem. Teacher Salary* | $75,380 |
| Avg. Sec. Teacher Salary* | $77,050 |
| Avg. Admin. Salary* | $118,820 |
| Teacher Retention (?) | 93% |
| Vacation Wks/Yr | 15 |
Learn how to become a teacher in Maryland (or administrator). Choose the description of certification you are most interested in or situation that best describes you:
Getting Involved…
Investing in our future is vitally important and strangely difficult. In order to fight oppression from the greedy and power-hungry elite, to better our ways of life with advancing technology, and to increase our country's overall views toward the concept of acceptance, we need education to be a priority. Learn how you can be a spoke in this terribly important wheel. See how Maryland measures up to the rest of the country by viewing the percentage of state revenue going toward education in each state. (see State Education Spending vs. Overall State Revenue).

Learn About Your Governor's Track Record

Give Your Knowledge Power By Voting
Hold your public servants accountable. It is our duty as residents of Alabama.
Help Make Education A Priority
Initial Maryland Teaching Certification
The Maryland State Department of Education (ph: 410-767-0412) grants the public school teacher Professional Eligibility Certificate (PEC) in six general teaching areas: Early Childhood Education, Elementary Education, Middle School, Secondary, Special Education, and Specialty Areas. Each of these teaching areas has specific education requirements that must be met in order to earn the PEC. It is important to note that if you are pursuing the PEC in Secondary, Special Education, or one of the Specialty Areas, you will be certified in a specific academic content area. Find schools offering teaching certification programs in Maryland.
Education Requirements
<!- mfunc feat_school ->
Featured Programs:
Sponsored School(s)
<!- /mfunc feat_school ->
The education component of the certification process is satisfied when you complete a Maryland approved teacher preparation program leading to a PEC in one of these teaching areas. If you are pursuing the PEC in Secondary, Special Education, or one of the Specialty Areas, the undergraduate degree you earn will be specific to the academic content area you'll be certified in.
Many of Maryland's approved teacher preparation programs are post-graduate education-focused master's programs that will build on your content-focused undergraduate degree. Others are five-year combined baccalaureate and post baccalaureate programs leading to teacher certification, but do not award a master's degree. Some of the approved schools offer full six-year programs that lead to teacher certification as well as a master's degree. (Find Teaching Certification Programs in Maryland).
Attending one of the in-state pre-approved programs is not required to earn Maryland teacher certification. You will be eligible for the PEC if you earn a bachelor's degree, master's degree, or doctorate through a non-approved in-state school, out of state school, or online school so long as you meet the course work, experience, and testing requirements as detailed here:
Examinations
An overview of Maryland testing requirements is available through The Praxis Series website.
Basic Skills testing:
As a candidate for Maryland teaching certification, you will be required to demonstrate proficiency in math, reading, writing, and comprehension through Academic Skills Assessment testing that consists of the Praxis I, SAT, GRE or ACT. This involves passing one of the required exams or exam combinations by achieving passing scores:
Praxis 1: Reading (score of 177), Writing (score of 173), Math (score of 177)
SAT: Math and Verbal, combined score of 1000 (pre-April 1995)
SAT: Math and Verbal, combined score of 1100 (post-April 1995)
GRE: Math and Verbal, combined score of 1000
ACT: Score of 24
Content area assessment testing:
After passing the basic academic skills assessment, you'll want to prepare for your specific content area assessment exam, known as Praxis II. If you are pursuing an Early Childhood, Elementary, Middle School, or Special Education certificate, you will take the exam specific to the respective certification. If you are pursuing Secondary Education or Specialty Area certification, you will take the exam specific to the content area you have majored in and will be teaching. You must pass the Praxis II exam specific to each area in which you wish to become certified. (You'll take the ACTFL if you are a prospective foreign language teacher). Praxis II Content Areas:
Art
Biology
Business Education
Chemistry
Early Childhood
Earth/Space
Elementary Education
English
English as a Second Language (ESOL)
Family and Consumer Sciences
French
Geography
German
Health
History

Latin
Mathematics
Music
Physics
Physical Education
Physical Science
Political Science
Social Studies
Spanish
Special Education
Technology Education
Theater
School Psychologist
Reading Option
Middle School
Experience Requirements
If you are a conventional applicant who is pursuing certification through the completion of a Maryland-approved teacher preparation program, your program will involve a practicum component. Your practicum will take place in a public or accredited nonpublic school. You'll be assigned to a classrooms specific to the age or grade level and subject area in which you are pursuing certification.
During your practicum you will work with a mentor teacher and observe as your mentor presents lessons in the classroom. You will also have the opportunity to develop and implement lesson plans of your own under the supervision and guidance of your mentor.
Your teacher preparation program determines the length and specific requirements of the practicum you participate in.
Document and Application Requirements
As part of the Maryland teacher certification process, you will be required to establish a new user account so as to apply online. You can also submit the following documents by postal mail directly to the Maryland State Department of Education (MSDE), Certification Branch, 200 W. Baltimore St., Baltimore, MD 21201:
Official, unopened transcript from your Maryland approved teacher preparation program or transcripts showing required coursework was completed
Proof of passing basic skills testing and the Praxis II exam specific to your content area
Completed Maryland State Department of Education Initial Application for Certification (under Forms/Resources section)
Cover letter including your name, address, social security number, telephone number, email and the area of certification you seek
If you already hold a bachelor's degree or higher without educator preparation courses, have been previously certified in Maryland, hold certification or attended school in another state or country, have certification and wish to add additional certification, or are interested in alternative certification, review your document requirements before applying.
Criminal History Background Check
As the final step in the hiring process with the Maryland school system, you'll be required to submit to a criminal history background check. This will involve completing an Application for Criminal History Records Check from the Maryland Department of Public Safety and Correctional Services, which provides a Livescan Pre-registration Application online, Submitting to a background check also involves signing a complete Disclosure Statement with regard to any criminal history.
You'll also need to submit to fingerprinting through any of these approved Maryland fingerprinting locations and pay the associated fees. Your application will be processed through the Maryland Department of Public Safety and Correctional Services, and the results will be forwarded to the Maryland State Department of Education.
Contact Information
Colleges and universities that offer Maryland approved teacher education programs can answer your questions specific to the teacher preparation programs they offer.
Additional questions about Maryland teacher certification can be answered by contacting the Maryland State Department of Education's Certification Branch at 410-762-0412 or 866-772-8922, or by visiting the MSDE website.
*2019 U.S. Bureau of Labor Statistics data – Conditions in your area may vary.
**Teacher Retention Sources – U.S. Department of Education, National Center for Education, Statistics Schools and Staffing Survey, 1999–2000 ("Public School Teacher Questionnaire," "Private School Teacher Questionnaire," and "Public Charter School Teacher Questionnaire"),
and 2000–01 Teacher Follow-up Survey ("Questionnaire for Current Teachers" and "Questionnaire for Former Teachers," Table 1.01). Washington, DC.
State estimations based on analysis by Richard Ingersoll, Professor of Education and Sociology, University of Pennsylvania, from the National Center for Education Statistics Student and Staffing Survey, and therefore include a slight margin of error.