Indiana Teaching Certification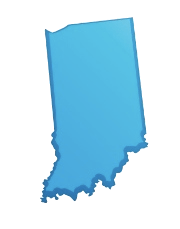 Indiana Ed. Statistics
| | |
| --- | --- |
| Avg. Elem. Teacher Salary* | $52,570 |
| Avg. Sec. Teacher Salary* | $53,150 |
| Avg. Admin. Salary* | $88,250 |
| Teacher Retention (?) | 97% |
| Vacation Wks/Yr | 15 |
Learn how to become a teacher in Indiana (or administrator). Choose the description of certification you are most interested in or situation that best describes you:
Getting Involved…
Investing in our future is vitally important and strangely difficult. In order to fight oppression from the greedy and power-hungry elite, to better our ways of life with advancing technology, and to increase our country's overall views toward the concept of acceptance, we need education to be a priority. Learn how you can be a spoke in this terribly important wheel. See how Indiana measures up to the rest of the country by viewing the percentage of state revenue going toward education in each state. (see State Education Spending vs. Overall State Revenue).

Learn About Your Governor's Track Record

Give Your Knowledge Power By Voting
Hold your public servants accountable. It is our duty as residents of Alabama.
Help Make Education A Priority
Initial Indiana Teaching Certification
Indiana state senator, Mike Delph, recently proposed a bill that could shorten the school year for academically high-performing schools in the state. Of course, this would be done without compromising the number of total hours spent in the classroom. Under this proposal, high schools that meet certain academic performance metrics could have the standard 180-day school year shortened by being granted permission to schedule longer school days. This would assure students spend the same number of hours in the classroom, while allowing for fewer total days in the school year. This proposal, which has strong supporters as well as cautious skeptics, is currently being reviewed by the Indiana Department of Education. Find schools offering teaching certification programs in Indiana.
Education Requirements
<!- mfunc feat_school ->
Featured Programs:
Sponsored School(s)
<!- /mfunc feat_school ->
Under the rules of the Indiana Department of Education (317-232-9010), Indiana's teachers must be graduates of one of the approved online or in-state campus based teacher education programs with at least a bachelor's degree. Indiana is undergoing a transition in its Rules for Educator Preparation and Accountability (REPA). Content knowledge in education is now being emphasized. The following REPA adjustments now apply:
Elementary Teachers (Kindergarten – Grade 6) must have either:

A bachelor's degree in education and a content-area minor
A bachelor's degree in the content area with an education minor

Secondary Teachers (Grades 5-12) must have a bachelor's degree with a content area major and an education minor
If you graduate from an out-of-state teacher education program or one from another country, you may still be eligible for an Indiana teaching license. The Indiana Department of Education will evaluate your credentials and you will be notified of any deficiencies in your program or additional classes you must take to earn an Indiana teaching license.
Licensing Options
When you first apply for and obtain an Indiana educator license, you will receive an Initial Practitioner License, valid for two years. You must complete a two-year residency program prior to applying for a Proficient Practitioner License, which is valid for five years and is renewable. An Accomplished/Professional Practitioner License, valid for ten years, may be applied for if you hold a Proficient Practitioner's license and have a master's degree or certification from the National Board for Professional Teaching Standards in a content area recognized by the Indiana Department of Education.
Examinations
An overview of Indiana testing requirements for teachers is available at the Praxis website.
Basic skills testing:
Indiana requires that you pass the Indiana CORE Assessment test to demonstrate basic competency. You must receive a composite score of 527 (176 on Reading, 172 on Writing, 175 on Mathematics) to pass the test. If you have taken any of the tests below and received the corresponding passing scores, you may be exempt from taking the Praxis I exam:
ACT (score of 24, Math, Reading, Grammar and Science)
SAT (score of 1100, Critical Reading and Math)
GRE (score of 1100, Verbal and Quantitative)
Possess a master's degree from a regionally accredited college/university
Content area assessment testing:
Indiana requires all teachers to be licensed in each content area in which they plan to teach. You must pass the Indiana CORE Assessment exam(s) in the corresponding area to become licensed in these areas:
Early Childhood Education (K-3)
Pre-Kindergarten Education
Elementary Education
Early Adolescent Generalist (Grades 5-9)
All Grades

Art
English to Speakers of Other Languages
Health
Music
Media Specialist
Reading
Physical Education

Secondary Education

Biology
Chemistry
Earth/Space Science
English
Economics
Government/Political Science
Geography
Mathematics
Historical Perspectives
Physics
Physical Science Grades 5-12
Social Studies
Psychology
Sociology

French
German
Spanish
Special Education

Exceptional Needs: Mild Intervention
Exceptional Needs: Intense Intervention
Exceptional Needs: Visually Impaired
Exceptional Needs: Hearing Impaired

Business Education
Family and Consumer Sciences
Technology Education
CPR/Heimlich Maneuver/AED Certification
Additionally, all applicants for an initial educator license in Indiana must complete official training on cardiopulmonary resuscitation (CPR), the Heimlich maneuver, and the use of an automated external defibrillator (AED). You must hold official certifications from the American Red Cross or American Heart Association in each of these techniques. A list of approved providers for these courses may be found here.
Experience Requirements
Under rules of the Indiana Department of Education, all teacher preparation programs must provide students with field/classroom experiences. Also known as an internship, during this time you will be placed into a classroom corresponding to the grade level and content area you wish to teach. You will learn classroom management skills under the supervision of a classroom teacher who acts as a mentor and supervisor.
You may be asked to prepare and implement lesson plans, lead the class, and perform other normal duties of a classroom teacher during your field experience. Your mentor teacher and college educator preparation program representatives will conduct performance assessments.
Document and Application Requirements
When you have completed your teacher preparation program and earned your bachelor's degree, fulfilled experience requirements and taken necessary examinations, you are ready to apply for your initial teaching license. This must be done online through the Licensing Verification and Information System (LVIS). The licensing advisor at your in-state teacher preparation program will assist you in applying for your initial license. Your licensing advisor will be available to answer any questions you have regarding the licensing process. Instructions for using LVIS are in this manual.
In addition to completing the online licensing application, you must either upload additional documentation, as requested in LVIS, or mail it to the Indiana Department of Education, Office of Educator Licensing and Development, 151 West Ohio Street, Indianapolis, IN 46204. This may include documentation such as official unopened college transcript(s). You must also pay application fees via credit card online.
Criminal History Background Check
As of July 1, 2009, all finalists for teacher licensure in Indiana must undergo an expanded criminal history check (ECH). This may be accomplished in two ways:
A search of records in all Indiana counties in which you have ever lived, records in all counties out-of-state in which you have ever lived, and a check of the national sex offender registry, or a check of the state sex offender registry in all 50 states
A national criminal history background check, and a check of the sex offender registry in all 50 states or of the national sex offender registry
A private company performs the first type of ECH, while the Indiana State Police can facilitate the second type. As an applicant for teacher licensure, you are responsible for all fees associated with the ECH.
Contact Information
For more information on teacher preparation programs online or at Indiana's campus-based colleges and universities, contact these Licensing Advisors at each institution.
For more information on teacher licensure in Indiana, contact the Indiana Department of Education at 317-232-9010 or visit their website.
*2019 U.S. Bureau of Labor Statistics data – Conditions in your area may vary.
**Teacher Retention Sources – U.S. Department of Education, National Center for Education, Statistics Schools and Staffing Survey, 1999–2000 ("Public School Teacher Questionnaire," "Private School Teacher Questionnaire," and "Public Charter School Teacher Questionnaire"),
and 2000–01 Teacher Follow-up Survey ("Questionnaire for Current Teachers" and "Questionnaire for Former Teachers," Table 1.01). Washington, DC.
State estimations based on analysis by Richard Ingersoll, Professor of Education and Sociology, University of Pennsylvania, from the National Center for Education Statistics Student and Staffing Survey, and therefore include a slight margin of error.