Delaware Teaching Certification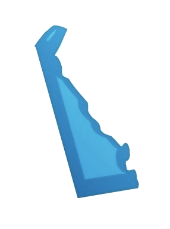 Delaware Ed. Statistics
| | |
| --- | --- |
| Avg. Elem. Teacher Salary* | $63,970 |
| Avg. Sec. Teacher Salary* | $66,920 |
| Avg. Admin. Salary* | $114,460 |
| Teacher Retention (?) | 95% |
| Vacation Wks/Yr | 15 |
Learn how to become a teacher in Delaware (or administrator). Choose the description of certification you are most interested in or situation that best describes you:
Getting Involved…
Investing in our future is vitally important and strangely difficult. In order to fight oppression from the greedy and power-hungry elite, to better our ways of life with advancing technology, and to increase our country's overall views toward the concept of acceptance, we need education to be a priority. Learn how you can be a spoke in this terribly important wheel. See how Delaware measures up to the rest of the country by viewing the percentage of state revenue going toward education in each state. (see State Education Spending vs. Overall State Revenue).

Learn About Your Governor's Track Record

Give Your Knowledge Power By Voting
Hold your public servants accountable. It is our duty as residents of Delaware.
Help Make Education A Priority
Initial Delaware Teaching Certification
The Delaware Department of Education reported that During the 2010-11 school year, there were 8,254 total licensed teachers working in the state. Total statewide student enrollment hit an all-time high for the 2010-11 school year as well, as 129,403 students were enrolled in Delaware's public schools.
Delaware was selected among nine other states to be a beneficiary of the federal Race to the Top Grant (RTTT) program and is working to implement an ambitious four-year plan. This plan has the stated goal of increasing college enrollment for high school graduates from where it is currently, at 59%, to 70% by 2013-14. The plan also seeks to increase math and reading proficiency among 4th and 8th grade students by at least 19%. Through the planned initiatives of the RTTT program, Delaware's teachers are demonstrating their commitment to the long-term success of Delaware's students. Find schools offering teaching certification programs in Delaware.
Education Requirements
<!- mfunc feat_school ->
Featured Programs:
Sponsored School(s)
<!- /mfunc feat_school ->
The Delaware Department of Education (302-857-3388) offers an Initial License to those who meet educational requirements. All Initial License holders must have at least a bachelor's degree and evidence of student teaching in an approved educator preparation program. Such programs should meet all of the following criteria:
If you attended college outside of Delaware and are now seeking Delaware teacher certification, meeting certain stipulations will allow you to qualify. As long as you attended a regionally accredited college or university that meets the qualifications bulleted above, the Delaware Department of Education should recognize your credentials. If you attended a school outside of the United States, your transcript must be evaluated by an approved independent credentialing agency.
After receiving your Initial License, you must complete 15 credits of professional development related to your area of certification, as well as fulfill other requirements (described below) to obtain your Standard Certificate(s).
Examinations
Go to the Praxis website for a summary of educator testing requirements in Delaware.
Basic skills testing:
For initial licensure as an educator in Delaware, you must pass the Praxis I Pre-Professional Skills Test (PPST). This tests your basic competency in reading, writing and mathematics. The minimum scores that you must receive are as follows:
Reading: 175
Writing: 173
Mathematics: 174
If you took any of the following tests and received the corresponding scores, you may be exempt from taking the Praxis I:
Scholastic Aptitude Test (SAT)

Before April 1995 – 480 Verbal and 520 Math
After April 1995 – 560 Verbal and 540 Math

GRE (Graduate Record Exam)

490 Verbal and 490 Quantitative
GRE Revised General Test
152 Verbal and 145 Quantitative

Core Battery Communication Skills Test
Content area assessment testing:
After initial licensure but prior to standard certification, Delaware requires you to pass the Praxis II content examinations for each area in which you wish to become certified. (Some certification areas may require passing more than one exam). Areas of certification in Delaware for which Praxis II exams are offered include:
Early Childhood (Birth to Grade 2)
Elementary Education (Grades K to 6)
Middle School Education (Grades 6 to 8)

English Language Arts
Mathematics
Science
Social Studies

Secondary Education (Grades 9 to 12, or Grades 6-8 in a Middle School)

Biology
Chemistry
Earth Science
English
Health Education
Integrated Science
Mathematics
Physical Science
Physics
Social Studies

All Grades (K-12)

Art
Exceptional Children
Music
Physical Education

World Languages
French
German
Spanish

Career & Technical Education (Grades 6-12)

Agriscience
Business Education
Family and Consumer Sciences
Marketing Education
Technology Education
Experience
Before applying for your Initial License and Standard Certificate(s) to teach in Delaware, you must complete a student teaching program. This should be part of your educator preparation program. Alternatively, you may have one year of teaching experience with at least 91 days of long-term teaching in one content area in any Delaware public or charter school.
The duration of student teaching assignments will vary among programs, but generally last one semester or longer. This internship will provide you with the chance to observe your mentor teacher at work as well as the opportunity to receive guidance as you direct the class in lessons, as your mentor will also observe and assess your classroom performance to offer valuable feedback. Expect student teaching to involve the development of lesson plans, and then leading in the presentation of those lessons. Field experiences are vital to developing interaction skills specific to the age and grade levels for which you are pursuing certification.
Document and Application Requirements
Upon satisfying the educational prerequisites, passing the Praxis I, and completing the experience requirements, you may apply for an Initial License to teach in Delaware. Most recent college graduates of Delaware educator preparation programs also apply for their Standard Certificate(s) simultaneously. You can apply for your Standard Certificate(s) after you have passed the Praxis II exam(s) and completed 15 professional development credits in the areas in which you wish to become certified. The Initial License allows you to teach in Delaware, while the Standard Certificate(s) specifies what subjects you may teach. You may apply for one license but multiple certificates to cover a number of different areas of teaching proficiency.
You must apply online through the Delaware Educator Data System (DEEDS). The following supporting documents must be submitted via postal mail to Delaware Department of Education, Collette Education Resource Center, 35 Commerce Way, Suite 1, Dover, DE 19904, ATTN: Certification:
Official sealed college transcript(s)
Request for Transcript Form (if you attended an out-of-state school) to verify an out of state educator preparation program
Verification of Teaching Experience form, if applicable (if your full-time teaching experience was out-of-state – if it occurred in Delaware, it will be recorded in DEEDS)
Photocopies of any teaching certificates you hold out-of-state
Your Praxis scores will be submitted electronically directly to the Department
Once the Department has received your online application and all supporting documents, your application packet will be evaluated. You will receive your license and certificate(s) via email or be notified of any further documentation that may be necessary.
Criminal History Background Check
Before receiving a license to teach in Delaware, you must have current state child abuse clearance. You must also submit your fingerprints for a criminal history and background check. Because it takes several weeks for such clearances to be completed, you should start the process early.
For Delaware Child Abuse Clearance, you must complete the Delaware Child Protection Registry Request Form. This should be available from your college or university or from the Delaware school district in which you are interested in working. You must complete the request form and mail it to DSCYF, OCCL, Criminal History Unit, 1825 Faulkland Road, Wilmington, DE 19805. Alternatively, you may fax the form to (302) 633-5191.
You must visit the Delaware State Bureau of Identification, located at a county office of the Delaware State Police, to certify your Delaware criminal history. The three county offices are in Kent County (Dover), Sussex County (Georgetown) and New Castle County (Bear). Sussex County and New Castle County require you to make an appointment, but Kent County offers background checks on a walk-in basis. Bring your driver's license, school ID card or state ID card, and ask for a state and federal background check. The fee is currently $69, payable to Delaware State Police. For more information, call (302) 739-5871.
Contact Information
For further information on Delaware colleges and universities offering educator preparation programs, contact them directly.
For more information on teacher licensure and certification in Delaware, contact the Delaware Department of Education at (302) 857-3388 or visit their website.
* 2019 U.S. Bureau of Labor Statistics data – Conditions in your area may vary.
**Teacher Retention Sources – U.S. Department of Education, National Center for Education, Statistics Schools and Staffing Survey, 1999–2000 ("Public School Teacher Questionnaire," "Private School Teacher Questionnaire," and "Public Charter School Teacher Questionnaire"),
and 2000–01 Teacher Follow-up Survey ("Questionnaire for Current Teachers" and "Questionnaire for Former Teachers," Table 1.01). Washington, DC.
State estimations based on analysis by Richard Ingersoll, Professor of Education and Sociology, University of Pennsylvania, from the National Center for Education Statistics Student and Staffing Survey, and therefore include a slight margin of error.