Utah Teaching Certification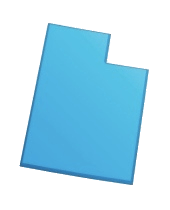 Utah Ed. Statistics
| | |
| --- | --- |
| Avg. Elem. Teacher Salary* | $60,660 |
| Avg. Sec. Teacher Salary* | $61,050 |
| Avg. Admin. Salary* | $99,380 |
| Teacher Retention (?) | 93% |
| Vacation Wks/Yr | 15 |
Learn how to become a teacher in Utah (or administrator). Choose the description of certification you are most interested in or situation that best describes you:
Getting Involved…
Investing in our future is vitally important and strangely difficult. In order to fight oppression from the greedy and power-hungry elite, to better our ways of life with advancing technology, and to increase our country's overall views toward the concept of acceptance, we need education to be a priority. Learn how you can be a spoke in this terribly important wheel. See how Utah measures up to the rest of the country by viewing the percentage of state revenue going toward education in each state. (see State Education Spending vs. Overall State Revenue).

Learn About Your Governor's Track Record

Give Your Knowledge Power By Voting
Hold your public servants accountable. It is our duty as residents of Alabama.
Help Make Education A Priority
Initial Utah Teaching Certification
Utah's teachers are committed to providing a high-quality education for all students in the state. Recently, Utah was ranked first in the nation by the National Assessment for Education Progress for spreading educational funding evenly in the state, meaning teachers are getting the financial backing they need to perform their jobs well.
With more and more students leaning on effective teachers to help guide them to success in their lives, earning teacher certification in Utah has never been more important. Find schools offering teaching certification programs in Utah.
Education Requirements
<!- mfunc feat_school ->
Featured Programs:
Sponsored School(s)
<!- /mfunc feat_school ->
The Utah State Office of Education requires all candidates for teacher certification to earn at least bachelor's degrees, in addition to completion of a state-approved teacher education program.
Candidates for certification gain the skills and knowledge necessary to earn certification through their teacher education programs. During their programs, candidates learn about different teaching methods, content standards, and classroom management techniques.
A list of all approved teacher education programs in Utah may be found here.
During their education programs, teachers pick between specific endorsement areas to become certified in. Some of these areas include:
American Sign Language
Career and Technical Education
Computer Science
Dance – Elementary
Dance – Secondary
Distance Learning
Driver Education
Dual Immersion
Educational Technology
English
English as a Second Language
Film – Secondary
Fine Arts Curriculum – Elementary
Gifted and Talented
Health
Journalism
Library Media
Mathematics
Music – Elementary
Physical Education
Reading Level I
Reading Level II
Science
Social Studies
Speech
Stage Craft Theater
Theatre
Visual Arts
World Languages
Utah offers three levels of certification for teachers.
A Level 1 License is available to candidates who complete teacher education programs. This is the initial level of certification for teachers in Utah, and is upgradable to a level 2 license after three years of teaching experience.
A Level 2 License is available to professional teachers who have received a recommendation from their employing schools and have met Entry Years Enhancement (EYE) requirements. More information on EYE requirements may be found on the License Renewal and Reinstatement webpage.
A Level 3 License is available to candidates who hold Level 2 Licenses and have earned PhDs in education. Additionally, candidates may earn certification from the National Board of Professional Teaching Standards (NBPTS) to be eligible for Level 3 Licenses.
Examinations
Before entering teacher education programs, all potential teachers in Utah must pass PRAXIS Core Academic Skills. The PRAXIS Core exams are a series of tests measuring a candidate's ability to solve reading, writing, and math problems.
Additionally, candidates seeking endorsements in certain subject areas must pass PRAXIS II Subject Assessments to earn certification. PRAXIS II scoring requirements are different for each subject, and some candidates may not need to take the examination. For a full list of the subject area endorsements and their corresponding examination requirements, click here.
Experience Requirements
While enrolled in their teacher education programs, candidates for certification have multiple opportunities to gain experience through student teaching. Student teaching provides students with a first-hand look at life in the classroom as they teach their own classes.
During student teaching, potential teachers are observed by professional teachers, who give advice and guide them around the pitfalls entry-level teachers sometimes encounter in the classroom.
In Utah, state regulations hold that certification candidates spend at least 10 weeks in student teaching, giving them a solid foundation of some of the teaching techniques and classroom management skills needed to become effective teachers some day.
Document and Application Requirements
In Utah, candidates for certification complete licensure application requirements through their teacher education programs. Candidates must followup with their universities or colleges to ensure that their applications were sent to to the Utah State Office of Education and that all information is correct.
Some applicants may qualify for the online application process. Candidates should verify this information with their institutions. If you qualify for the online procedure, you will be able to print out a copy of your new license immediately.
Criminal History Background Check
All applicants for initial teacher certification in Utah must pass background checking and fingerprinting requirements. Utah has an online background checking system that may be accessed here.
During the online procedure, Utah residents should click "LiveScan" and print the two Microsoft Word documents pertaining to fingerprinting and background checking. There is a processing fee of $74 which may be paid with a credit or debit card.
Candidates should complete the Word documents and take them to the LiveScan locations listed on the document.
Contact Information
If you have more questions regarding teacher certification in Utah, you may contact the Utah State Office of Education's Educator Quality and Licensing department at 801-538-7740.
Additionally, the office may be visited at:
Utah State Office of Education
PO Box 144200
250 East 500 South
Salt Lake City, Utah 84114
*2019 U.S. Bureau of Labor Statistics data – Conditions in your area may vary.
**Teacher Retention Sources – U.S. Department of Education, National Center for Education, Statistics Schools and Staffing Survey, 1999–2000 ("Public School Teacher Questionnaire," "Private School Teacher Questionnaire," and "Public Charter School Teacher Questionnaire"),
and 2000–01 Teacher Follow-up Survey ("Questionnaire for Current Teachers" and "Questionnaire for Former Teachers," Table 1.01). Washington, DC.
State estimations based on analysis by Richard Ingersoll, Professor of Education and Sociology, University of Pennsylvania, from the National Center for Education Statistics Student and Staffing Survey, and therefore include a slight margin of error.