Alternative Teaching Certification in Vermont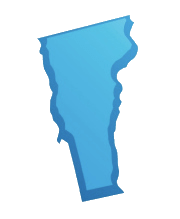 Even if candidates have not completed a traditional teacher preparation program, it does not exclude them from becoming teachers one day. Vermont provides an alternative route to licensure called a Peer Review.
Interested in learning about the traditional approach? Contact schools offering teaching certification programs in Vermont.
The Peer Review is a demanding process that requires candidates to submit a portfolio documenting why they deserve to earn teacher licensure. This allows candidates to show they have the experience and educational background to become teachers even if they haven't completed preparation programs.
Alternative Certification Requirements
Education Requirements
<!- mfunc feat_school ->
Featured Programs:
Sponsored School(s)
<!- /mfunc feat_school ->
In order to be eligible for Peer Review, all teacher candidates must already hold bachelor's degrees or higher. Additionally, if teachers are seeking certification in endorsement areas, their degree should be in that same area.
Candidates must document their educational experiences and transcripts and include all applicable information in their portfolios.

Examinations
Because building a portfolio for Peer Review is a time consuming and expensive process, candidates should first pass the teacher examinations that qualify them for Peer Review.
In Vermont, all teacher candidates must pass PRAXIS Core Academic Skills Tests to be eligible for licensure. The skills test allows alternative licensure candidates to demonstrate their comprehension of reading, writing, and mathematics subjects. Candidates must receive scores of 177 on Reading, 174 on Writing, and 175 on Mathematics to enter the Peer Review process.
Candidates seeking licensure in certain endorsement areas must also complete PRAXIS II Subject Assessments. These specific endorsement areas include:
Art
Elementary Education
English
English as a Second Language
Math
Middle School English
Middle School Mathematics
Middle School Science
Middle School Social Studies
Latin
French
German
Spanish
Music
Physical Education
Reading Specialist
Science
General Science
Biology
Chemistry
Earth Science
Physics
Social Studies
Experience Requirements
Candidates applying for Peer Review must meet the same student teaching requirements as candidates seeking traditional certification. Applicants have the option of providing evidence of learning experiences outside of student teaching, but the Peer Review Board determines whether or not the experience counts in place of student teaching.
The Vermont Department of Education requires all candidates to complete at least 12 consecutive weeks of student teaching to be eligible for Peer Review. Candidates are responsible for setting up their own student teaching internships, including any costs or fees associated with student teaching.
Document and Application Requirements
The most significant part of obtaining alternative teacher certification in Vermont involves completing a portfolio to send to the Peer Review board. The first step toward Peer Review is by completing the application.
Applications should include official transcripts, a current resume, and a $40 check payable to the Vermont Department of Education for processing. Peer Review applications may be mailed to:
Peer Review Program
Educator Quality Division
Vermont Department of Education
120 State Street
Montpelier, VT 05620-2501
If the Peer Review Board determines you are eligible for review, you may begin collecting material and documentation to add to your portfolio. Full information on portfolio requirements, and specific endorsement area information may be found here.
After completing your portfolio and attending a Peer Review Clinic to receive consultation and advice on your portfolio, you're ready to submit the package for consideration. To schedule a Peer Review Clinic, contact Peer Review Consultant Pamela Miller at pamela.miller@state.vt.us.
When submitting a portfolio, candidates must include:
Cover letter to the Peer Review Panel
Portfolio Content Checklist
Copy of clinic attendance certificate
Copy of test score report(s)
Copy of transcript(s)
Resume
Confirmation that the Professional Attributes and Dispositions Verification form was submitted to Peer Review (given to your current or previous supervisor to complete)
Copies of relevant licenses
Three letters of support from professionals who can attest to you work and knowledge
Candidates must submit four copies of their portfolio to the Peer Review Program, in addition to a check for $1200 payable to the Vermont Department of Education at …
Peer Review Program
Educator Quality Division
Vermont Department of Education
120 State Street
Montpelier, Vermont 05620-2501
Criminal History Background Check
The Department of Education does not require candidates seeking alternative teacher certificates undergo background checking or fingerprinting. However, specific school districts may ask teachers to submit to background checks before becoming employed.
Contact Information
To learn more about alternative teacher certification in Vermont, visit the peer review website at or e-mail them at david.hough@state.ct.us.