Iowa Administration/Principal Certification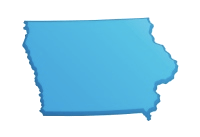 The Iowa Board of Educational Examiners issues endorsement to qualified applicants for PK-12 Principal and Superintendent titles.
Education Requirements
Principal:
You must have a master's degree from a regionally accredited institution and complete a series of courses and experiences either in that degree program (i.e., as part of an administrator preparation program) or outside of that degree program. Coursework must cover the following:
Early childhood, early adolescent, elementary, and secondary level administration, evaluation and supervision
Early childhood, early adolescent, elementary, and secondary level curriculum development
Child growth/development from birth through adolescence, including developmentally appropriate strategies and practices of early childhood, elementary, and adolescence
Family support systems, risk factors for families, childcare issues, and home-school community relationships, and interactions
School law and legislative/public policy issues that affect children and families
Current issues in special education administration
Learn more about the graduate school process. Contact schools offering educational administration degree programs in Iowa.
<!- mfunc feat_school ->
Featured Programs:
Sponsored School(s)
<!- /mfunc feat_school ->
You must also possess the following competencies:
Be able to facilitate the development, expression, execution, and stewardship of a vision of learning shared and supported by the school community
Be an advocate, nurturer, and sustainer of a school culture and curriculum that supports student learning and professional growth of staff
Be able to manage the organization, operations, and resources in the most safe, efficient, and effective way to facilitate learning
Be able to collaborate with families and community members, respond to varied community interests and needs, and mobilize community resources
Act with fairness, integrity, and ethics
Understand, react to, and influence a larger social, political, legal, cultural, and economic context
Superintendent:
You must have a specialist (doctorate) degree or its equivalent, such as a master's degree plus at least 30 semester hours of graduate study beyond a master's degree. You must also complete coursework covering the following content:
Theories, models, and practices that help improve educational systems, thereby improving student performance
State, local, and federal economic policies related to education
Human resources management (this includes recruitment, assisting personnel, helping to develop personnel, staff evaluations, and staff negotiations)
Knowledge of current legal issues in general and special education
Management of non-instructional support services such as facilities, nutrition, and transportation.
You must also demonstrate knowledge of the competencies listed above under Principal.
Examinations
No examinations are necessary for either type of administrative endorsement.
Experience Requirements
Principal:
You must have at least three years of teaching experience in grades PK-12
You must complete planned field experiences in elementary and secondary school administration as part of your administrator preparation program
Superintendent:
You must have at least three years of experience as a building principal or other PK-12 administrator position
You must complete a practicum in PK-12 school administration
Document and Application Requirements
Use the correct application for your situation (either Application for Administrative Licensure – Iowa Institution if you have graduated from an Iowa institution, or Out of State Application for Administrator Exchange Licensure if you graduated from a non-Iowa institution). Include the correct fees, and have your college/university fill out Section II of the application. If you are an out-of-state applicant, complete the experience verification form in the packet. Mail all application forms and information to: Board of Educational Examiners, Licensure, Grimes State Office Building, 400 E. 14th St., Des Moines, IA 50319-0147
Criminal History Background Check
As part of your application for administrative licensure in Iowa, you must undergo a criminal history background check. This involves a local/state check performed by the Iowa Division of Criminal Investigation (DCI) as well as a national check through the Federal Bureau of Investigation (FBI). You are responsible for acquiring the fingerprints necessary to process the background check, as well as the fees associated with these checks. Your local Sherriff's offices or police station will likely be able to accommodate your fingerprinting. Call to inquire.
Contact Information
For more information on administrator preparation programs/courses in Iowa, contact the officials at the colleges and universities that offer these programs.
For information on administrative licensure, contact the Iowa Board of Educational Examiners at 515-281-3245.