USC is a juggernaut in California's higher education system. As the oldest private research university in the state, it has represented academic excellence in California since 1880.
When you are going into education, you recognize that your instructors' expertise is one of the keys to your success. And there may be no university in California that draws more intellectual horsepower than USC.
Faculty at USC today include six Nobel laureates, eight MacArthur Fellows, and numerous Fulbright Scholars and National Medal winners.
The Rossier School of Education falls right in line with that pattern. Seven faculty members are ranked in the Top 200 of Education Week's Most Influential Scholars in Education.
The distinction also shows in the quality and achievements of graduates.
Eighty-three Rossier alums are current California K-12 district superintendents overseeing the education of a full one-third of children in the state.
The college has produced such luminaries as Ethel Percy Andrus, the first female high school principal in the state and founder of AARP (American Association of Retired Persons, Frances Wilson, a decorated Marine Corps general and president of National Defense University, and Cindy McCain, one-time special education teacher and current Executive Director for the World Food Programme for the United Nations.
Studying at the Alma Mater of Doctor Love Delivers an Advanced Curriculum in Empathy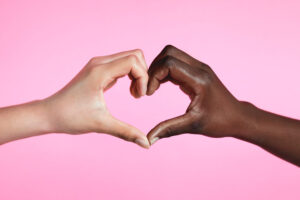 Today's students may not be familiar with one of the most influential USC School of Education graduates, but his work has been profoundly meaningful in teaching and society. If you were a television viewer in the 1980s, you simply knew him as Dr. Love.
His real name was Leo Buscaglia. He earned a bachelor's, master's, and doctorate degree all at USC, and eventually returned to the university as a professor.
While teaching here, one of Dr. Buscaglia's students committed suicide. Profoundly impacted by the loss, he created a new class, simply titled: Love 1A. The course of instruction: hugs.
Of course, Dr. Buscaglia's explorations of human connection and relationships went deeper, and with a series of best-selling books and television appearances, he spread the word far and wide. His theories contributed a great deal to modern pedagogical concepts emphasizing the importance of individual instruction and appreciating uniqueness in every student.
Whether or not your degree from USC comes with a hug, it will definitely incorporate ideas brought to life here by Dr. Buscaglia and other innovative faculty members.
Joining this elite list of graduates is in reach for anyone with an internet connection today thanks to a valuable collection of online graduate programs that Rossier now offers.
The Advanced Challenges in California Education Are Best Met with Advanced Degrees from an Elite Institution
Although you don't need a master's degree to become a certified teacher in California, there's no question it can make you a better one. USC offers a path to either individuals who have already earned a bachelor's degree in another field, or those who want to take their current teaching expertise to the next level.
In large part, that's because master's programs just go deeper and harder into the roots of what makes teachers effective. USC brings more resources to the party than most:
Seven different research centers support students and faculty in areas as diverse as educational psychology, identity, and social justice
The school received nearly $16 million in research funding in 2020-2021
World-class faculty members guide research projects that reflect areas of interest and exploration that will fuel tomorrow's breakthroughs in pedagogical theory
With the opportunity to tap into that level of expertise and experience as part of a graduate program, you can get in on the ground floor of the next big thing in education.
Online classes at the master's level are conducted live, with dynamic coursework that will challenge and inform. On top of that, both MAT (Master of Arts in Teaching) programs allow you to stack requirements for additional teaching qualifications on top of the basic course of study.
Online Master of Arts in Teaching
The Rossier Master of Arts in Teaching has a reputation for being both rigorous and collaborative. You'll face challenges in your coursework every day, but both your professors and fellow students will be there at every step to help you through.
The program follows the time-tested stair steps toward expertise in giving you a deep exposure to the foundational theories of pedagogy and learning psychology, then following through with hands-on practice until you develop a complete mastery of those concepts.
The degree offers options to pursue a concentration in multiple-subject teaching for K-6, or obtaining a single subject credential for higher grade levels in:
English
Mathematics
Science
Social Science
You can also easily add in classes to qualify for any of these three credentials while you are earning your degree:
California Preliminary Educational Specialist Credential
California Bilingual Authorization in Spanish
Gifted Education Certificate
Online Master of Arts in Teaching – TESOL (Teaching English to Speakers of Other Languages)
Advancing educational equity is a core mission at Rossier. Nowhere is that commitment more apparent than in the MAT-TESOL program.
According to 2020 data from the Census Bureau, California is the most diverse state in the country. That shows up clearly in the public school environment.
California Department of Education data from 2021-22 finding that some 40 percent of students speak a language other than English in the home, and that more than 1.1 million are considered English language learners.
So, the MAT-TESOL is truly a degree designed to meet today's challenges in the California education environment.
You'll get an up-to-date window into the latest thinking in multicultural language education and the social and linguistic factors that impact non-native English language learners.
The coursework delivers a deep theoretical and evidence-based understanding of the challenges and techniques involved in language acquisition. That means that graduates from this program have what it takes to formulate their own strategy and practices designed for their unique teaching environment… whether it's in Pomona or Japan.
Students also have the option of pursuing a California Preliminary Single Subject Teaching Credential in World Languages.
Online Doctor of Education in Organizational Change and Leadership
Driving change in education systems is tough anywhere. But in California, a land of strong unions, competing educational visions, and exceptionally diverse student populations, it's a job only for the most experienced and highly educated administrators.
As the statistics for state school district leadership show, USC is one of the premier institutions for getting the kind of in-depth knowledge you need to successfully run educational organizations here. And the online Doctor of Education in Organizational Change and Leadership is the program that is best positioned to develop that knowledge and the skills you need to apply it.
Students go through in-depth explorations of the learning process in various settings and examine strategies for building organizations that facilitate that process. At the same time, they study the science of leadership, and learn how to build the vital skills in communication, vision, and team-building that make organizational change possible.
A series of on-campus immersion experiences give this degree the best of both worlds in advanced education, combining intensive face-to-face interaction with fellow students and professors with the overall flexibility of online studies.
It's possible to enter this program with either a master's in your background or directly with sufficient work and leadership experience on top of an undergraduate degree.
On top of the convenience factor, each of these programs can put you on a fast track to an advanced degree in education, with completion times ranging from just under a year to 21 months.