The University of West Alabama started out as a teacher's college in 1835, and it remains one today.
Although the school has branched out to serve far more than just the all-female students of those early classes, and to cover subjects far afield from just home economics and the arts, it has played a consistent role in the training of educators for Alabama schools for nearly 200 years.
The past is important here, but education is all about the future. UWA has also led the charge there, with a big shift to online teacher education that offers better access and an easier fit for modern lifestyles and teaching careers.
That kind of innovation combined with consistent quality gives a school a certain reputation. And the University of West Alabama's is the finest in the state: programs here are the choice of more educators in Alabama than any other university.
Earning a Degree at Alabama's Premier College in Education Is an Easy Choice
UWA has been an easy choice for Alabama educators for a long time… the Tuscaloosa News reported classrooms in what was then called Livingston State College were filled to capacity as far back as 1959.
The same article hailed the friendliness of students and faculty alike—another bedrock Alabama quality that hasn't changed much in the past 64 years.
Friendliness and popularity are both good signs. But the substance behind them is what drives UWA's position as the premier teacher's college in Alabama.
Cultural and intellectual diversity, an accommodating credit transfer policy, high marks in affordability, and a diverse and intellectually stimulating environment make the University of West Alabama as much the right choice for teachers today as it was when it was founded.
Keeping a First-Rate Reputation for Teacher Education Requires More Than Resting on Historical Laurels
Once a reputation is earned, it must be kept. And UWA has done just that in educational circles by staying on the forefront of online education and modern pedagogical research and practice.
UWA offers more than 70 online education programs with over 3,500 students enrolled, bringing diversity and energy from across the state and all over the country to each of your classes.
With a broad range of degrees at every level and in dozens of specialties, the university has options for both people who are just starting their path into a teaching career, and for professionals with decades of experience behind them branching out into new opportunities.
That volume and breadth of subjects also gives UWA instructors a kind of polish and expertise you won't find anywhere else in the state. Every teacher knows the best education comes through experience. And with decades of experience in training teachers at every level, professors here have honed their skills to get any student to their career goals.
Beating the Problem of Providing Online Students with the Perfect Mentors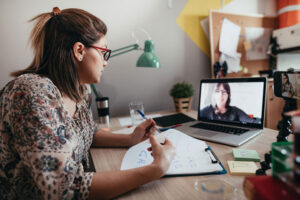 One thing that sets UWA apart from other teacher-certification programs in Alabama is a strong respect for the role of mentorship. While student teaching and the comprehensive support offered by advisors and counselors from Career Services deliver great advice and input, a closer and more personalized mentoring relationship is even better.
That's why the school partners with The Mentor Collective, a technology-based solution to pairing students with the ideal mentors.
As an online service, the Collective offers the perfect fit for UWA's large online student population. And with the scientific backing to match students with mentors at scale, it's a solution that puts a personal touch back into teacher certification training.
Many Alabama teachers have already taken advantage of the clear and compelling certification programs offered at UWA. A quick look at the wide variety of opportunities open to you below is all it takes to set you up on the same path.
Bachelor's Degrees in Education From the University of West Alabama
Bachelor's degrees in education are the foundation for every great teaching career. When it's time to get your basic qualifications and initial certification to teach anywhere in Alabama, one of these majors will check all the right boxes.
With these online bachelor's degrees, UWA covers all the basics and more in a handful of expertly taught and creatively constructed four-year programs leading to a Class B teaching certification in Alabama.
Bachelor of Science in Collaborative/Special Education
Bachelor of Science in Early Childhood Development
Bachelor of Science in Elementary Education
Bachelor of Science in General Science – Teaching Certificate
Master's Degrees in Education From the University of West Alabama
A master's degree is the goal of many active teachers. For a Class A certification in Alabama, it's a requirement. And it's one that many teachers come right back to the University of West Alabama to fulfill.
These UWA master's programs let you hone your own teaching expertise and improve your command of your subject areas. With versions of degrees that come either with or without certification in a wide range of subjects, you won't have any trouble finding the right fit for your needs.
Finally, degree options including a Master of Education (M.Ed.), a Master of Arts in Teaching (MAT), or Master of Science offer a unique focus to develop skills in the specific areas you want to take your career.
Master of Arts in Teaching
Master of Education in Early Childhood Development
Master of Education in Early Childhood Education, P-3
Master of Education in Elementary Education, K-6
Master of Education in High School 6-12
Master of Education in Instructional Leadership
Master of Education in Learning Design and Technology
Master of Education in Library Media
Master of Education in Physical Education PS-12
Master of Education in School Counseling
Master of Education in Special Education – Collaborative Teacher, 6-12
Master of Education in Special Education – Collaborative Teacher, K-6
Master of Education in Student Affairs in Higher Education
Master of Science in Physical Education
Alternative Class A Master's Degrees with Certification
To support the broadest range of potential teachers, UWA also offers a series of specialized Master of Education (M.Ed.), or Master of Arts in Teaching (MAT) programs designed for alternative certification pathways. These master's programs are aimed at individuals who earned bachelor's degrees that did not include ITP (Initial Teacher Preparation) coursework and who don't currently hold an Alabama teaching certification.
These programs include all the necessary field experience and coursework for certification at the Class A level, as well as high-level graduate coursework to make you an expert in the field. They can also be used by current teachers seeking certification in a new subject area. Many subjects are available in either MAT or M.Ed. formats to fit your needs.
Biology, 6-12 (M.Ed. or MAT)
Early Childhood & Elementary Education, P-3/K-6 (M.Ed.)
Early Childhood Education, P-3 (M.Ed.)
Elementary Education, K-6 (M.Ed.)
English Language, Arts 6-12 (M.Ed. or MAT)
General Science, 6-12 (M.Ed. or MAT)
History, 6-12 (M.Ed. or MAT)
Mathematics, 6-12 (M.Ed. or MAT)
Physical Education, P-12 (M.Ed. or MAT)
General Science 6-12 (M.Ed. or MAT)
General Social Science, 6-12 (M.Ed. or MAT)
Collaborative Teacher Special Education, 6-12 (M.Ed.)
Collaborative Teacher Special Education, K-6 (M.Ed.)
Educational Specialist Degrees from the University of West Alabama
These unique degree programs offer high levels of expertise without the significant time and financial investment of a doctorate. They are the next step toward administrative and leadership roles for many Alabama educators.
As a path to certification that also includes post-graduate coursework, the UWA approach to the Ed.S. offers affordable but extremely high-quality leadership and instructional training to educators across the state.
Educational Specialist in Counseling
Educational Specialist in Early Childhood Education
Educational Specialist in Elementary Education
Educational Specialist in Instructional Leadership
Educational Specialist in Library Media
Educational Specialist in School Counseling
Educational Specialist in Collaborative Special Education 6-12
Educational Specialist in Collaborative Special Education K-6
Educational Specialist in Teacher Leader
Certificate Programs in Education from the University of West Alabama
Sometimes, professional success doesn't take much extra education. When all you need is a highly focused certificate, with a state-approved curriculum, UWA can deliver.
Taught by the same expert instructors as degree programs and drawing on the same comprehensive curriculum, these certificates get the job done quickly and affordably.
Provisional Certificate in a Teaching Field
Post-Master's Certificate: Instructional Leadership
Temporary Special Education Certificate
Doctoral Degrees in Education from the University of West Alabama
At the highest level of education, a doctoral degree can define your entire career. The UWA Doctor of Education in Rural Education offers a course of study you can stake your reputation on.
It's a degree that offers leadership solutions for quintessential Alabama education problems. This program prepares administrators and principals to take on the poverty and challenges inherent in small, diverse districts across the state.
A handful of versatile concentrations allow you to focus on the specific challenges facing your district. And the advanced mentorship and curriculum they deliver can make you a community leader as well as a skilled educator.
Doctor of Education in Rural Education with a concentration in:

Counseling
Higher Education Administration
Instructional Technology
Library Media
Organizational Change and Leadership
Teacher Leader