Once a hidden secret in the Phoenix area, Grand Canyon University is a private Christian university that has been making a mark on a national scale recently. With more than 200,000 alumni out in the community, chances are that the average Arizona teacher is already working with colleagues who have passed through the excellent and affordable ITP programs offered by the school.
Students have been flocking to GCU for a reason: it's become one of the few elite private universities in the country to also prioritize keeping access open to diverse and non-traditional populations and costs low.
As of 2020, Arizona Central reported that Grand Canyon University is the largest Christian university in the United States, with an enrollment over 111,000 students… most of them attending online.
With both bachelor's and master's-level ITP options, the Grand Canyon University College of Education has all the bases covered for educators at any stage of a teaching career.
For the Best in Remote Teacher Education, Look to Where Online Education Degrees Are the Default
Although GCU has been and remains a university with a thriving campus environment in Phoenix, the school has made a splash recently through its groundbreaking expansion of online degree programs. More than 90,000 students have chosen to pursue their degrees online—that's nearly half of the total alumni population.
Both because of their commitment to online learning and a historic student population drawn from disadvantaged groups, GCU has developed superb support systems that go beyond the typical teaching college experience. Their quality is rooted in the excellence of the curriculum, experienced instructors, and well-designed student teaching placements to prepare you for educator credentialing.
You'll also receive extensive advising and guidance from the school's Teaching Certification and Credential Center. They'll make sure you get the appropriate institutional recommendation for eligibility for your Arizona Provisional Teaching Certification in your specialization.
Curriculum components are specifically aligned with the Arizona Educator Proficiency Assessment. Topics found on both the Professional Knowledge Exam and the Subject Knowledge Exam in your specialty will be covered extensively and in line with the way the exams present them. You'll be more than ready to zip through the multiple-choice and written response questions by the time you get your diploma.
Why a Christian University May Be Your Best Choice for Earning an Education Degree for Teaching Certification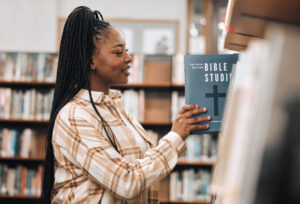 GCU has one other feature going for it that a certain subset of future teachers will appreciate. Although it doesn't require students to hold any particular religious affiliation or attend church services, it is unquestionably a school rooted in faith.
That's ideal not only for teachers who plan to seek employment at private Christian schools themselves, but for anyone looking for the support and comfort that a religious institution can offer.
A faith-integrated curriculum is offered to every student, both on campus and online. Weekly Chapel services are streamed live, bringing together students of faith from across the country. The Department of Spiritual Life conducts weekly Bible services and engages in outreach efforts both locally and globally.
Students are encouraged in service, although that's simply part of the package for educators. But you'll also find many volunteer opportunities outside the classroom through various initiatives and partnerships the school has built up over time.
These are the experiences that cultivate servant leaders of the sort that make excellent teachers and school administrators. Whether you embrace the Christian ethos behind them or not, each is a chance to develop the compassion and fellowship that every good teacher needs in the classroom.
And the support doesn't end with licensure, either. Since 1984, the GCU College of Education has committed to providing ongoing assistance to graduates throughout their first year of professional employment as a teacher or educational administrator.
That means you have access to extras such as:
Content-area teaching materials
Test prep resources
Curriculum assistance
Faculty mentoring
It's a range of assistance to cover all kinds of potential obstacles to help you get your career off to the right start.
It's all part of the package that has GCU College of Education graduates raving about their experiences at the school.
Bachelor's Degrees in Education From Grand Canyon University
The bachelor's degree with Initial Teacher Preparation (ITP) coursework is the foundation of every Arizona educator's teaching credentials. GCU has four-year programs that cover state Department of Education requirements in all but two of the basic categories of Provisional Teaching Certificate that all educators in Arizona start off with.
And beyond covering that essential ITP coursework, GCU has dedicated support systems in place to make sure that fresh bachelor's graduates from the school have the best chance possible of earning those certifications. The experts at Grand Canyon University give you everything you need to get your career as a teacher off on the right foot.
Bachelor of Arts in English for Secondary Education
Bachelor of Arts in History for Secondary Education
Bachelor of Science in Early Childhood Education
Bachelor of Science in Early Childhood Education/Early Childhood Special Education
Bachelor of Science in Elementary Education
Bachelor of Science in Elementary Education/Special Education (Dual Major)
Bachelor of Science in Elementary Education: Christian Education
Bachelor of Science in Elementary Education: English as a Second Language
Bachelor of Science in Elementary Education: STEM
Bachelor of Science in Elementary Education: Teaching Reading
Bachelor of Science in Mathematics for Secondary Education
Master's Degrees in Education From Grand Canyon University
GCU also has plenty of graduate-level options for educators who are interested in deepening their expertise in many common areas of both elementary and secondary education. And with the flexibility and support built into the school's robust online degree system, any of these are an easy choice for professionals with existing career or family obligations that make traditional on-campus attendance tough.
With a combination of highly respected MEd (Master of Education) programs that lead to licensure and those that simply add to your valuable research skills and expertise, there's an option to fit your career goals.
Master of Education in Early Childhood Education
Master of Education in Early Childhood Education/Early Childhood Special Education
Master of Education in Elementary Education (Licensure)
Master of Education in Elementary Education and Special Education (Licensure)
Master of Education in Secondary Education: Humanities (Licensure)
Master of Education in Secondary Education: STEM (Licensure)
Master of Education in Secondary Humanities Education
Master of Education in Secondary STEM Education
Master of Education in Special Education (Licensure)
Master of Education in Special Education: Moderate to Severe