West Virginia Teaching Salaries and Benefits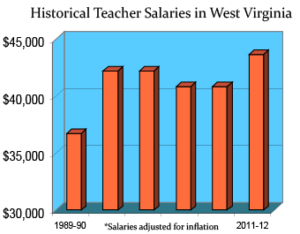 West Virginia's leaders are heavily committed to improving the educational climate in the state. As teachers continue to dedicate themselves to advancing classroom conditions for students, the state hopes to attract even more qualified individuals to its schools.
West Virginia offers teachers an all-inclusive benefits package that provides a safety net for teachers who may need financial assistance during or after employment. By ensuring the wellbeing of its teachers, West Virginia continually re-commits itself to its educational mission.
<!- mfunc feat_school ->
Featured Programs:
Sponsored School(s)
<!- /mfunc feat_school ->
Learn more about becoming a teacher. Contact schools offering teacher education/certification programs in West Virginia.
Teacher Salaries in West Virginia by Education
As teachers further their educations and gain experience in the field, they receive pay increases that reflect their dedication and hard work. Salaries vary between school districts, but the following are some examples of the salaries you can expect in West Virginia:
| Experience | Bachelor's | Master's |
| --- | --- | --- |
| At 3 years | $30,871 | $33,399 |
| At 6 years | $32,670 | $35,199 |
| At 9 years | $34,226 | $36,754 |
| At 12 years | $35,783 | $38,311 |
Source: West Virginia Department of Education
Retiring in West Virginia
When you begin your career at a West Virginia public school, you enter into the Teachers' Retirement System (TRS). The TRS was established to provide teachers with a defined retirement benefit plan, and currently serves over 35,000 active members and nearly 30,000 retired members.
Active members of TRS contribute 6% of their gross monthly incomes to the plan, while employers contribute an additional 7.5%.
To qualify for regular retirement benefits, TRS members must meet the following requirements:
At least 60 years old with five years of service
At least 55 years old with 30 years of service
At any age with 35 years of service
The amount of benefits you will receive upon retirement is determined by a formula that takes into account your salary and service. The retirement formula for full benefits is:
Final Average Salary
multiplied by
Years of Service
multiplied by
2%
For example, if your final average salary was $50,000 and you worked for 30 years, your final annual benefits would be $30,000.
To learn more about how to calculate your retirement or any retirement options you have, visit the Teachers' Retirement Services.
Access to Affordable Health Insurance
As a public employee of the state of West Virginia, you qualify to enroll you and your family in a health insurance plan through the Public Employees Insurance Agency (PEIA). Through the PEIA, you can be confident that your family will be better protected if a medical emergency arises.
PEIA offers several preferred provider plans, so you can choose the one that best fits your family's needs. The plans vary with pricing, so plans with a higher deductible have a lower monthly premium, and vice versa. This allows you to choose how much you want to pay each month, and what coverage level you need.
Your deductible and out-of-pocket limit can also vary by your salary, employer, and tier. To learn more about how to calculate your health expenses and limits, explore information provided by the PEIA.
Each plan offers various coverage options, but all ensure you pay less for your health care. Features and coverage of the preferred provider plans include:
Preventative Services
Medical Home Program
Prescription Drug Program
Routine Prenatal Care
Well Child Exams
In order to guarantee the health and well-being of West Virginia teachers and their families, the state also offers additional benefits at little or no cost to you. These benefits include life insurance, dental and optical benefits, flexible spending accounts, and disability insurance.
If you want to learn more about all the benefits available to teachers in West Virginia, contact the Public Employees Insurance Agency.