Virginia Teaching Salaries and Benefits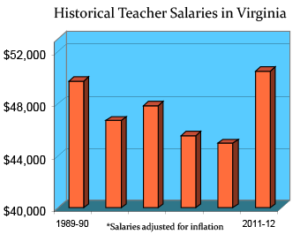 Year after year, Virginia teachers continue to model excellence in their classrooms. As they help their students navigate the pitfalls of education, these professionals are rewarded not only with competitive pay, but with a comprehensive system of benefits as well.
Retirement and medical care plans add to a teacher's salary in ways that aren't always visible. Rather than gaining a sense of accomplishment as they watch their bank accounts grow, they receive peace of mind knowing they are better prepared for many of the twists and turns of everyday life.
<!- mfunc feat_school ->
Learn more about becoming a teacher. Contact schools offering teacher education/certification programs in Virginia.
Teacher Salaries in Virginia by Education
As teachers further their educations and gain experience in the field, they receive pay increases that reflect their dedication and hard work. Salaries vary between school districts, but the following are some examples of the salaries you can expect in Virginia:
| Experience | Bachelor's | Master's |
| --- | --- | --- |
| At 3 years | $36,081 | $39,081 |
| At 6 years | $38,290 | $41,290 |
| At 9 years | $40,634 | $43,634 |
| At 12 years | $43,122 | $46,122 |
Source: Wise County Public Schools
Retiring in Virginia
As public employees in the state of Virginia, teachers must enroll in the Virginia Retirement System (VRS). The VRS provides a defined benefit plan that will ensure you have monthly pension benefits the rest of your life.
In order to keep the system strong, participating employees must contribute a portion of the salaries to the pension fund. VRS members currently contribute 5% of their monthly salaries to the fund on a pre-tax salary reduction basis. Your account will accrue 4% interest, which is compounded annually on June 30.
When you retire, there are four options you can choose from to receive your benefits. These options include:
Basic Benefit
The Basic Benefit option is calculated based on your age, total years of service credit, and average final compensation. The formula is:
1.7 percent of your average final compensation
multiplied by
Total years of service credit
divided by
12
For example, if you worked 30 years with an average final compensation of $65,000, your monthly benefit would be $2,762.50.
Survivor Option
Under this option, you elect to receive a lower benefit, so a beneficiary can receive a monthly benefit after your death. With the survivor option, you choose a percentage of your total benefit to transfer.
Partial Lump-Sum Option Payment
If you work at least one year after the required retirement age, you can receive a one-time partial lump-sum payment. However, this option lowers your monthly benefit payments.
Advance Pension Option
You can choose to increase your monthly benefit for a short time period. After the period is over, you will receive a lower monthly benefit for the remainder of retirement.
To become eligible for full retirement benefits, you must be 65 years or older with at least 5 years of service credit, or 50 years or older with at least 30 years of service credit.
If you're interested in learning more about the retirement plans available for Virginia teachers, explore the Virginia Retirement Services.
Access to Affordable Health Insurance
As the costs of health care continue to rise, Virginia has made it a goal to ensure the state's teachers and their families are sufficiently covered. To meet this goal, all teachers are offered a health benefit package that includes medical, dental, outpatient prescription drug, and behavioral health insurance.
Medical Benefits
Teachers can choose from a variety of plans through several different insurance providers. These plans prefer you to have a primary care physician, but services are covered as long as you use an in-network provider. The cost of your monthly payment, deductible, and other expenses will be determined by which plan you choose.
Most plans include:
Doctor Visits
Inpatient and Outpatient Hospital Services
Laboratory Tests
Outpatient Therapy
Infusion Services
Dental Benefits
Delta Dental of Virginia provides dental care for any plan you choose. Care includes diagnostic and preventive care, and primary dental visits such as root canals and fillings. You have the option to pay extra and enroll in an expanded dental plan that covers orthodontic visits and major restorative dental work.
Outpatient Prescription Drug Benefits
Your prescription drug benefit is included in the medical plan that you choose. Prescriptions are less expensive if obtained at an in-network pharmacy.
Behavioral Health Benefits
Behavioral health services offer up to four visits for counseling in areas like mental health, substance abuse, work and family concerns, or financial and legal issues. Your care must be authorized in advance.
If you want to learn more about all the benefits available to teachers in Virginia, explore the state's Department of Human Resource Management.