Vermont Teaching Salaries and Benefits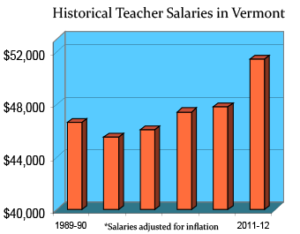 To maintain a high standard of education, Vermont hopes to attract a qualified teaching force prepared to tackle the educational challenges the state faces. By offering a highly competitive salary and benefits package, Vermont ensures its teachers are rewarded for the sacrifices they make when presenting solutions to these challenges.
Upon employment in Vermont, teachers gain several important and highly sought benefits, including pension payments and health insurance options. These added benefits allow teachers the satisfaction of knowing they are not only prepared for many medical issues, but for life after teaching.
<!- mfunc feat_school ->
Featured Programs:
Sponsored School(s)
<!- /mfunc feat_school ->
Learn more about becoming a teacher. Contact schools offering teacher education/certification programs in Vermont.
Teacher Salaries in Vermont by Education
As teachers further their educations and gain experience in the field, they receive pay increases that reflect their dedication and hard work. Salaries vary between school districts, but the following are some examples of the salaries you can expect in Vermont:
| Experience | Bachelor's | Master's |
| --- | --- | --- |
| At 3 years | $39,418 | $44,163 |
| At 6 years | $44,630 | $49,412 |
| At 9 years | $51,318 | $56,044 |
| At 12 years | $51,318 | $64,264 |
Source: Burlington School District
Retiring in Vermont
When you are hired as a teacher in the state of Vermont, you become eligible for retirement benefits through the Vermont State Teachers' Retirement System (VSTRS). This public pension plan consists of nearly 20,000 active and retired members, ensuring a secure a comfortable retirement for you and your co-workers.
You are eligible for normal retirement with full benefits when you are 65, or when the sum of your age and service credit equals 90.
In a defined benefit plan, you will contribute 5% of your salary annually to the retirement fund, while your employer contributes an additional 7.41%.
The amount of your actual retirement benefit is determined by a formula containing three variables: your service credit, your age, and your average final compensation. It is not determined by how much you contribute to the plan. You can discover your likely pension benefits with the following calculation:
2%
multiplied by
Final Annual Compensation
multiplied by
Years of Service
For example, if you worked for 30 years and had a final annual compensation of $55,000, your annual retirement benefit would be $33,000.
The state also offers a deferred compensation plan that allows for additional savings and investment planning for your retirement. Participation is voluntary and all contributions are tax free.
To learn more about the retirement plans available for Vermont teachers, visit the Vermont State Teachers' Retirement System.
Access to Affordable Health Insurance
As a teacher in the Vermont public school system, you are eligible to enroll in health benefits through the Vermont Education Health Initiative (VEHI). Each individual school district chooses the plan for its members to ensure the proper coverage of teachers and their families.
All of the plans offered through VEHI are nearly identical. The difference occurs in the payment plan options – each one offers a slight variation in out-of-pocket arrangements for the member.
Every plan offers active employees coverage for the following areas:
Primary Care Physician Visits
Inpatient and Outpatient Hospital Visits
Chiropractic Visits
Mental Health Visits
Emergency Room Care
In addition to medical care, many school districts offer additional benefits such as low-cost prescriptions, and dental and long-term disability insurance.
To learn more about the health benefits and insurance offered to school teachers in Vermont, visit the Vermont Education Health Initiative .