South Carolina Teaching Salaries and Benefits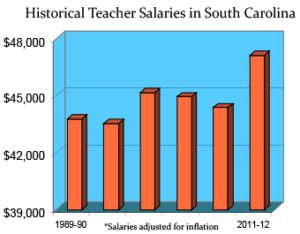 Many teachers understand the stresses and challenges that financial difficulties bring to their homes and their classrooms. South Carolina seeks to lessen these burdens with a series of employee benefits to help teachers keep health and living costs at more manageable levels.
Public school teachers are not only offered competitive salaries in South Carolina, but perks like health insurance and a retirement pension for later stages of life. In today's uncertain economy, these benefits allow South Carolina teachers to better protect their financial futures.
<!- mfunc feat_school ->
Featured Programs:
Sponsored School(s)
<!- /mfunc feat_school ->
Learn more about becoming a teacher. Contact schools offering teacher education/certification programs in South Carolina.
Teacher Salaries in South Carolina by Education
As teachers further their educations and gain experience in the field, they receive pay increases that reflect their dedication and hard work. Salaries vary between school districts, but the following are some examples of the salaries you can expect in South Carolina:
| Experience | Bachelor's | Master's |
| --- | --- | --- |
| At 3 years | $35,729 | $41,130 |
| At 6 years | $38,483 | $43,956 |
| At 9 years | $41,202 | $46,942 |
| At 12 years | $43,956 | $49,928 |
Source: Aiken County Public Schools
Retiring in South Carolina
As a teacher in South Carolina, you are automatically enrolled in the state's pension system, which provides you with lifetime benefits once you retire.
The South Carolina Retirement System (SCRS) is a defined benefit program that requires you to contribute a percentage of your income to a fund. In the SCRS, you'll contribute 7% of your gross pay to the system, while your employer contributes an additional 10.45%.
In order to qualify for these full benefits you must meet the following requirements:
Age 65 or older with at least five years of service
Any age with 28 years of service
The monthly pension you receive is calculated by a very specific set of parameters that include compensation records, credited service time, days of unused sick leave, and a benefit multiplier.
For example, if you've worked for 25 years and retire with an average salary of $60,000, your monthly pension would be $2,275. To discover your own likely benefits, you can use the SCRS Benefit Calculator.
While most teachers wait until normal retirement age before terminating employment, the SCRS also offers several early retirement options. To learn more about the alternative retirement choices in South Carolina, contact the South Carolina Retirement System.
Access to Affordable Health Insurance
Even as health costs continue to rise, South Carolina has remained dedicated to providing public employees with insurance benefits at an affordable cost. Through the South Carolina Public Employee Benefit Authority (PEBA), teachers are offered a variety of health insurance options.
These options include a standard PPO health plan and a health savings plan. The annual deductibles for the standard plan are lower than the savings plan, but the premiums are higher.
Despite their differences, both plans offer public employees medical coverage in the following areas:
Primary Care Physician Visits
Emergency Room
Well Child Care
Prescription Drugs
Hospital Visits
In addition to medical care, PEBA offers a standard dental insurance plan that covers basic preventative care. You can also enroll in a dental plus plan that has a premium, and will cover more advanced dental services and orthodontics.
The state vision care plan is open to all active and retired teachers, as well as part-time teachers. It offers a comprehensive eye exam every year, eyeglass or contact lenses every year and eyeglass frames every two years.
To learn more about the health benefits and insurance plans offered to teachers in South Carolina, explore information provided by PEBA.