Rhode Island Teaching Salaries and Benefits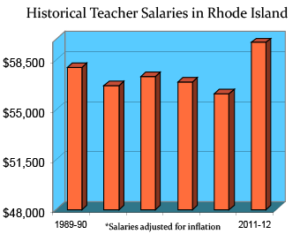 Have you thought about your life after teaching? If you're like many Americans, retirement planning might seem too far off to worry about, as challenges at home and in the classroom occupy your mind.
In Rhode Island, teachers are entered into a mandatory retirement program that allows them to keep their minds focused on their students rather than their post-retirement lives. With a system that manages their retirement planning for them, teachers gain the piece of mind that relative financial security provides.
Even aside from future benefits, teachers in Rhode Island also have access to services they can use in the present. By participating in a health benefits plan that provides medical and dental insurance, teachers can customize their health coverage to meet the needs of their families.
<!- mfunc feat_school ->
Featured Programs:
Sponsored School(s)
<!- /mfunc feat_school ->
Learn more about becoming a teacher. Contact schools offering teacher education/certification programs in Rhode Island.
Teacher Salaries in Rhode Island by Education
As teachers further their educations and gain experience in the field, they receive pay increases that reflect their dedication and hard work. The following are some examples of salaries you can expect in Rhode Island:
| Experience | Bachelor's | Master's |
| --- | --- | --- |
| At 3 years | $41,931 | $45,208 |
| At 6 years | $49,794 | $53,416 |
| At 9 years | $60,801 | $64,078 |
| At 10 years | $68,984 | $72,261 |
Source: Woonsocket Public Schools
Retiring in Rhode Island
As a public employee in the state of Rhode Island, you are automatically enrolled in a retirement program through the Employees' Retirement System of Rhode Island (ERSRI). This program provides monthly incomes to teachers after they end their careers.
In the ERSRI retirement program, you receive a defined benefit determined by a pre-set formula. Teachers contribute 9.5% of their salary to the plan, while their employers contribute a separate percentage. The actual percentage is dependent on the employer, and may change annually.
Once you reach normal retirement age, you're eligible to terminate employment and gain benefits from the fund you've contributed to through the years. In order to receive unreduced monthly benefits, you must meet the following qualifications:
Age 59 or older with 29 years of service credit
Age 60 or older with 10 years of service credit
Your monthly annuity is determined by two factors: your final average salary and your years of creditable service. These two factors are then multiplied by a benefit percentage that changes depending on the years you've worked. The maximum benefit you can receive is 80% percent of your final average salary.
For example, if you earned a final average salary of $60,000, the most you are allowed to collect each year is $48,000.
To learn more about retiring in Rhode Island and your potential benefits, explore more information provided by the Employees' Retirement System of Rhode Island.
Access to Affordable Health Insurance
Public school teachers in Rhode Island are eligible for a state medical plan directed by United Healthcare. The medical plan is designed to offer all public employees opportunities for affordable health care.
The health plan begins on your first day of employment, and provides a long list of in-network providers you can use. It includes a prescription drug program to give you low cost prescriptions, as well as a host of other medical services including:
Ambulance Services
Cardiac Rehabilitation
Chiropractic Treatment
Maternity Services
Mental Health Services
Emergency dental services are covered through the medical plan. However, if you would like additional dental insurance, you can enroll in a separate dental insurance plan.
This plan covers a wide variety of dental services, including:
Oral Exams
Cleaning
X-Rays
Fillings and Root Canals
General Anesthesia
In addition to medical and dental benefits, Rhode Island also provides teachers with a vision plan, flexible spending accounts, and health insurance after retirement.
To find out more about all benefits available to teachers in Rhode Island, contact the state Office of Employee Benefits.