Oregon Teaching Salaries and Benefits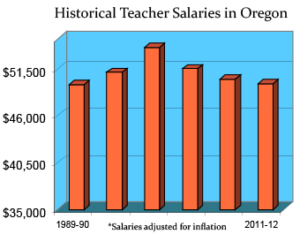 As you begin your job hunt, you're most likely going to keep an eye out for any perks that a career might bring. When added on top of a competitive salary, benefits like health insurance and retirement pensions can help you maintain financial stability, allowing you to concentrate on other life goals.
Teachers in Oregon have access to a well-financed benefits package that helps lower medical costs and simplifies the retirement process. With plans that not only benefit their present lives, but their future ones as well, teachers in Oregon are better able to provide for themselves and their families.
<!- mfunc feat_school ->
Featured Programs:
Sponsored School(s)
<!- /mfunc feat_school ->
Learn more about becoming a teacher. Contact schools offering teacher education/certification programs in Oregon.
Teacher Salaries in Oregon by Education
As teachers further their educations and gain experience in the field, they receive pay increases that reflect their dedication and hard work. The following are some examples of salaries you can expect in Oregon:
| Experience | Bachelor's | Master's |
| --- | --- | --- |
| At 3 years | $38,369 | $45,755 |
| At 6 years | $42,417 | $50,581 |
| At 9 years | $46,892 | $55,918 |
| At 12 years | $52,961 | $62,940 |
Source: Portland Public Schools
Retiring in Oregon
As a public employee in Oregon, you are automatically enrolled in the Oregon Public Service Retirement Plan (OPSRP). This plan offers two components: the Pension Program and the Individual Account Program.
Pension Program
Under the pension program, your employer will contribute a percentage of your salary to a fund that will give you a lifetime monthly annuity upon retirement. Your employing school district determines the exact percentage you'll contribute to the plan each year.
You'll be able to collect your full monthly benefits once you reach normal retirement age in Oregon. To qualify for full payments, you must meet the following requirements:
At age 65 with any amount of service
At age 58 with 30 years of service
Oregon calculates your likely benefits by taking into account your years of service and salary. The following formula may be used to calculate your estimated benefits:
Final Average Salary
multiplied by
Years of Service Credit
multiplied by
1.5%
For example, if your average final salary is $50,000 and you worked for 25 years, your pension payment would calculate to $1,562.50 per month.
Individual Account Program (IAP)
The second part of your retirement plan is designed to provide you with additional retirement funds from a personal account. Throughout your employment as a teacher, you'll contribute an additional 6% of your salary to the Individualized Account Program (IAP).
Your IAP is estimated to provide you with between 15% and 20% of your final average salary, and earns interest annually at an 8% rate. This account is considered a supplemental payment to the pension program, giving you an additional form of retirement income.
To learn more about the two-part retirement plan for teachers, contact the Public Employees Retirement System.
Access to Affordable Health Insurance
The state of Oregon seeks to provide comprehensive health care at an affordable price to its public employees, including teachers. Through the Public Employees Benefit Board (PEBB) all public teachers are given the flexibility to choose between several different medical insurance plans.
All plans are designed to lower the costs of a variety of medical services for members, including:
Primary Care Visits
Chronic Visits
Specialty Visits
Maternity Care
Lab and X-Rays
The copayment and percentages you are responsible for will depend on which health insurance plan you choose. Check with your local school district for exact health insurance plans and their premiums, as they can vary by county.
In addition to medical care, PEBB members have the option to enroll in a dental plan. There are several different dental plans available, with most covering:
Basic Oral Exams
Preventative Care
X-Rays
Beyond medical and dental plans, PEBB also offers other benefits such as life and disability insurance. For more information about the all health benefits available for teachers in Oregon, contact the Public Employees Benefit Board.