Ohio Teaching Salaries and Benefits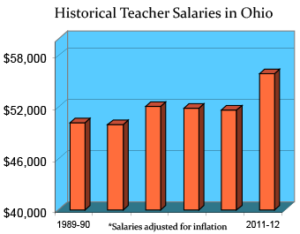 According to the United States Census Bureau, only 21% of uninsured adults received a routine checkup in 2010. Without health insurance, people are less likely to see a doctor for routine examinations, meaning they don't always get the medical care they need.
Fortunately, teachers in the state of Ohio have access to affordable health checkups through a comprehensive benefits package that includes health insurance, in addition to a retirement plan. Both of these benefits give teachers more financial flexibility in their lives, allowing them to not only seek medical care, but also to acquire a protected nest egg for the future.
<!- mfunc feat_school ->
Featured Programs:
Sponsored School(s)
<!- /mfunc feat_school ->
Learn more about becoming a teacher. Contact schools offering teacher education/certification programs in Ohio.
Teacher Salaries in Ohio by Education
As teachers further their educations and gain experience in the field, they receive pay increases that reflect their dedication and hard work. Salaries vary between school districts, but the following are some examples of the salaries you can expect in Ohio:
| Experience | Bachelor's | Master's |
| --- | --- | --- |
| At 3 years | $34,960 | $36,626 |
| At 6 years | $37,460 | $39,586 |
| At 9 years | $42,642 | $45,503 |
| At 12 years | $48,363 | $51,583 |
Source: Toledo Public Schools
Retiring in Ohio
As you start your career as a teacher in Ohio, you are required to become a member of the State Teachers Retirement System (STRS). As a member, you have 180 days to choose one of three retirement plans: the defined benefit plan, the defined contribution plan, or the combined plan.
Defined Benefit Plan
Under this plan, you will contribute 10% of your annual salary to a pension fund, while your employer contributes 10.5%. Upon retirement, you will be given a monthly pension based on your final average salary and service credit.
You can estimate your likely monthly pension through a benefits calculator provided by the STRS.
For example, under the defined benefit plan, if you worked for 25 years with a final average salary of $52,000, your monthly pension would be $2,383.33.
Defined Contribution Plan
Through the defined contribution plan, you will still contribute 10% of your annual salary along with your employer's contribution of 10.5% to a fund. However, this plan doesn't guarantee monthly pension benefits upon retirement.
Your monthly pension will be based on the interest that is earned from your contributions. You will be responsible for the investment options and you can with draw these funds after one year of service.
Combined Plan
The combined plan features aspects of both the defined contribution and the defined benefit plan. Your 10% contribution is stored in a defined contribution plan that is managed by you. However, your employer's 10.5% contribution goes into a defined benefit portion of your plan.
The combined plan gives you the security of a guaranteed monthly pension, with the flexibility to manage another portion of your retirement benefits.
For the combined plan and the defined benefit plan, you are eligible for retirement when you meet the following qualifications:
Any age with 30 years of service credit
Age 55 with 25 years of service credit
Age 60 with 5 years of service credit
To learn more about the variety of retirement options available to you, contact the State Teachers Retirement System of Ohio.
Access to Affordable Health Insurance
All public employees in Ohio are eligible for health care coverage that includes medical insurance, as well as an optional dental plan. The benefits are designed to provide you and your family with quality and affordable health care.
Medical Insurance
The medical insurance plan is a PPO plan managed by Medical Mutual of Omaha and UnitedHealthcare. Full-time employees only pay 15% of the premium and the premium is determined by the level of coverage you choose and any dependents you also enroll in the plan.
This plan covers a multitude of medical services, including:
Allergy Testing and Treatment
Maternity Care
Urgent Care
Immunizations
Preventative Care
Dental Plan
You can choose to participate in either the Delta Dental PPO or the Delta Dental Premier Plan. With both plans, you have the option to go to the dentist of your choice, however you will generally pay less if you go to dentist in the Delta Dental network.
Both plans cover a variety of dental services, including:
Routine Exams
Cleanings
X-Rays
Ohio also offers additional benefits including vision insurance, long-term care, and prescription benefits. Learn more about all of the benefits available for teachers by contacting the State of Ohio office.