North Carolina Teaching Salaries and Benefits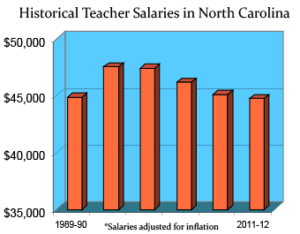 Planning for the future and managing health concerns are major sources of stress for many Americans. In fact, according to a poll conducted by Aetna, picking the right health insurance for your family is ranked the "second-hardest major life decision" out of a number of issues, while retirement planning ranked first.
These worrisome decisions are made simpler for North Carolina's teachers, who gain both health insurance options and retirement planning services as part of their employee benefits packages. By offering its teachers comprehensive benefits, North Carolina better positions its educators for future success.
<!- mfunc feat_school ->
Featured Programs:
Sponsored School(s)
<!- /mfunc feat_school ->
Learn more about becoming a teacher. Contact schools offering teacher education/certification programs in North Carolina.
Teacher Salaries in North Carolina by Education
As teachers further their educations and gain experience in the field, they receive pay increases that reflect their dedication and hard work. Salaries may vary between school districts, but the following are some examples of the salaries you can expect in North Carolina:
| Experience | Bachelor's | Master's |
| --- | --- | --- |
| At 3 years | $39,349 | $44,338 |
| At 6 years | $41,447 | $46,547 |
| At 9 years | $43,346 | $48,755 |
| At 12 years | $46,674 | $50,962 |
Source: North Carolina Public Schools
Retiring in North Carolina
After you are hired as a teacher in North Carolina, you are automatically enrolled in the Teachers' and State Employees' Retirement System (TSERS). This system provides a defined benefit plan for retirees that meet normal retirement qualifications.
You're eligible for full retirement benefits under the following scenarios:
Age 65 with five years of service
Age 60 with 25 years of service
At any age with 30 years of service
To fund the benefit that you will receive, you must make monthly contributions to a pension account. You are required to contribute 6% of your annual salary, while your employer contributes an amount that is legislated annually.
Once you reach retirement age and qualify, you will receive a monthly payment from TSERS. As a defined retirement plan, your payments are determined by your final average salary and years of service. You can estimate your benefits with the following formula:
Final Average Salary
multiplied by
Years of Service
multiplied by
1.82%
For example, if you worked for 33 years and retired with a final average salary of $50,000, then your monthly pension payments would calculate to $2,502.50.
TSERS also offers other programs including early retirement and payment options. If you're interested in learning more about the retirement benefits in North Carolina, contact the Teachers' and State Employees' Retirement System.
Access to Affordable Health Insurance
North Carolina offers its citizens a state health plan for teachers and other public employees. The plan provides affordable health care coverage to more than 660,000 members.
To give members the freedom to choose their own providers, there are two PPO plans available: the PPO Basic 70/30 Plan and the PPO Standard 80/20 Plan.
PPO Basic 70/30 Plan
The PPO Basic 70/30 plan features higher co-payments, coinsurance and deductibles, but lower premiums.
PPO Standard 80/20 Plan
Under the 80/20 plan, your coverage level is higher than the basic plan, but you pay a higher premium.
No matter which plan you choose, both will cover a percentage of medical services that include:
Urgent Care
Primary Physician Visits
Outpatient Services
Inpatient Hospital Care
Preventive Care
Emergency Services
Beyond medical coverage, North Carolina also offers teachers a wellness program and prescription benefits. Other optional benefits such as long-term care and a flexible account are available to those that are interested.
To learn more about the health benefits and insurance plans offered to teachers in North Carolina, contact the North Carolina State Health Plan.