New York Teaching Salaries and Benefits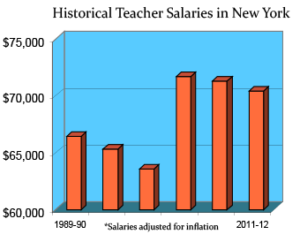 One of the major perks of teaching in New York is the culturally rich and diverse environment. Teachers in New York have access to over 200 arts and cultural organizations, giving them wider access to materials and activities that help bring their daily lessons to life.
The benefits of teaching in New York extend past the classroom and into your personal life as well. As a teacher in New York, you'll gain access to comprehensive benefits that allow you to position yourself for future financial security. By offering both retirement planning services and health insurance to teachers, New York teachers can shift focus to their students and feel more prepared for their futures.
<!- mfunc feat_school ->
Featured Programs:
Sponsored School(s)
<!- /mfunc feat_school ->
Learn more about becoming a teacher. Contact schools offering teacher education/certification programs in New York.
Teacher Salaries in New York by Education
As teachers further their educations and gain experience in the field, they receive pay increases that reflect their dedication and hard work. Salaries may vary between school districts, but the following are some examples of the salaries you can expect in New York:
| Experience | Bachelor's | Master's |
| --- | --- | --- |
| At 3 years | $48,836 | $54,731 |
| At 6 years | $50,812 | $59,654 |
| At 8 years | $59,404 | $65,299 |
| At 13 years | $69,197 | $75,092 |
Source: New York City Department of Education
Retiring in New York
Once you are hired as a public school teacher in New York, you are automatically enrolled in the New York State Teachers' Retirement System (NYSTRS). The NYSTRS is one of the 10 largest public retirement systems in the country, and serves over 300,000 active members and retirees.
Through the NYSTRS, you qualify for a defined benefit plan that will give you monthly pension payments upon retirement. This payment is designed to give you a lifetime income after you terminate your career.
The benefit plan requires you to contribute 4.85% of your gross salary to the retirement fund, with an additional 11.11% contributed by your employer.
However, your pension payment is not based on how much money you contribute to the fund, but rather on your years of service, age, and average salary.
To determine the amount you will receive per month, NYSTRS multiplies your final average salary with a pension factor. The pension factor is based on your years of service:
Less than 20 years = 1.67% per year
20 years = 1.75% per year
More than 20 years = 35% of final average salary, plus 2% per year over 20 years
For example, if you had a final average salary of $60,000 and worked for 20 years, your monthly pension would be $1,750.
You become eligible for this pension payment when you are 55 years old and have at least 10 years of service. However, if you retire before the age of 63, you will retire with reduced benefits.
Payment options for this pension include a lump sum or a beneficiary option. To learn more about the retirement choices available to you, contact the New York State Teachers' Retirement System.
Access to Affordable Health Insurance
In addition to retirement planning options, the State of New York also offers teachers a comprehensive health benefits package with several different health insurance plans to choose from.
When considering what type of health plan will meet your needs, one of the most important aspects is coverage. The services for each plan will differ. For example, some plans will cover routine podiatric care, while others don't.
Regardless of which plan you choose, most plans will cover at least of portion of medical services that include:
Inpatient Care
Physician Visits
Nursing Care
Pharmacy Drugs
Health insurance benefits may also be available after you retire, as well. To learn more about all of the health benefits available for teachers in New York, contact the New York Office of Labor Relations.