New Hampshire Teaching Salaries and Benefits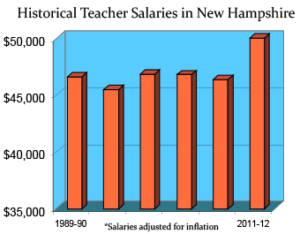 Health insurance benefits in America are becoming increasingly scarce. According to a study published in the journal Health Affairs, the amount of people who are underinsured has grown by 60% over the last four years to include almost 25 million people.
However, teachers in New Hampshire aren't included in this statistic. To ensure their employees have access to affordable health care, the state of New Hampshire still offers a complete benefits package for public teachers. This benefits package provides teachers with several options of health insurance coverage, allowing teachers and their families to gain access to the care they need.
While maintaining support for the health needs of its teachers is an important goal for legislators in New Hampshire, benefits for educators extend into the future as well. New Hampshire teachers gain lifelong pension benefits once they retire, giving them greater financial stability through life.
<!- mfunc feat_school ->
Featured Programs:
Sponsored School(s)
<!- /mfunc feat_school ->
Learn more about becoming a teacher. Contact schools offering teacher education/certification programs in New Hampshire.
Teacher Salaries in New Hampshire by Education
As teachers further their educations and gain experience in the field, they receive pay increases that reflect their dedication and hard work. The following are some examples of salaries you can expect in New Hampshire:
| Experience | Bachelor's | Master's |
| --- | --- | --- |
| At 3 years | $35,388 | $38,722 |
| At 6 years | $40,496 | $43,720 |
| At 9 years | $45,808 | $49,941 |
| At 12 years | $51,118 | $56,161 |
Source: Chichester School District
Retiring in New Hampshire
When you are hired as a teacher in New Hampshire, you automatically qualify for membership in the New Hampshire Retirement System (NHRS). This system is a contributory defined benefit plan that provides lifetime pension benefits for members and their beneficiaries upon retirement, disability, or death.
As a member, you will contribute a total of 7% of your salary to the pension plan, while your employer contributes an additional 10.08%. While your contributions help keep the system strong, they do not actually factor into your pension benefits.
Your monthly annuity is instead determined by your years of service and final average salary. The NHRS uses a preset formula to calculate your payment:
Final Average Compensation
divided by
66
multiplied by
Years of Service
For example, if your final average compensation is $63,000 and you worked for 30 years, your pension would be $28,636 annually or $2,386 monthly.
In order to qualify for full benefits through the NHRS defined benefit plan, you must be age 65 or older with any amount of service credit. Additionally, there are other options you may qualify for, such as early retirement, disability retirement, and deferred retirement.
To view a more detailed description of all the retirement benefits offered to teachers in New Hampshire, contact the New Hampshire Retirement System.
Access to Affordable Health Insurance
To help improve and preserve the health and wellbeing of its employees, New Hampshire provides affordable health insurance coverage for all public employees, including teachers. Your health insurance options include HMO (health maintenance organization) and POS (point of service) plans, giving you several choices when picking a plan that caters to to your exact needs.
These plans vary in premium costs, amount of deductible, and out-of-pocket expenses. Co-payments and co-insurance will also be dependent on which plan you use. However, all of the plans will cover a portion of medical services that include:
Preventative Care
Diagnostic Tests
Prescription Drugs
Outpatient Surgery
Emergency Care
Maternity Care
Additionally, the state also sponsors a dental plan through Northeast Delta Dental and is available separate to the medical insurance plans. This plan covers a variety of dental services that include:
Cleanings
Preventative Care
X-Rays
Diagnostics
Beyond medical and dental insurance, New Hampshire public teachers are also eligible for additional benefits such as flexible spending accounts, life insurance, and employee wellness plans. If you're interested in learning more about all of the benefits available, contact the New Hampshire Human Resources Division.