Missouri Teaching Salaries and Benefits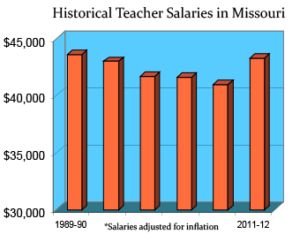 Have you adequately prepared for your future retirement? If you're an entry-level teacher just starting the job hunt, chances are the thought has barely crossed your mind.
However, it's never too early to consider your future plans. During retirement, it's estimated that you would need to replace between 70% and 90% of your income to maintain your standard of living.
To meet those savings goals, most professionals would need to set aside large portions of their salaries for years – and even then, those savings could quickly disappear during their post-retirement lives.
As a teacher in Missouri though, you'll gain access to a system of employee benefits that guarantee a lifetime of support. With the benefits offered to Missouri teachers, you'll be better prepared for your future retirement, while accessing the health care you need in the present.
<!- mfunc feat_school ->
Featured Programs:
Sponsored School(s)
<!- /mfunc feat_school ->
Learn more about becoming a teacher. Contact schools offering teacher education/certification programs in Missouri.
Teacher Salaries in Missouri by Education
As teachers further their educations and gain experience in the field, they receive pay increases that reflect their dedication and hard work. Salaries may vary between school districts, but the following are some examples of the salaries you can expect in Missouri:
| Experience | Bachelor's | Master's |
| --- | --- | --- |
| At 3 years | $40,470 | $42,995 |
| At 6 years | $42,420 | $46,145 |
| At 9 years | $46,445 | $50,545 |
| At 12 years | $50,120 | $55,395 |
Source: Rockwood School District
Retiring in Missouri
Missouri teachers automatically enter into the Public School Retirement System of Missouri (PSRS) once they gain employment in the state. The PSRS is a defined benefit plan, requiring teachers to contribute a portion of their salaries to a fund that later provides them with lifetime pension payments.
As a teacher, you'll contribute 14.5% of your salary to the pension plan, while your employer matches that amount. While this might seem like a significant portion of your salary, your total contributions and more are guaranteed to be returned to you once you reach normal retirement.
You're eligible for normal retirement if you meet the following requirements:
At age 60 with five years of service
At any age with 30 years of service
When the sum of their age and years of service equal 80 or more
As a defined benefit plan, your salary contributions don't factor into the pension payments you'll receive upon retirement. Instead, your pension is calculated from your years of service and average salary.
You can estimate your likely benefits with the following formula:
Final Average Salary
multiplied by
2.5%
multiplied by
Years of Service
For example, if you retire after 30 years with a final average salary of $44,000, you'll earn a monthly pension benefit of $2,750.
If you're interested in learning more about the Missouri teacher pension system and the benefits you'll receive upon retirement, contact the Public School Retirement System of Missouri.
Access to Affordable Health Insurance
Most teachers in Missouri gain health insurance benefits in addition to their retirement benefits. However, health insurance is bargained for on the local level, meaning your exact coverage and plan details largely depend on the school district you work for.
As a teacher in Missouri, you'll be able to choose from a variety of coverage options, ranging from single coverage to family plans. While costs will differ, most plans offer coverage for the following medical services:
Immunizations
Prenatal/Postnatal Care
Hospitalization
Mental Health Care
Prescription Drugs
Primary Care Visitation
Many districts also offer dental and vision plans in addition to health insurance. For more information on what health insurance benefits you could receive as a Missouri teacher, contact local school districts in your area.