Massachusetts Teaching Salaries and Benefits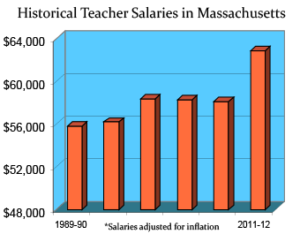 Home to the oldest public elementary school (1639), high school (1635), and college (1636), Massachusetts has long dedicated itself to providing quality educational opportunities to students.
This centuries-old devotion to education has been spearheaded by teachers hoping to improve outcomes for their students. In order to maintain this tradition of education, Massachusetts hopes to attract and retain high quality teachers in the state by offering a variety of employee benefits.
<!- mfunc feat_school ->
Featured Programs:
Sponsored School(s)
<!- /mfunc feat_school ->
Learn more about becoming a teacher. Contact schools offering teacher education/certification programs in Massachusetts.
Teacher Salaries in Massachusetts by Education
As teachers further their educations and gain experience in the field, they receive pay increases that reflect their dedication and hard work. The following are some examples of salaries you can expect in Massachusetts:
| Experience | Bachelor's | Master's |
| --- | --- | --- |
| At 3 years | $42,203 | $47,117 |
| At 6 years | $50,252 | $55,369 |
| At 9 years | $60,198 | $65,939 |
| At 10 years | $62,294 | $68,236 |
Source: North Andover Public Schools
Retiring in Massachusetts
Massachusetts offers teachers entrance into the largest contributory retirement system in the state. The Massachusetts Teachers' Retirement System (MTRS) currently provides lifetime pension benefits for approximately 58,000 retirees and survivors, with help from 86,000 contributing members.
Teachers in Massachusetts are automatically entered into the retirement system once they're hired at a public school. As part of your participation in the program, you'll contribute 11% of your salary to the pension fund.
These contributions ensure the MTRS remains funded until you reach normal retirement age. You're eligible to receive unreduced pension benefits if you meet the following qualifications:
At any age with 20 years of service
At age 55 with 10 years of service
As a defined benefit plan, your monthly pension is calculated with a set formula that takes into account your age, years of service, and average salary. Under the plan, you're eligible to receive up to 80% of your average salary in yearly benefits. You can calculate your likely benefits with the following formula:
Years of Service
multiplied by
Age Factor
multiplied by
Final Average Salary
While your benefits are capped at 80% of your salary, there are additional ways to raise your specific percentage to that cap. Teachers also participate in a RetirementPlus program that gives them bonuses for each full service year after 23 years.
For example, consider a teacher who retires at age 58 (Age factor .018) with 34.5 years of service and an average salary of $63,000. Normally, the age factor and years of service calculate to 62.1% of salary. However, with the added bonus from RetirementPlus, that teacher gains an additional 20%, allowing them to reach the 80% cap.
If you're interested in learning more about your likely retirement benefits in Massachusetts, the MTRS provides members with a benefit calculator.
Access to Affordable Health Insurance
In Massachusetts, an expansive public support system provides teachers and other state employees with access to a number of different health insurance programs.
The Group Insurance Commission provides teachers and their families with life and health insurance. There are 13 different plans to choose from, each offering varying premium rates, levels of coverage, and provider areas.
While copayments and exact details may differ, each plan covers many of the same medical services, including:
Preventive Services
Outpatient Mental Health Care
Inpatient Hospital Care
Outpatient Surgery
High Tech Imaging
Emergency Room Care
Prescription Drug Coverage
Depending on whether your school district offers its own dental or vision coverage, you may also qualify for the GIC dental and vision plans. Check with your local school district to determine what plans are offered to you.
If you're interested in learning more about the health benefits you'll receive as a teacher in Massachusetts, contact the Group Insurance Commission.