Maine Teaching Salaries and Benefits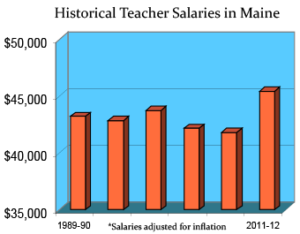 As you contemplate some of the typical benefits of a career in teaching, your mind likely wanders to the ample vacation time, the joys of working with children, and the relative job security.
These perks, although frequently enjoyed by teachers, ignore some of the more protective benefits of working as a teacher – benefits such as retirement and health insurance planning. As a teacher in Maine, you'll have access to both, giving you greater control as you tackle challenges related to your wellbeing and future goals.
<!- mfunc feat_school ->
Featured Programs:
Sponsored School(s)
<!- /mfunc feat_school ->
Learn more about becoming a teacher. Contact schools offering teacher education/certification programs in Maine.
Teacher Salaries in Maine by Education
As teachers further their educations and gain experience in the field, they receive pay increases that reflect their dedication and hard work. Salaries vary between school districts, but the following are some examples of the salaries you can expect in Maine:
| Experience | Bachelor's | Master's |
| --- | --- | --- |
| At 3 years | $41,964 | $46,031 |
| At 6 years | $47,313 | $51,691 |
| At 9 years | $54,416 | $57,617 |
| At 12 years | $60,668 | $63,509 |
Source: East Maine School District
Retiring in Maine
If you're a public school teacher in Maine, membership in the Maine Public Employees Retirement System (MainePERS) is mandatory, and begins on your first day of employment.
MainePERS is a defined benefit retirement plan that will pay you lifetime monthly benefits once you end your career. A mixture of employee and employer benefits fund these benefits – in the plan, you'll contribute 7.65% of your salary while your employer's contribution rate varies from year to year.
These contributions ensure the fund remains strong for when you reach normal retirement age. In Maine, teachers are eligible for full retirement benefits once they meet the following standards:
At age 65 with five years of service
At any age with 25 years of service
The state of Maine calculates your monthly retirement benefits with a formula that takes into account how long you've worked as a teacher. You can discover your potential lifetime benefits with the following formula:
Average Final Compensation
multiplied by
Years of Service
multiplied by
Accrual Rate (2%)
So, for example, if you retire after serving 25 years with an average final salary of $36,000, you're eligible to receive monthly benefits of $1,500.
As you retire, you can choose from several different options that distribute your benefits in various ways. For example, if you have a beneficiary, you can elect to receive reduced benefits and contribute some funds to that beneficiary upon your death. Alternatively, you may retain your full benefits by not designating a beneficiary.
To discover the best retirement option for you, MainePERS offers several educational seminars and counseling sessions to discuss your post-retirement life. If you wish to learn more about what retirement options await you as a teacher in Maine, explore the Public Employees Retirement System.
Access to Affordable Health Insurance
In Maine, nearly all school districts participate in the Maine Education Association Benefits Trust (MEABT). This trust provides health and wellness insurance to over 65,000 educators in the state, ensuring complete coverage for them and their families.
The MEABT offers four different health insurance plans to teachers. The differences between these plans largely stem from variances in their deductibles and coinsurance limits, but all cover similar medical needs.
However, all of the plans under the MEABT, will cover the following medical services:
Routine Preventive Care
Screenings and Immunizations
Well-Child Care
Inpatient Care
Outpatient Care
Emergency Care
With MEABT coverage, you'll additionally gain access to wellness benefits. As a teacher in Maine, you'll never need to wait for answers about your health, thanks to 24/7 access to a registered nurse who can give expert advice on a variety of medical issues.
Expecting mothers are also covered under the wellness benefits, due to a "Future Moms" program. Future Moms provides pregnant women with educational materials and access to registered nurses, ensuring their prenatal needs are met.
Some school districts participate in an optional MEA Dental Plan, which provides both orthopedic and vision coverage. Check with your local school district to learn more about your potential health benefits as a teacher.