Kentucky Teaching Salaries and Benefits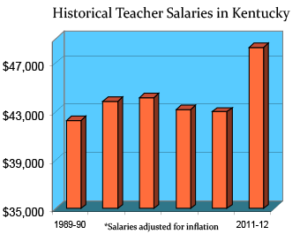 As you consider your career as a teacher, it's important to ask yourself where you might want to teach. States constantly compete with each other to hire the most qualified teachers in the country, usually offering incentives to teachers who call their states home.
In fact, according to a report from the Legislative Research Commission of Kentucky, both compensation and benefits are major factors for schools that need to recruit and retain teachers. The report concludes that by offering more expansive benefits, Kentucky can position itself to become a leader in education.
Already hoping to attract high-class teachers, Kentucky provides its educators with not only a competent retirement system, but with comprehensive health coverage as well. With services aimed at ensuring the future and current health of teachers, Kentucky highly rewards those who dedicate their lives to the wellbeing of students.
<!- mfunc feat_school ->
Featured Programs:
Sponsored School(s)
<!- /mfunc feat_school ->
Learn more about becoming a teacher. Contact schools offering teacher education/certification programs in Kentucky.
Teacher Salaries in Kentucky by Education
As teachers further their educations and gain experience in the field, they receive pay increases that reflect their dedication and hard work. Salaries vary between school districts, but the following are some examples of the salaries you can expect in Kentucky:
| Experience | Bachelor's | Master's |
| --- | --- | --- |
| At 3 years | $41,769 | $45,035 |
| At 6 years | $44,970 | $48,329 |
| At 9 years | $47,718 | $51,051 |
| At 12 years | $52,110 | $55,886 |
Source: Fayette County Public Schools
Retiring in Kentucky
Once you are hired at a Kentucky public school, you are automatically entered into the Kentucky Teachers' Retirement System. The KTRS provides educators with a defined benefit group retirement plan that offers lifetime annuity payments to retirees.
As a member of the KTRS, you'll contribute a portion of your salary with your employer to keep the system funded for years to come. In the plan, you contribute 10.855% of your gross salaries through automatic paycheck deductions. Your employing school will contribute an additional 13.105%.
Your contributions will not factor into the benefits you receive as a retiree. Instead, your monthly pension benefits are determined by a formula that takes into account your years of service and average salary.
If you meet normal retirement qualifications, you can calculate your likely benefits with the following formula:
Final Average Salary
multiplied by
Total Years of Service
multiplied by
2.5%
So, for example, if you retired after 27 years of service with a final average salary of $60,000, you would receive lifetime monthly payments of $3,375.
Retirement payments may face reduction depending on whether or not you qualify for normal retirement. Teachers must meet the following requirements to receive unreduced benefits:
At any age with 27 or more years of service
At age 60 with five or more years of service
Your employee contributions not only fund the teacher retirement system, but medical benefits for retirees as well. However, before earning retiree medical benefits, teachers are covered under a statewide health insurance system known as the Kentucky Employee Health Plan (KEHP).
Access to Affordable Health Insurance
The Kentucky Employee Health Plan is a public health plan offered to all public employees in Kentucky. As a self-funded plan, the KEHP is advertised as "by public workers, for public workers," ensuring coverage for you and your family members.
The KEHP offers teachers several different plans to choose from, each with differing costs and levels of coverage. Depending on your exact needs, you'll be able to choose a plan that works best for you.
Commonwealth Standard PPO
This plan offers lower premiums to teachers, but they must pay higher deductibles and co-insurance percentages as a trade off.
Commonwealth Maximum Choice
The Maximum Choice plan includes a KEHP-funded Health Reimbursement Account. Your account acts as a debit card, allowing you to pay for expenses at physicians' offices, pharmacies, and hospitals.
Commonwealth Capital Choice
By combining features of a consumer-driven plan with those of a traditional PPO plan, Kentucky offers teachers this hybrid plan. In the Capital Choice option, you obtain a $500 family benefit that offers 100% coverage before you begin paying your deductible.
Commonwealth Optimum PPO
A traditional PPO plan featuring larger paycheck reductions in exchange for lower out-of-pocket costs.
Prescription drug coverage and dental insurance options are offered in all plans. Additional covered services include:
Physician Care
Urgent Care Services
Doctor's Office Visits
Diagnostic Tests
Inpatient Hospitals
Outpatient Hospitals
If you want to learn more about the health insurance benefits you'll earn as a teacher in Kentucky, contact KEHP.