Iowa Teaching Salaries and Benefits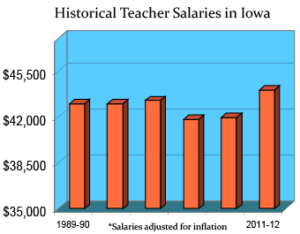 When you consider the benefits of a teaching career, you most likely call to mind its intrinsic qualities, like improving the lives of students and helping others to navigate challenging problems.
While these benefits are certainly admirable, they do pass over some important life realities. To provide for yourself and for your family, you need to not only earn a competitive salary, but also know that a system of support exists for other aspects of life.
Iowa provides its educators with this support, thanks to a fully functioning retirement system and series of health benefits available to employees. As you consider your future and concerns that may arise, Iowa ensures your proper care in a variety of situations.
<!- mfunc feat_school ->
Featured Programs:
Sponsored School(s)
<!- /mfunc feat_school ->
Learn more about becoming a teacher. Contact schools offering teacher education/certification programs in Iowa.
Teacher Salaries in Alabama by Education
As teachers further their educations and gain experience in the field, they receive pay increases that reflect their dedication and hard work. Salaries vary between school districts, but the following are some examples of the salaries you can expect in Iowa:
| Experience | Bachelor's | Master's |
| --- | --- | --- |
| At 3 years | $34,408 | $39,187 |
| At 6 years | $38,232 | $43,966 |
| At 9 years | $43,011 | $48,745 |
| At 12 years | $47,152 | $53,524 |
Source: Waterloo School District
Retiring in Iowa
Once you're hired at an Iowa school district, you're automatically enrolled into the Iowa Public Employees' Retirement System (IPERS).
This retirement system includes all public employees in the state, with nearly 328,975 members. Of these members, nearly half are teachers.
IPERS is a defined benefit plan that pays lifetime benefits to teachers upon retirement. To keep the plan fully funded for you and other future retirees, you and your employer will contribute a portion of salary to the pension plan each month. The plan requires you to contribute 5.78% of your salary, while your school contributes an additional 8.67%.
You're eligible to begin receiving full benefits once you retire under normal circumstances. To reach normal retirement, you must meet one of the following qualifications:
When your total years of service and your age added together equal 88
At age 62 with 20 or more years of service
At age 65
Your retirement benefits are calculated with a formula that takes into account your average salary and years of service. For each year of service up to 30 years, you'll receive two percentage points. For years between 31 and 35, you'll receive one percentage point, up to a total of 65%.
You can discover your likely benefits with the following formula:
Final Average Salary
multiplied by
Multiplier (percentage points)
So, for example, if you retire after 27 years with a Final Average Salary of $54,000, this factors into monthly benefits of $2,430.
If you're interested in learning more about IPERS and other retirement benefits available to Iowa teachers, explore IPERS membership information.
Access to Affordable Health Insurance
In Iowa, most school districts manage health insurance benefits for their teachers, offering you several choices in your coverage levels and cost. However, the state also offers benefits to all public employees — benefits eligible to you as a teacher.
Iowa offers its employees three main health insurance plans: an Indemnity plan, a Managed Care Organization plan, and a Preferred Provider Organization plan. The major differences between each plan rest in the covered providers and costs.
For example, the Indemnity offers teachers the most flexibility in provider choice, but only pays 80% of covered medical charges. Alternatively, the PPO plan pays 90% of covered charges, as long as you obtained services from in-network providers.
Despite their differences, each plan offers coverage for many similar services, including:
Emergency Room Care
Hospital Services
Prescription Drug Coverage
Physician Office Visits
Routine Physicals
Outpatient Mental Health Care
In addition to medical coverage, you'll also have access to a state dental plan. With the plan covering up to $1,500 in expenses per person each year, you'll be able to save more while still protecting you and your family.
Covered dental services include:
Routine Check Ups
Restorative Services
Non-surgical and Surgical Treatments
Bridges and Braces
Orthodontia
If you want to learn more about some of the health insurance benefits you'll receive as an Iowa teacher, contact your school district.