Indiana Teaching Salaries and Benefits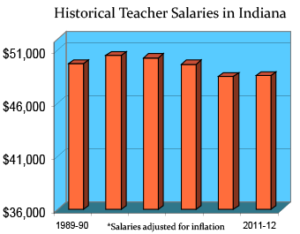 Indiana has long been known for its dedication to education. Indiana's constitution was the first constitution in the country to designate a public school system, solidifying its future commitment to teachers in the state.
As a teacher in Indiana, you'll gain a host of employee perks, including retirement and health insurance benefits. The state's comprehensive retirement planning services will ensure you're well-prepared for the future, while insurance benefits at the local level will keep you and your family cared for.
<!- mfunc feat_school ->
Featured Programs:
Sponsored School(s)
<!- /mfunc feat_school ->
Learn more about becoming a teacher. Contact schools offering teacher education/certification programs in Indiana.
Teacher Salaries in Indiana by Education
As teachers further their educations and gain experience in the field, they receive pay increases that reflect their dedication and hard work. Salaries vary between school districts, but the following are some examples of the salaries you can expect in Indiana:
At 9 years$38,912$41,591
| Experience | Bachelor's | Master's |
| --- | --- | --- |
| At 3 years | $33,530 | $35,298 |
| At 6 years | $36,116 | $38,342 |
| At 12 years | $41,921 | $45,048 |
Source: Rush County School District
Retiring in Indiana
Upon employment in an Indiana public school, you're mandated to join the Indiana State Teachers' Retirement Fund, established in 1921.
The Teachers' Retirement Fund currently consists of over 162,000 active and retired members, managing approximately $9.3 billion in assets. These assets are distributed through monthly retirement benefits that teachers have access to once they reach normal retirement age.
In Indiana, you're eligible for retirement if you meet any of the following qualifications:
At age 65 with 10 years of service
Between ages 60 and 64 with 15 years of service
Between ages 55 and 59, if your age and service together totals 85
The TRF consists of two main programs that provide payments to teachers throughout their retirements: an Annuity Savings Account and the monthly benefit pension system.
Through the Annuity Savings Account, teachers contribute 3% of their monthly earnings into a retirement fund that grows over time. Teachers do not contribute to the pension system, which is instead funded by the state and their employers.
When you reach normal retirement age and terminate employment, you will receive monthly benefits from your Annuity Savings Account. In addition to these payments, you will also collect money from the pension system.
How much money you receive from the pension system largely rests on your average salary and how long you served as a teacher. You can discover your likely benefits with the following formula:
Average Highest Five Years of Salary
multiplied by
Total Years of Service
multiplied by
1.1%
For example, if your final average salary was $50,000 and you had worked for 30 years, your monthly pension benefits would calculate to $1,375. To explore more pension possibilities, input your own information into the calculator.
Access to Affordable Health Insurance
Most teachers in Indiana receive health insurance benefits at the local level, meaning the coverage and costs largely depend on where they work. Most schools do provide varying levels of coverage for their teachers, although this continually adjusts as the state unions bargain with employers.
Under most plans, you'll be able to choose from several options to cover not only you, but your family as well.
Although your costs may differ, most insurance plans offer similar service coverage to teachers. Some of the typical services you'll have access to include:
Ambulance Services
Behavioral Health Services
Dental Services
Vision Care
Diagnostic Services
Emergency Care Services
Home Care Services
If you wish to learn more about the potential health benefits you may receive as an Indiana teacher, contact some employing school districts.