Idaho Teaching Salaries and Benefits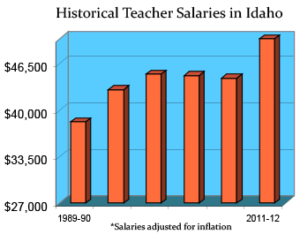 Nicknamed the "Gem State", Idaho is known as one of the few places in the world where nearly every known gemstone has been discovered. While the state might have solidified its reputation as the location for precious stones, many Idaho residents understand the true value of living in the state extends past its tangible qualities.
While it's said that diamonds are forever, your career won't last nearly as long. As your life progresses, you'll begin to consider your retirement, your future plans, and your health. Luckily for teachers in Idaho, the state provides an extensive system of benefits to its educators, ensuring they're well provided for throughout their employment and retirement.
<!- mfunc feat_school ->
Featured Programs:
Sponsored School(s)
<!- /mfunc feat_school ->
Learn more about becoming a teacher. Contact schools offering teacher education/certification programs in Idaho.
Teacher Salaries in Idaho by Education
As teachers further their educations and gain experience in the field, they receive pay increases that reflect their dedication and hard work. Salaries vary between school districts, but the following are some examples of the salaries you can expect in Idaho:
| Experience | Bachelor's | Master's |
| --- | --- | --- |
| At 3 years | $29,655 | $29,991 |
| At 6 years | $29,991 | $33,493 |
| At 10 years | $36,052 | $38,807 |
Source: Homedale School District
Retiring in Idaho
Once you're hired at an Idaho public school, you're entered into the Public Employee Retirement System of Idaho (PERSI). PERSI currently serves over 37,150 retirees, distributing approximately $555 million in benefits during 2012.
Idaho has higher normal retirement requirements than many states, but provides several options for retiring early. You're eligible for normal benefits if you meet the following qualifications:
At age 65 with any amount of service
At age 55 with 35 years of service
PERSI offers teachers both a defined benefit Base Plan and an optional Choice Plan that acts as a 401(k) plan.
Teachers are required to participate in the Base Plan, where they'll contribute 6.23% of their salaries to the state retirement fund. Their employers contribute an additional 10.39% of their base salary, ensuring the fund's continuous growth.
Upon reaching normal retirement, you're eligible to receive monthly lifetime benefit payments calculated by your years of service and average salary. If you wish to discover your likely benefits, use the following formula:
Average Monthly Salary
multiplied by
2%
multiplied by
Months of Service Credit
divided by
12
In Idaho, the average monthly benefit retirees receive is $1,370, reflecting an average retirement age of 60.7 with 18.8 years of service.
Teachers are also encouraged to participate in the optional Choice Plan, which allows them to accrue even higher retirement benefits. In the Choice Plan, you contribute as much of your salary as you want to a fund that is invested over time. Once you reach retirement, you may withdraw these funds as a lump sum or receive them in monthly payments to supplement your Base Plan benefits.
If you wish to learn more about retirement benefits in Idaho, contact PERSI.
Access to Affordable Health Insurance
The Idaho Office of Group Insurance covers all public employees in the state, including teachers. However, when obtaining your health insurance benefits, you'll likely communicate with the school district you work for to determine your exact premiums and coverage options.
Most teachers in Idaho receive expansive coverage from their insurance providers, extending that coverage past the teachers themselves, to their loved ones as well. Most plans allow you to add a spouse and any children under 26 to the plan, meaning your family will be prepared for any unexpected medical emergency.
While coverage and costs vary depending on your health insurance plan, most cover similar services. As a teacher in Idaho, you'll be covered for some of the following services:
Immunizations
Physician Office Visits
Maternity Services
Hospital Services
Laboratory and X-Ray Services
Ambulance
Prescription Drug Coverage
Under most plans, you'll also have access to optional dental and vision insurance for an additional cost. If you wish to learn more about your specific health insurance benefits, contact your employing school district.