Georgia Teaching Salaries and Benefits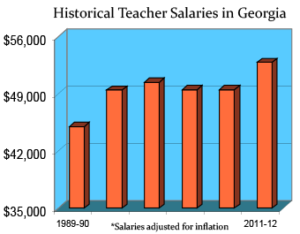 If you're young, the idea of retirement likely seems too distant to even bother with. The word "retirement" itself might barely factor into your normal everyday lexicon, reserved for conversations about older adults and parents.
Similarly, the concept of health insurance might not weigh heavily in your mind if you've never had to tackle a challenging health concern. However, as you progress in age, things like retirement and health insurance become more important conversations to engage in as you consider the wellbeing of your family and yourself.
Fortunately for teachers in Georgia, these conversations are started immediately upon employment in a public school or university in the state, giving you a jumpstart on your future. By offering teachers a system of employee benefits, Georgia ensures its teachers and their families are more prepared to hand life's challenges.
<!- mfunc feat_school ->
Featured Programs:
Sponsored School(s)
<!- /mfunc feat_school ->
Learn more about becoming a teacher. Contact schools offering teacher education/certification programs in Georgia.
Teacher Salaries in Georgia by Education
As teachers further their educations and gain experience in the field, they receive pay increases that reflect their dedication and hard work. Salaries vary between school districts, but the following are some examples of the salaries you can expect in Georgia:
| Experience | Bachelor's | Master's |
| --- | --- | --- |
| At 3 years | $34,427 | $39,591 |
| At 6 years | $37,985 | $43,682 |
| At 9 years | $42,113 | $48,428 |
| At 12 years | $43,376 | $49,881 |
Source: Georgia Department of Education
Retiring in Georgia
Georgia mandates its teachers to join the Teachers Retirement System (TRS) of Georgia, a statewide system that provides lifetime monthly benefits for retirees.
The TRS requires you to contribute a portion of your salary to the system throughout your teaching career, ensuring the system remains funded and strong throughout the lives of current and future retirees.
All members of the TRS contribute 5.53% of their earnable compensation through payroll deductions. Additionally, employers contribute 10.28% of a member's earnable compensation. These rates are set by the Georgia legislature and are subject to adjustment.
These contributions are repaid through monthly payments once you reach normal retirement age and terminate employment. You reach normal retirement if you meet either of the following qualifications:
Completion of 30 years of service at any age
Completion of 10 years of service at age 60 or older
Your monthly benefits are calculated through a formula that takes into account your years of service, the average of your two highest salary years, and a 2% multiplier. According to the TRS website, the average monthly retirement benefit teachers receive is $2,750.
Each year the Georgia TRS will send you an annual retirement statement, which tracks your service, contributions, and benefit projection, allowing you to determine your likely retirement benefits.
In addition to monthly retirement payments, retirees also receive health and dental care benefits. However, these services aren't administered by the TRS, and are instead covered by the State Health Benefit Plan.
Access to Affordable Health Insurance
In Georgia, the State Health Benefit Plan covers all state employees, including teachers, reaching over 666,580 people as of May 2012.
As a teacher in Georgia, you'll have access to two primary health plans – the Standard Plan and the Wellness Plan. Each plan offers comparable coverage, but differs in the cost of their premiums.
The Wellness Plan requires teachers to sign a wellness pledge, ensuring officials of their commitment to personal health. By signing the wellness pledge, you agree to participate in initiatives such as workshops and educational modules that promote healthy living. In return, you'll pay lower premiums for your state health insurance plan.
The Standard Plan does not require teachers sign the wellness pledge, but they must pay higher premiums for their health insurance plans.
While the two plans differ in terms of premium cost, each cover similar medical services. Some of the services you'll be covered for include:
Preventative Care
Office Visits
Inpatient Hospital Services
Outpatient Hospital Services
Maternity Services
Emergency Care
Prescription Drug Coverage
If you have children, Georgia also offers an alternative health plan to guarantee their complete coverage. Under PeachCare for Kids, your children will have access to regular checkups, immunizations, prescriptions, and hospital care for a lower monthly premium of $10 to $35 for one child.
If you're interested in learning more about the health insurance benefits you'll receive as a Georgia teacher, explore more information about The Georgia State Health Benefit Plan.