Florida Teaching Salaries and Benefits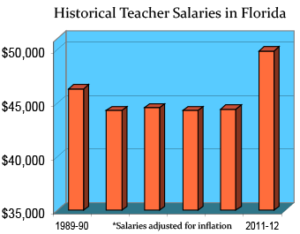 Florida is home to nearly 2.7 million public school students, making up one of the largest systems in the United States. These millions of students all require highly-trained teachers who are dedicated to providing them with the quality educational opportunities needed for success.
To attract these teachers to the Sunshine State, Florida offers an extensive employee benefits package that includes both health and retirement planning services. With health insurance and retirement options available, teachers are better prepared to tackle challenges in the classroom, rather than spending time and energy budgeting for future scenarios.
<!- mfunc feat_school ->
Featured Programs:
Sponsored School(s)
<!- /mfunc feat_school ->
Learn more about becoming a teacher. Contact schools offering teacher education/certification programs in Florida.
Teacher Salaries in Alabama by Education
As teachers further their educations and gain experience in the field, they receive pay increases that reflect their dedication and hard work. Salaries vary between school districts, but the following are some examples of the salaries you can expect in Florida:
At 9 years$42,731$49,003
| Experience | Bachelor's | Master's |
| --- | --- | --- |
| At 3 years | $39,929 | $44,166 |
| At 6 years | $41,330 | $46,585 |
| At 12 years | $44,132 | $51,421 |
Source: Sarasota County School District
Retiring in Florida
Teachers in Florida are enrolled into the Florida Retirement System as state employees. In the FRS, you're able to choose between two major retirement plans:
The FRS Investment Plan
In the Investment plan, all of your contributions will go into an individual account that you manage. Your retirement benefit will depend on how much money you and your employer contribute to the account, and how those investments have grown over time.
The FRS Pension Plan
In the Pension Plan, you'll contribute 3% of your salary to the state pension fund. Your maximum monthly lifetime benefits will largely depend on your years of service and final average salary upon retirement.
Most teachers in Florida contribute to the pension plan, which distributes funds to all state employees. Your monthly pension benefits are determined using a formula that takes into account the service credits you've accrued, multiplied by a percentage determined by the legislature and final compensation.
In order to receive your maximum monthly pension benefits, it's recommended that you work until you're eligible for normal retirement. Florida teachers meet normal retirement qualifications under the following scenarios:
At age 65
With 33 years of service regardless of age
In addition to the normal monthly pension plan, Florida also offers a Deferred Retirement Option Program (DROP). Once you reach normal retirement age, you have the option to begin participating in DROP.
DROP allows you to continue employment as a teacher while receiving many retirement benefits. However, instead of receiving monthly pension payments, those payments accumulate in an FRS trust fund.
Once you finally terminate employment, you receive the funds in that account in a lump payment, and begin receiving normal monthly pension payments.
Access to Affordable Health Insurance
The state of Florida offers its teachers expansive health coverage at the state and local level. While many school districts offer teachers various health insurance options, teachers may enroll in the Florida state health insurance plan as public employees.
In Florida, there are several main types of health insurance plans offered to teachers and other state employees:
Standard Preferred Provider Organization Plan
Offers a broader access to doctors, hospitals and other medical providers. Additionally, allows you to self-refer to specialists without guidance from a primary care physician.
Standard Health Maintenance Organization
Requires use of an exclusive network of providers for services. You must also maintain a relationship with a primary care physician who will provide advice for health care-related concerns.
Each plan also has a "health investor" option that presents several differences from the standard plans. Under each health investor plan, you'll need to meet higher deductibles, but will pay less to buy coverage. You must also open a health savings account, which acts as a tax-free personal savings account for healthcare.
The major differences between each plan are the costs, accessibility of care, and level of coverage for medical services. All plans cover similar services, though, including:
Doctor's Office Visits
Hospital Stays
Prescription Drug Coverage
Physical Exams
Health Screenings
Mammograms
Immunizations
If you're interested in learning more additional benefits for Florida teachers, explore some of your Florida Teacher Discounts.