Washington DC Teaching Salaries and Benefits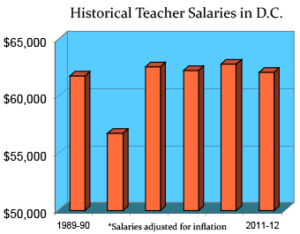 When considering where to teach, it's important to take into account not only your salary, but also whether or not you'll be adequately supported in your career. Employee benefits like retirement planning and health insurance both provide this support to teachers, giving them more opportunities to remain financially stable in life.
In Washington D.C., where a district-wide survey showed that over 70% of teachers report strong support from their schools and districts, teachers gain both health insurance and retirement benefits. Access to these supportive benefits allow teachers to focus more on their students and less on future financial concerns.
<!- mfunc feat_school ->
Featured Programs:
Sponsored School(s)
<!- /mfunc feat_school ->
Learn more about becoming a teacher. Contact schools offering teacher education/certification programs in Washington D.C..
Teacher Salaries in Washington D.C. by Education
As teachers further their educations and gain experience in the field, they receive pay increases that reflect their dedication and hard work. The following are some examples of salaries you can expect in Washington D.C.:
| Experience | Bachelor's | Master's |
| --- | --- | --- |
| At 3 years | $52,777 | $58,699 |
| At 6 years | $58,599 | $66,078 |
| At 9 years | $65,985 | $75,232 |
| At 12 years | $70,891 | $81,335 |
Source: District of Columbia Public Schools
Retiring in Washington D.C.
Teachers in Washington D.C. are automatically enrolled in the District of Columbia Teachers' Retirement Plan once they're hired in a D.C. public school. The Plan offers teachers a defined benefit that provides lifetime pension payments upon retirement.
In a defined retirement plan, teachers contribute a portion of their salaries to a statewide pension system. In D.C., you'll contribute 8% of your salary, while the U.S. Treasury Department and District Government contribute an additional amount.
You may also choose to participate in a voluntary contribution fund to further bolster your retirement benefits. Teachers may contribute an additional 10% of each pay period to a personal fund, which earns interest over time.
Once you reach retirement age in D.C., you're eligible to receive your combined voluntary and defined benefits when you terminate employment at your school. Teachers in D.C. may retire when they meet the one of the following qualifications:
At age 62 with five years of service
At age 60 with 20 years of service
At any age with 30 years of service
After submitting your application for retirement, you will begin to earn back your voluntary contributions in monthly installments. However, unlike the voluntary fund, your defined benefit plan does not rely on previous contributions. Rather, your defined benefit plan is determined by a set formula designated by the D.C. Retirement Board.
Final Average Salary
multiplied by
2%
multiplied by
Years of Service
For example, if you retire after 25 years with an average salary of $60,000, you're eligible for a maximum lifetime benefit of $2,500 each month.
You have several different payment options to choose from in retirement. While some teachers may choose to receive unreduced maximum benefits, others defer a portion of pension payments to a fund that becomes available to their survivors upon death.
To learn more about your options for retirement as a D.C. teacher, explore more information provided by the District of Columbia Retirement Board.
Access to Affordable Health Insurance
Teachers in our country's capital earn health insurance benefits through the District of Columbia Public Schools (DCPS). The DCPS provides teachers with several different insurance plans, including:
Aetna Healthcare CDHP
Aetna HMO
Aetna PPO
Kaiser Permanent HMO
United Healthcare Choice Nationwide
Each plan has differing premiums, deductibles, and out-of-pocket maximums, allowing you to find a customized plan that fits your needs. While prices vary, each plan covers similar medical services.
No matter which plan you choose, you'll gain coverage for the following services:
Preventive Care Office Visits
Primary Care Visits
Routine Pediatric Care
Mental Health Care
Vision Care
Pharmaceutical Coverage
Hospital Visits
Most employee plans also offer discounted rates for dental care, life insurance, and disability insurance benefits, further increasing coverage for you and any family members you include. If you're interested in learning more, contact the DCPS Human Resources Division.