Delaware Teaching Salaries and Benefits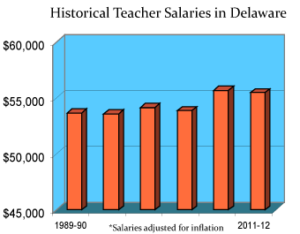 As a teacher, you understand the impact that a strong support system has on the success of your students. Similarly, shouldn't teachers receive the same level of support they provide others on a daily basis?
The state of Delaware seeks to provide this support to teachers with comprehensive retirement and health insurance options. By offering teachers health care coverage and pension benefits, Delaware's teachers feel more secure knowing they're better prepared for life's challenges.
<!- mfunc feat_school ->
Featured Programs:
Sponsored School(s)
<!- /mfunc feat_school ->
Learn more about becoming a teacher. Contact schools offering teacher education/certification programs in Delaware.
Teacher Salaries in Delaware by Education
As teachers further their educations and gain experience in the field, they receive pay increases that reflect their dedication and hard work. Salaries vary between school districts, but the following are some examples of the salaries you can expect in Delaware:
| Experience | Bachelor's | Master's |
| --- | --- | --- |
| At 3 years | $41,034 | $45,932 |
| At 6 years | $46,589 | $51,135 |
| At 12 years | $57,520 | $65,023 |
Source: Red Clay School District
Retiring in Delaware
Once you're hired in a Delaware public school, your retirement planning starts immediately. Teachers in Delaware are mandated to participate in the Delaware State Employee's Pension Fund, which distributes retirement benefits to all public workers in the state.
The Delaware State Employee's Pension Fund currently provides for approximately 21,000 members, distributing roughly $430,713,300 in retirement benefits each year, according to financial reports of the plan.
These benefits are funded both by teachers themselves and the state and local school districts. As a teacher in a Delaware, you must contribute 3% of the portion of your compensation that exceeds $6,000 each year. In addition to the teachers' 3%, the state and local school districts contribute 7.07% of their total payroll into the pension fund.
By keeping the pension fund in a state of growth, teachers ensure their benefits will still be available in the future. In Delaware, teachers meet requirements for normal retirement if they match the following qualifications:
With 30 years of service credit at any age
With 15 years of service credit at age 60
With five years of service credit at age 62
Upon reaching normal retirement, your pension benefits are calculated with a formula that takes into account your average salary and years of service. You can discover your maximum monthly benefits with the following formula:
Final monthly average compensation
times
Service Credit (multiplied by .0185)

divided by 12
For example, if you retire at age 60 with 25 years of service and a final average salary of $2,000, you're set to receive $925 in monthly benefits. If you want to determine your own likely benefits, explore the Delaware benefit calculator .
In addition to lifetime monthly pensions, teachers also gain health insurance benefits, including access to vision and dental care.
Access to Affordable Health Insurance
Teachers and their families sleep easier in Delaware, thanks to employee health benefits offered to workers in the state. If you work in a Delaware public school, you're eligible to join the state's employee health plan, giving you access to affordable insurance for you and your family.
In Delaware, you choose between the following plans based on your individual needs:
Health Maintenance Organization Plan
In this plan, you'll choose from a network of primary care physicians to direct your health care needs. Your PCP will provide personal guidance to you, providing you with routine care and referring you to specialists for more serious health care needs.
Preferred Provider Organization Plan
The PPO plan allows you to choose care in-network and out-of-network providers, but you must seek care from in-network providers to receive your maximum level of benefits.
Consumer-Directed Health Gold Plan
The CDH Gold plan is similar to the PPO plan, but the Gold plan has a higher deductible. You'll also have access to an employer-funding health reimbursement arrangement to help pay for your deductibles.
All plans cover many of the same medical services to varying degrees. Some of these covered services include:
Inpatient Room and Board
Inpatient Physician and Surgeon
Outpatient Surgery
Mental Health Care
Ambulance Services
Specialist Care
X-Ray and Lab work
Mammograms
If you want to learn more about your health coverage as a Delaware teacher, explore more statewide benefits.