Connecticut Teaching Salaries and Benefits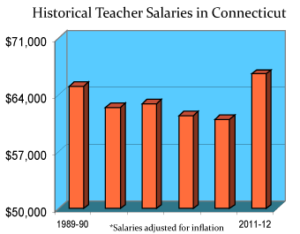 Connecticut is one of the wealthiest states in the country, and yet features one of the largest achievement gaps between rich and poor students. The state hopes to meet this challenge through more effective teaching practices and by hiring highly-trained teachers – teachers they hope to attract with competitive pay and benefits packages.
As a teacher in Connecticut, you'll choose from several different health insurance and retirement plans that ensure you're well-prepared for the future. As the cost of living continue to rise, benefits like health insurance and retirement planning will gain more importance in your life.
<!- mfunc feat_school ->
Featured Programs:
Sponsored School(s)
<!- /mfunc feat_school ->
Learn more about becoming a teacher. Contact schools offering teacher education/certification programs in Connecticut.
Teacher Salaries in Connecticut by Education
As teachers further their educations and gain experience in the field, they receive pay increases that reflect their dedication and hard work. Salaries vary between school districts, but the following are some examples of the salaries you can expect in Connecticut:
| Experience | Bachelor's | Master's |
| --- | --- | --- |
| At 3 years | $49,878 | $56,361 |
| At 6 years | $55,563 | $62,787 |
| At 12 years | $66,924 | $75,863 |
Source: Ridgefield Public Schools
Retiring in Connecticut
Teachers in Connecticut are automatically enrolled into the Teachers' Retirement System upon being hired at a public school in the state. Currently, the Teachers' Retirement System serves 32,294 retirees, distributing more than $1,531,493 in annual benefits.
The Teachers' Retirement System is a hybrid plan, combining qualities of a Defined Benefit Plan with a Defined Contribution Plan.
Defined Benefit Plan
In a defined benefit plan, teacher retiree benefits are calculated with a formula that factors in age, service, and the average three highest paid salaries.
Defined Contribution Plan
In a defined contribution plan, teachers contribute a portion of their salaries into a fund that becomes available upon retirement. These benefits are based solely on the amount of money accumulated in the fund.
In the Connecticut Teachers' Retirement System, teachers contribute 7.25% of their annual salaries to the defined benefit plan, and may opt to contribute an additional amount to the defined contribution plan. Upon retirement, funds from both the defined benefit and contribution plans are combined and distributed on a monthly basis.
To receive your maximum monthly retirement benefits, you must meet requirements for normal retirement. Teachers reach normal retirement when they meet the following qualifications:
At age 60 with 20 years of experience
At any age with 35 years of experience
Monthly benefits upon normal retirement are determined by a formula set by the Connecticut legislature. Normal retirement is calculated by:
2% (for each full year of service)
times
Average Salary
divided by
12
One month of full time service counts as any school month between September and June. A full year of service consists of 10 months.
For example, if you retired at age 62 with 25 years of service making an average of $50,000, your monthly retirement benefit would calculate to $2,083.33. In addition to these funds, if you had contributed a portion of your salary to the defined contribution plan, that money would be added on to your monthly retirement benefit.
If you want to learn more about the retirement options available to you, visit the Teachers' Retirement Board Website.
Access to Affordable Health Insurance
In Connecticut, health insurance benefits are typically determined by the school district a teacher works in. However, teachers are also eligible to receive benefits as public employees through the Office of the State Comptroller.
Through the state's health insurance plans, you'll be able to cover any eligible dependents, including your spouse, domestic partner, or children up to age 26. While there are several plans to choose from, they all cover the same services to varying degrees.
Teachers in Connecticut enjoy coverage for the following health-related services:
Outpatient Physician Visits
Walk-in Centers
Urgent-Care Centers
Ambulance
Substance Abuse Care
Hospice Care
Emergency Care
Prosthetics
Eye Exams
Prescription Drug Coverage
There are three different kinds of plans to choose from:
Point of Enrollment Plan
In the Point of Enrollment plan, you must seek care from in-network providers except in emergency circumstance.
Point of Service Plan
In the Point of Service plan, you have a choice to seek care from in-network and out-of-network providers. However, you'll pay a higher cost to seek care from out-of-network providers and have higher co-pays for in-network services.
Point of Enrollment Plan – Gatekeeper
Teachers may obtain care from in-network providers, but must obtain a referral for most specialist care.
If you're interested in learning more about what health insurance plans are available to you, contact your school district and discuss your benefits. Additionally, you can learn more about benefits available to state employees at the Office of the State Comptroller.