Arkansas Teaching Salaries and Benefits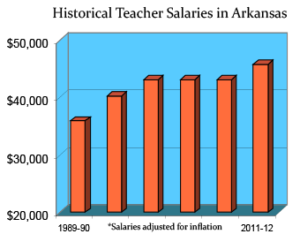 As you consider your career and future retirement, it's important to take into account how you'll position yourself to live a healthy, prosperous life. In the state of Arkansas, however, these considerations weigh less heavily in the minds of teachers.
Thanks to an expansive support system that provides Arkansas educators with numerous benefits, teachers are better prepared to tackle issues that arise with health and retirement. By offering teachers a number of options regarding the directions of their health care and retirement, the state of Arkansas ensures their workforce remains strong.
<!- mfunc feat_school ->
Featured Programs:
Sponsored School(s)
<!- /mfunc feat_school ->
Learn more about becoming a teacher. Contact schools offering teacher education/certification programs in Arkansas.
Teacher Salaries in Arkansas by Education
As teachers further their educations and gain experience in the field, they receive pay increases that reflect their dedication and hard work. Salaries vary between school districts, but the following are some examples of the salaries you can expect in Arkansas:
At 9 years$39,409$42,735
| Experience | Bachelor's | Master's |
| --- | --- | --- |
| At 3 years | $38,306 | $41,487 |
| At 6 years | $39,409 | $42,735 |
| At 12 years | $40,361 | $44,698 |
Source: Arkansas Department of Education
Retiring in Arkansas
Teachers in Arkansas enter into the state's Teacher Retirement System (TRS) upon being hired at an Arkansas public school or university. Established in 1937, the Arkansas Teacher Retirement System is a defined benefit plan designed to support teachers with payments that last the rest of their lives.
In Arkansas, you're eligible to retire based on your age and years of service:
28 or more years of service at any age
25 to 27 years of service at any age (reduced benefits)
Five to 24 years of service at age 60
Through the Arkansas TRS, teachers choose either a contributory or non-contributory benefit path. Under the contributory path, teachers contribute 6% of their salaries to the state retirement fund, which gains interest over time. Their employers match this contribution, but that percentage does not gain interest.
These contributed funds are invested in a diversified portfolio of stocks and fixed assets which become available as a lifetime annuity upon retirement.
Under the non-contributory plan, teachers avoid paying a portion of their salaries to the retirement fund, but receive reduced annuity. A major difference between annuity with a contributory fund and a non-contributory fund is how the pension is calculated. Both contributory and non-contributory members receive their benefits based on a similar formula:
Years of Service Credit
multiplied by
Final Average Salary (Three highest years)
multiplied by
Multiplier (1.39% Non-contributory) (2.15% Contributory)
So, for example, if you are a contributory member who worked for 25 years and retired with an average salary of $40,000, your estimated monthly salary at retirement would be $1,866.67. If you want to explore how varying factors can adjust your monthly salary, the ATRS provides a retirement calculator.
The ATRS does not manage health insurance benefits for retirees, which is instead managed by the Arkansas Employee Benefits Division. This insurance benefit program is known as ARBenefits Retiree, which coordinates coverage with Medicare A and B. More information on the details of these benefits is provided by the Employee Benefit Division.
Access to Affordable Health Insurance
Teachers in Arkansas have access to the ARBenefits program, which provides a number of different health insurance plans for teachers to choose from. There are three major plans provided to teachers with varying qualities. Teachers pick from the following plans:
ARBenefits Gold
Contains the maximum amount of benefits with the lowest co-pays, co-insurance, and a $0 deductible, but also has the highest monthly premium cost for the member. The network for this plan is through Health Advantage.
ARBenefits Silver
Features a $750 deductible with a lower monthly premium. This plan is a blending of the Gold and Bronze plans, offering a budget conscious but still substantial plan to teachers. The network for this plan is through Qualchoice.
ARBenefits Bronze
The most affordable health insurance plan with the lowest premium, but features a deductible of $1500. Plan has no co-pays, but prescriptions and medical services apply to the deductible. The network for this plan is through Health Advantage.
For example, consider a relatively common medical service, such as delivering a newborn baby. If you went to the hospital for delivery under the ARBenfits Gold Plan, approximately $5,782 of the total $7,540 cost would be covered through the plan. With this plan, the patient would only pay $1,750. However, under the Bronze plan, the plan would pay $4,840 of the cost, leaving you to cover the remaining $2,450.
Under each ARBenefits program, the following health care practices are covered:
Preventive Care
Physician Services
Hospital Admissions and Outpatient Care
Prescription Drug Coverage
Behavioral and Mental Health Services
Rehabilitation
Emergency Care
While most emergency care is covered under each plan, other health benefits such as dental care and eye care are not covered in most cases. The following services are not covered under the ARBenefits program:
Acupuncture
Cosmetic Surgery
Dental Care
Infertility Treatment
Long-Term Care
Private-day Nursing
Contact ARBenefits if you're interested in learning more about what health insurance benefits are available to you as a teacher.