Arizona Teaching Salaries and Benefits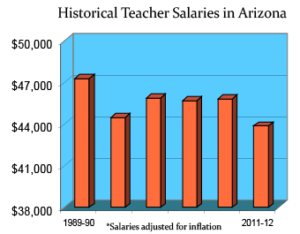 Teachers in Arizona are highly valued and supported not only during their careers in education, but throughout their retirements as well. Because teachers perform such an important service in our society – a service that is frequently unrecognized by the public – Arizona helps provide teachers with the resources they need to live healthy and successful lives.
As public employees of Arizona, teachers are offered substantial health and retirement benefits in return for their dedication to the field. On top of their competitive salaries, these benefit programs act as incentives for teachers to stick with their careers, through times both good and challenging.
<!- mfunc feat_school ->
Learn more about becoming a teacher. Contact schools offering teacher education/certification programs in Arizona.
Teacher Salaries in Arizona by Education
As teachers further their educations and gain experience in the field, they receive pay increases that reflect their dedication and hard work. The following are some examples of salaries you can expect in Arizona:
| Experience | Bachelor's | Master's |
| --- | --- | --- |
| At 3 years | $32,126 | $35,104 |
| At 6 years | $36,157 | $38,360 |
| At 9 years | $38,510 | $41,917 |
| At 12 years | $40,695 | $44,469 |
Source: Arizona Department of Education
Retiring in Arizona
Upon employment in an Arizona public school, a teacher enters the Arizona State Retirement System (ASRS). The ASRS funds both pension and health insurance benefits for retirees in Arizona, giving retired teachers the support they need to live comfortably into older age.
Throughout a teacher's career, they'll contribute a portion of their monthly earnings to the ASRS, a portion that is matched by their employing school district, ensuring steady growth for the fund each year.
In the plan, you'll contribute 10.90% of your monthly paycheck for health insurance benefits and pension, and a further 0.24% into a long-term disability fund for a total of 11.14%. Your employer will contribute the same amount.
As you enter retirement, you'll receive pension benefits and health insurance support from the ASRS fund you've helped to build through the years. Your monthly benefits are calculated by taking into account several factors, such as:
Total Credited Service
The time you've been employed where you've made contributions to the ASRS.
Graded Multiplier
A percentage determined by your total years of service.
Average Monthly Compensation
The average of your highest 60 consecutive months of salary within the last 120 months of service.
The ASRS multiplies your total credited service by the graded multiplier and average monthly compensation to determine your maximum monthly benefit. If, for example, you've worked for 20 years and averaged $3,600 in monthly compensation, you would receive a maximum monthly benefit of $1,548.
You become fully vested in these funds upon reaching normal retirement in Arizona. There are several qualifications you can meet to reach normal retirement, including:
At age 65
At age 62 with 10 or more years of service
At age 60 with 25 years of service
At age 55 with 30 years of service
In addition to a monthly pension, you'll also gain access to health insurance benefits in retirement. Some additional retirement benefits include: long-term disability benefits, survivor benefits, group health insurance coverage, and health insurance premium benefits supplements.
If you're interested in learning more about retirement in Arizona, the state provides a series of webinars to further educate members.
Access to Affordable Health Insurance
The Arizona Department of Administration Benefit Service Division provides health insurance benefits to teachers enrolled in Arizona public schools. These benefits are available to not only you, but to your family members and dependents as well.
Arizona teachers can choose between three different health insurance plans:
Exclusive Provider Organization (EPO)
Teachers must obtain services from a network provider. Out-of-network services can be provided only in emergency situations. The EPO plan is provided by all four networks in Arizona: Aetna, Blue Cross and Blue Shield of Arizona, CIGNA, and United Health Care.
Preferred Provider Organization (PPO)
Teachers can obtain services from in-network and out-of-network providers, but have higher costs for both. The PPO plan is provided by Aetna, Blue Cross and Blue Shield of Arizona, and United Health Care.
Health Savings Account Option (HSA)
A high deductible health plan that allows teachers to open a health savings account that allows tax free contributions, earnings, and healthcare related withdrawals. The HSA plan is provided by Aetna.
For example, if you choose a PPO plan, your overall deductible for in-network providers is $500; those in the EPO plan pay $0. In the HSA option, your deductible would be $1,200 for in-network providers.
The Arizona Department of Administration Benefit Service Division provides teachers with examples of typical care services and their costs under each plan. For example, consider a teacher covered under a PPO plan who is having a baby.
The plan estimates that the cost of a normal delivery would amount to $7,540. Under the plan, the teacher would only need to pay $590, with the remaining cost being picked up by the plan.
All health insurance plans offer coverage for pharmaceutical drugs, emergency room services, hospital stays, and mental health concerns. Additionally, basic eye care is covered under each plan. Under the plans, the following services are not covered, but may be purchased at an additional cost:
Acupuncture
Cosmetic Surgery
Dental Care
Infertility Treatment
Non-emergency Care outside of U.S.A.
Private Duty Nursing
Discover more about the perks of being a teacher in Arizona by contacting the Benefits Services Division.