Principal Profile – Rick Ackerly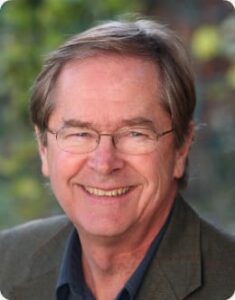 During Rick Ackerly's substantial experience in the field of education, he relished meeting challenges head on and instilling that same attitude in his faculty members.
"The challenge of rebuilding a broken community was for some reason, very attractive to me," Ackerly said. "I guess there was something inside of me that compelled me to be a leader."
As the former head of four different schools, Ackerly found himself drawn to schools that held commitments to high ideals, but had trouble meeting those ideals. Ackerly's knack for trying new methods, and instilling confidence in his staff helped turn those schools around.
Ackerly wasn't always a school administrator. Like many who eventually become leaders in their schools, Ackerly began as a teacher.
"In my six years as a teacher, I learned the limitations of traditional methods of instruction and made a commitment to finding ways of meeting the needs of each student," Ackerly said.
This commitment eventually pushed Ackerly to look for ways to expand his influence in school communities, leading him to enroll in the Harvard Graduate School of Education with a focus on organizational development.
"What I learned there stood me in good stead," Ackerly said. "I came away with a road map for building a learning community, and it has turned out to work beautifully in all for schools [I led]."
<!- mfunc feat_school ->
Featured Programs:
Sponsored School(s)
<!- /mfunc feat_school ->
Ackerly says that all of the schools he led were initially struggling financially, and had low faculty morale, something he immediately took to remedying. Ackerly believed that by using his leadership to increase the authority of his teachers, it would create a safe environment for teachers willing to take risks and make decisions.
Under Ackerly's leadership, teacher morale increased, and as a result, the educational standards at the schools also began to increase.
"Later I asked one of my colleagues, 'What did I do right?' and she said, 'You treated us as if we knew what we were doing,'" Ackerly said. "This leadership style was successful from the get-go and I got better and better at it the more I practiced it."
Ackerly's leadership style allowed teachers to try new and effective methods of teaching that other administrator's might not have taken the risk to try. In the end though, Ackerly said trying these nontraditional educational methods proved successful in his schools.
Ackerly says that the teachers in all four of his former schools designed a variety of different methods to ensure each student was always appropriately challenged.
For example, Ackerly explained a "hook chart" system one teacher at a school designed that allowed students to choose between different assignments for the day. The "hook chart" was a chart of 22 hooks by seven hooks. On the left hand column, the teacher hung cards with each student's name, and on the 6 remaining columns, she hung activities next to the names.
When a student came into the room for class, he or she would examine the six different activities they could choose from, complete the assignment, and then flip the card signaling completion.
"All of the students were always engaged doing work that was challenging for them, and they all felt they had chosen it," Ackerly said.
Ackerly's enthusiasm for encouraging teacher innovation paid off for the schools he taught. At one school, teachers introduced a writing workshop approach to students, and within two years of instituting the workshops, the school became known for its writing program.
While leading teachers and students in school-wide programs is a large part of being a school administrator, Ackerly was also the face of the school to parents and community members. Learning how to manage parents and communicate expectations successfully is one of the most important parts of being a successful leader.
Ackerly said that many teachers expressed interest in a method of teaching, but were worried the parents wouldn't be as enthusiastic. That's when Ackerly would assume responsibility for bringing the parents on board too.
For example, Ackerly relates a time when the parents of a first grader met with him to express concern that their son didn't have enough structure.
"I replied with, 'Yes. All kids need structure. Let's go around the school and look at the various structures we use, and then sit back down and see if you saw structure you think will work for him,"' Ackerly said.
Ackerly led the parents around his school, showing them students hard at work, engaged in discussion, group projects, and learning circles.
"When we sat back down I said, 'So did you see structures that you think will work?' and they immediately said, 'Yes. This is great. This school is perfect for him,'" Ackerly said.
These instances detailed Ackerly's commitment to not only providing quality education, but also quality communication with the community at large. It's all part of something Ackerly calls "active listening," and being open and willing to take suggestions and make changes.
"Get comfortable making mistakes and learning from them," Ackerly said. "Be comfortable with different points of views and diversity."
For Ackerly, now retired after over 35 years of administrative work, building four safe, creative learning communities made making any mistakes well worth it.