Biology Teacher Profile – Louise Maine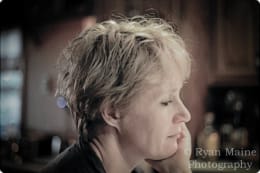 Louise Maine considers herself a lifelong learner. In fact, even after 23 years of teaching she still strives to learn something new everyday.
"I can't imagine going one day without learning something new," Maine said. "For some kids, that's an odd thing to say. They're not used to it – they're done with school and kind of shut down, but really, I want them to be learners."
A passion for learning soon led to a passion for teaching in Maine's life. Now, as a ninth-grade biology teacher at Punxsutawney High School in Pennsylvania, Maine strives to instill that same passion for learning in her students.
Before becoming a teacher, Maine was a pre-medical student at Indiana University of Pennsylvania. After earning her biology degree, Maine decided she didn't want to become a doctor, and looked to becoming a teacher instead.
"I just like to tell people things," she says with a laugh. "I decided that being a teacher would be a good thing, because you get to share what you know."
<!- mfunc feat_school ->
Featured Programs:
Sponsored School(s)
<!- /mfunc feat_school ->
Luckily, her college offered a teacher education program, so she went back for another year after finishing her degree. While Maine said that her preparation program taught her a lot about theory and subject matter, she feels that she really didn't have a grasp of what it was like in the classroom until she was there herself.
"You get all this theory, but when you're thrown in front of a classroom, you go back to the way that you were taught," Maine said. "Which may or may not be the best way to teach, because things change over the years."
For Maine, life as a new teacher was a bit of an adjustment. At Maine's new high school, the ninth-grade class had more students in it than were in Maine's own graduating high school class, so the larger environment posed a bit of a challenge at first.
Maine said she learned the hard lessons of "find your style," and looked at what other teachers in the school did, slowly finding out what classroom management and teaching techniques worked for her.
Unfortunately, when Maine was first starting out as a teacher, no teacher mentor programs existed at her school. Maine says that she believes the programs are great assets for new teachers, but managed to form strong relationships with the other teachers in her department who helped her through the transition period.
Maine says she's developed her teaching style through the years, and believes that teachers must constantly evolve and change to meet their students needs. While Maine said she, herself, has never had trouble sitting through lectures and learning, she acknowledges that for some students, listening to lectures is simply not stimulating enough.
To stay dynamic, Maine describes herself as a risk-taker, thinking up new ways to approach education. By asking her students to get excited and stay motivated about the subject matter, she pushes her students to embrace biology.
As a biology teacher, one of Maine's favorite classroom activities is getting students to learn through hands-on experience in the lab.
"I want them to be able to understand more about the world around them and their own bodies and their own lives," Maine said.
Maine says that with today's consumer culture, one of the favorite topics of conversation in class revolves around what kinds of foods to eat, and what nutrients the body really needs versus the nutrients it doesn't.
To help her students explore what exactly goes into their favorite foods, Maine asks them to grind up different foods. Then, Maine's students analyze the different nutrients or ingredients in the foods, and which of these nutrients are essential.
In another popular lab experiment, Maine guides her students in exploring genetics, development, and embryology. Over the course of a few weeks, Maine's class observes fish eggs as they grow and eventually hatch. The fish's transparent eggs provide great insight into the developmental process, putting information students learn in lecture and reading into context.
When students approach these tasks and learning experiences with open minds, Maine says the rewards are apparent.
"When a kid just finally gets it – they struggle and struggle and then that light bulb goes on, it feels very good," Maine said. "Or when they find something they're interested in that they never thought they would be interested in before."
As a teacher, Maine knows while her job focuses on educating students about science, it also entails developing relationships with her students and helping them in their lives.
"Some kids really just challenge you with the way they are and they're the toughest kids to deal with," Maine said. "Everyone once in a while, you get that glimpse into their life and start to realize that you might be the best thing going for them right now."
Maine says when she's able to give these students something positive to think about, and have them know that someone is proud of them, it makes all the challenge worth it.
Maine's overall goal in the classroom is to meet these challenges and create lifelong learners out of her students. She wants her students to relish the thrill of learning a new subject, to discover their passions, and find ways to become better learners.
"The one thing is to never stop learning," Maine said. "The best thing we can teach kids to do is learn how to be learners, and how to get excited about something new, or learn to ask a question and then search for answers or more information."