Elementary Teacher Profile – Heidi Befort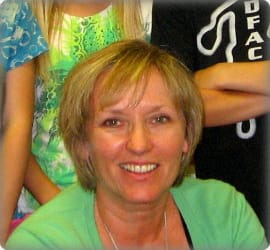 "Oh, I get it now!" the child exclaims.
Heidi Befort relishes these moments; the look of excitement lighting up a child's face, that instant of understanding signaling the passage of knowledge, the joy and sense of accomplishment.
It's for moments like these that Befort first decided to become an elementary school teacher. Before her interest in teaching though, Befort was in a very different profession.
"I have a Bachelor of Science degree in nursing, and decided after 16 years as a cardiovascular nurse to quit because I wasn't happy," Befort said.
Befort wasn't sure where life was taking her, but knew she was interested in teaching. As a nurse, Befort had taught classes to other nurses for professional development, but was more interested in the molding of younger minds.
"I considered going back to school to teach nurses, but I really do love being in the classroom with the children each day," Befort said. "There's a huge difference in a child learning something new, versus an adult learning for a new job. That sense of wonder and excitement and awe seems to be lost in adults."
<!- mfunc feat_school ->
Featured Programs:
Sponsored School(s)
<!- /mfunc feat_school ->
After a three-month period spent soul searching and deciding on her next move, Befort resolved to apply to teaching programs in Arizona. As a working mom, Befort knew she couldn't maintain the regular demanding schedule of university life, coupled with her job and responsibilities as a parent, so she looked into programs with alternative hours.
In her teacher preparation program, Befort says she gained a good foundation and clear understanding of the fundamentals of teaching, but her true preparation began with her mentor teacher.
"Being paired with a compatible mentor, who is experienced and willing to take the needed time to share expertise is what is needed in most teacher programs," Befort noted.
During teacher preparation, one of the most important and informative periods of learning is student teaching. Student teaching gives potential teachers the chance to put to use all they have learned in a career setting.
In this period of time, an effective teacher mentor is key for future success.
"She was a wealth of information during my first years as a teacher, as well as a confidant, supporter, and mentor helping me navigate the pitfalls of a new teacher in the classroom," Befort says of her mentor. "My mentor's biggest contribution to me as a new teacher was classroom management, communication, clear objectives for my lesson, and the confidence to teach with high expectations."
Finally, after two years of hard work studying and learning the ins and outs of teaching elementary school students, the Cave Creek Unified School District in Arizona hired Befort in 2001. Now, Befort teaches a mixture of fourth and fifth graders in a multiage classroom that she loves.
Befort starts her school days early in order to prepare for the rest of the day. As an elementary school teacher, Befort must plan a large variety of lessons to tackle all of the subjects her students learn.
"I try to create connected lessons that incorporate reading, writing, and math with science and social studies," Befort said. "I start with a lesson objective; what do I want to have the students walk away with? Then, using an opening or hook, I introduce the lesson to them."
Befort loves to inject language and vocabulary into her instructions and lessons to keep students thinking through the class period. In fact, Befort believes that this is one of the best ways to get students in the right mindset to learn.
"I love reading to my students and it's a great way to talk with them and get them back in the learning mode after recess," Befort said.
Once the lesson is completed, Befort sends her students to work individually, in pairs, or in small groups, depending on the subject. She then helps students who may be struggling, or gives out enrichment activities for students who finish their work early.
"I love to give the students as many opportunities to have hands-on work, working with each other, and mentoring," Befort said. "I've found that students love to work with each other and can gain more understanding of concepts when reviewed or repeated by another student."
Despite her years of experience as a teacher, Befort still says she faces daily challenges. Teaching is about being both flexible and dynamic at the same time, in order to cope with changes in the school and teaching field as whole. Teachers must be prepared to adapt to changes in administration, economic impact, and lack of resources in the classroom.
"The teaching environment is rapidly changing with more expectations and requirements during the school day," Befort says. "It's difficult to fit everything in during a workweek, requiring many teachers to work a second job and work on the weekends to complete what you can't during the week."
In addition to time constraints and changing environments, Befort notes that perhaps her greatest challenge comes from communication with parents. An unfortunate reality of teaching is that not all students' parents will be pleased with a school, or how their child performs, and teachers must communicate concerns and student developments effectively to parents.
"An angry, unhappy parent can be very intimidating for a new teacher, and can very well be the catalyst that sends them to a new profession," Befort said. "It can be terrifying to sit across from a confrontational adult with no other support even for a seasoned teacher."
This is why Befort says that developing a good relationship with the administration and gaining support is key for elementary school teachers. For example, Befort related a circumstance where a set of parents felt she singled out their child from the others in class.
"My principal at the time was very supportive of my classroom, and me, and the mediation she provided during our meeting was excellent and smoothed the path for a successful year," she said. "Lack of action from the principal in these situations can create a very uncomfortable relationship with the family."
Befort says that in these situations with parents, the best outcomes come from "a proactive, informed approach" from the principal and teacher, where the problem is dealt with in a swift and professional manner.
Notwithstanding the hard work and obstacles along the way, Befort says she feels it's all worth it to see her students learn new material, laugh and have fun, and successfully navigate learning challenges.